Providence, RI Truth Fliers: What Are They So Upset About?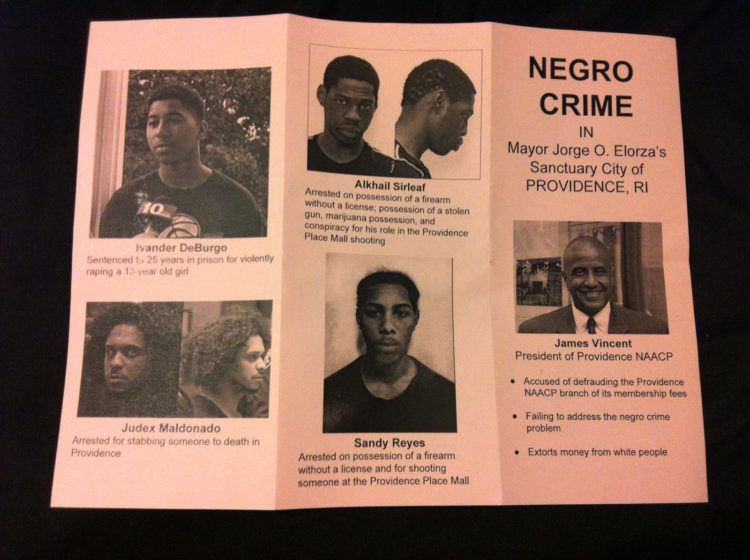 by Chris Rossetti
THEY HAD the full support and publicity muscle of the Providence, Rhode Island media, including the major monopoly newspaper and two television stations. They had the support of the NAACP. They had the full support of a whole panoply of leftist groups — including "Resist Hate RI" and "Uprise RI — Sex Worker Rights," whatever that is. They had the support of the mayor and the full publicity machine of the mayor's office. They had the full support of several city council members, some of whom even spoke at the event.
And they drew a crowd of about 50 people — well under 50 if you subtract the dozen or two media people there. Naturally, the very skilled cameramen never zoomed out too far, which would have revealed the true size of the "crowd." The Providence metro area has a population of 1.6 million people.
What were they there for? To denounce a simple flier — a flier which calls out the increasing corruption and crime in Providence; corruption and crime which go hand in hand with the increasing non-White biomass and non-White dominance of a once-great city.
It was a flier that simply collated and recounted, all in one place, some of the most outrageous non-White corruption and crime in that declining city: fraud, cover-ups, and extortion at the NAACP; assault of a school assistant principal; covert recording of women in changing rooms; scamming elderly residents out of tens of thousands of dollars; robberies; beatings; shootings; violent rape of a 13-year-old girl; and a knife murder.
Somehow, these notables allege, it is "hate" that we must "stand against" to point out that these crimes were all committed by non-Whites.
Here are some links to stories that inspired the flier in the first place. Note that no press conference and no rally was held for these. Mayor Elorza was silent.
Chief: Providence in 'hot zone' for shootings | WPRI 12 Eyewitness News
http://wpri.com/2018/01/26/chief-providence-in-hot-zone-for-shootings
5 shootings in 4 days mark bloody week in Providence – News – providencejournal.com – Providence, RI
http://www.providencejournal.com/news/20180125/5-shootings-in-4-days-mark-bloody-week-in-providence
Providence police investigating 5 shootings over a 4-day span | WPRI 12 Eyewitness News
http://wpri.com/2018/01/25/five-shootings-in-providence-over-a-four-day-span
Jewish councilman Seth Yurdin denounced the truth-tellers who risked social ostracism, "doxxing," and loss of employment to distribute the fliers as "cowardly"; as he "bravely" rehashed for the 40,000th time the anti-White narrative the corporate and government elites — and Yurdin's billionaire media mogul cousins — are pushing on this country.
The mayor said, in response to the fliers, that any White person who tells the truth about non-White crime "does not belong in our community." He said nothing about non-White knife murderers or rapers of children "not belonging."
Watch the by turns hysterical, but mostly slack-jawed and boring, anti-White and anti-free speech event here:
https://www.facebook.com/ProvidenceJournal/videos/1603014853068206
As one observer noted: "The important thing is that the flier is correct. Non-White crime and Third-World-style government corruption are engulfing Providence. These liars can 'stand united' against 'racism' all they want in their little crowd of under 50, but the flier remains 100% correct."
Keep on speaking out and thinking free.
* * *
Appendix
Here are the local media links on the anti-White rally:
Providence mayor to anonymous authors of racist fliers: 'You don't belong in our community' – News – providencejournal.com – Providence, RI
http://www.providencejournal.com/news/20180205/providence-mayor-to-anonymous-authors-of-racist-fliers-you-dont-belong-in-our-community
Racially-charged pamphlets target Providence's NAACP president | WJAR
http://turnto10.com/news/local/racially-charged-pamphlets-target-providences-naacp-president
Community leaders decry 'racist and divisive' flyer attacking NAACP president | WPRI 12 Eyewitness News
http://wpri.com/2018/02/05/mayor-elorza-decries-racist-and-divisive-flyer-attacking-naacp-president1
Nancy Green (a local antifa affiliate through SURJ) and member of NAACP speaks on the fliers
https://www.facebook.com/photo.php?fbid=10156302276076742&set=ecnf.712891741&type=3&theater
Resist Hate RI telling people not to post the flyer and not contact police
https://www.facebook.com/groups/resisthateri
City officials speak about "racism" – The Providence Journal
https://www.facebook.com/ProvidenceJournal/videos/1603014853068206
* * *
Source: National Vanguard correspondents