Preparing for Race War: The South African Bootcamps Which are Training Thousands of White Youths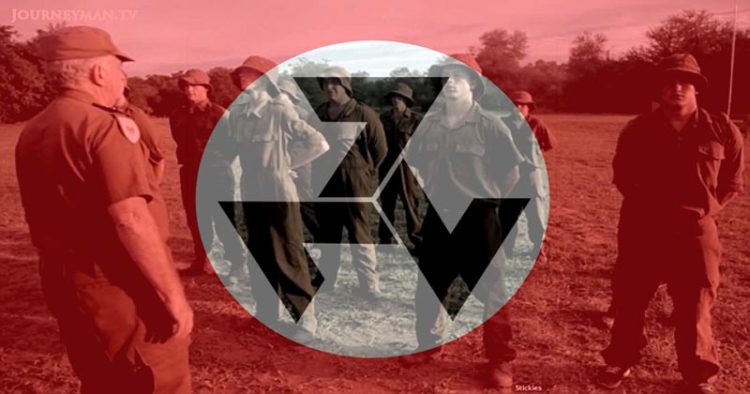 Deep in rural South Africa, the AWB movement is teaching teenagers to rise up in defiance of Nelson Mandela's failed dream of a Rainbow Nation.
THE AFRIKANER RESISTANCE MOVEMENT (AWB) is training thousands of youths in military-style bootcamps northwest of Johannesburg to fight for a separate White state. By day, they are pushed to their physical limits with assault courses and self-defence lessons, all the while being told of the danger from the millions of Blacks who have been taught to hate and even kill Whites.
For Dion Bernard, a 15-year-old boy enrolled on the latest camp, the seeds of White pride are already cemented in his mind.
'In the Bible it says black people must live with black people and white people must live with white people,' he says. [Actually, it says no such thing — and doesn't even imply such a thing without extremely convoluted "interpretation." It is very dangerous to base the creed of one's people — and one's fighters — on shifting sands such as the Jewish Torah myths. Whites need a race-based religion such as Cosmotheism. — Ed.]
'You cannot mix nations. I don't have black friends. If they come to my side and ask to speak to me, I will say no. Or I will turn my back on them and walk away.'
Dion comes from a deeply religious family, part of a small but determined minority of Afrikaner people who still yearn for apartheid-era politics.
He is one more than 2,000 teenagers who have attended Kommando core, an AWB endurance camp for White youngsters, over the last two years.
The camp is run by Colonel Jooste, a veteran of the South African apartheid era.
'South Africa is bleeding,' he tells Journeyman.TV. 'And this is why we have to train our people to be prepared.
'There's millions and millions of blacks around you, smothering you… and killing you.
'So you have to implement certain systems to survive and that's why we say the only system we can go now for is not apartheid. That's second prize. First prize is freedom.'
Later, members of the camp are filmed burning the New South African flag while holding the Afrikaner one.
'No one will force us to stand under this flag,' they say. 'We Afrikaners want our freedom. We want our own country.'
* * *
Source: Daily Archive