Orwell Alert: Nancy Pelosi Loses It — Can't Distinguish Americans from Foreigners
Below is a report on what has to be one of the most unhinged, lunatic speeches in United States history, at least outside of those calling for Judaeo-American wars. — Dissident Millennial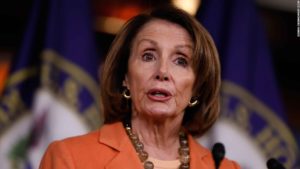 Pelosi Is Entranced By 3 Million 'Dreamer' Illegals, Insults Americans' Children
Neil Munro | Breitbart
Illegal immigrants are a blessing, they are doing what the Founding Fathers would wish, they are the best of the best, more American than Americans, reinvigorating, they are fabulous, beautiful, and patriotic, yes, very patriotic.
That is just some of the praise and flattery heaped upon illegal immigrants by the top Democratic legislator in the House during an eight-hour floor speech on Wednesday.
Minority Leader Nancy Pelosi's emotional praise for the illegals underscores the Democrats' growing reluctance to favor Americans over foreigners. . .
Pelosi's speech also shows how President Donald Trump's America First 2016 campaign platform has pushed angry Democrats to embrace a political strategy of "Foreigners First" — regardless of the huge economic and civic costs paid by Americans, and just months before Americans vote in the November midterm elections. . .
Throughout her eight-hour speech, the object of Pelosi's affection was the population of roughly 3.25 million 'dreamer' illegals who were brought into the United States as children by their several million illegal-immigrant parents.
Pelosi chose to focus on the few 'dreamers' who have graduated from college because the available data shows that the vast majority of 'dreamer' illegals work in low status, low wage, unglamorous work.
In fact, universities admit that the 'DACA' approved illegals graduate college at one-quarter the rate of Americans. Other data shows that young 'dreamer'-age illegals commit crimes at twice the rate of Americans, that roughly one-quarter of 'dreamer' illegals are unable to speak English, and that most work in blue-collar jobs where their high numbers allow companies to lower the wages paid to the Americans in the same workplace.
Pelosi's speech did not include any suggestion that she would deny support for the next wave of illegal immigrants, or for any subsequent waves. A 2009 Gallup survey showed that 165 million people wanted to migrate to the United States. . .
Breitbart News read Pelosi's speech on C-SPAN as it was transcribed by C-SPAN:
We recognize that they are a blessing to America … the dreamers are all over our country, Mr. Speaker, they are a blessing so across the board …

These are the best of the best. They are so fabulous …

I was impressed by the cumulative effect that they are making on their country. Each of them with their individual contribution to the greatness of America. So exciting, so proud of them …

[They have] great humility about conveying their stories because when you see them and they tell their stories and the passion and the pride — the patriotism, passion, pride, patriotism, that they demonstrate, you will see why anyone who has had the wonderful experience of being in conversation or observing our dreamers, understand why they have had such a high reputation among the American people, some of whom have met them, some of whom have heard about them, some of whom have just catch the spark, catch the spark. Recognize, recognize again the hard work ethic, the commitment to education, to community service, to faith, to family, to the United States of America. It's a beautiful thing …

Am I not lucky to be able to become so familiar with so many of these beautiful dreamers? We want to send these people back? This talent, this rich talent, this achievement, this determination, this faith in the future, this patriotism for America? I don't think so. We have to make [an amnesty] happen …

Let us acknowledge the dreamers and their optimism, their inspiration to make America more American…
Pelosi lavishly praised the foreigners who illegally smuggled their children into the United States so they could use Americans' schools and hospitals, culture, and roads, regardless of the cost on lower-income Americans who have struggled in crowded schools and swamped labor job markets. . .
Pelosi lavishly praised universities who turn away many of the Americans who want to be doctors and grant some of the limited number of doctor-training slots to the illegal-immigrant children of illegal immigrants. . .
Pelosi praised the companies which hire and help illegals instead of Americans. . .
Throughout her long speech, Pelosi read letters from illegals, some of which frankly described how their parents carefully violated U.S. immigration laws to put their children ahead of Americans' children. The self-serving nature of the descriptions did not cause any hesitation for Pelosi:
A dreamer who came to the United States when she was just three years old from South Korea. They arrived on a [temporary] visa and sought help from an immigration lawyer to obtain more permanent legal status in the United States … Esther's parent's visas expired … but then they started over. They built their lives in the United States…

"Due to living conditions in my home country, my home parents decided to immigrate to the United States to offer me and my sister a much better education and a brighter future." …
Pelosi read letters describing how several of the illegals say their ambition is to use Americans' gifts — such as free K-12 schools, taxpayer aid, work-permits, scholarships, amnesty — to change Americans' laws:
She was part of the California Dream Network steering committee and one day hopes to run for a seat in the United States Senate. You go, girl! …

She works as California Dream Network statewide youth organizer, as a devoted advocate … and her life goal is to continue bending the arc of the universe …

Evelyn constantly seeks to dismantle economic, racial, and cultural biases … Evelyn hopes to inspire the next generation of scientists by pushing forward a mission to diversify STEM [careers]. …
Four million Americans turn 18 each year and begin looking for good jobs in the free market.
But the federal government inflates the supply of new labor by annually accepting roughly 1 million new legal immigrants, by providing work-permits to roughly 3 million resident foreigners, and by doing little to block the employment of roughly 8 million illegal immigrants.
The Washington-imposed economic policy of economic growth via mass-immigration floods the market with foreign labor, spikes profits and Wall Street values by cutting salaries for manual and skilled labor offered by blue-collar and white-collar employees. It also drives up real estate prices, widens wealth-gaps, reduces high-tech investment, increases state and local tax burdens, hurts kids' schools and college education, pushes Americans away from high-tech careers, and sidelines at least 5 million marginalized Americans and their families, including many who are now struggling with opioid addictions.
Editor's note: In the same speech above, Pelosi also related a story of how "proud" she is that her grandson's recent birthday wish was to have "brown skin and brown eyes" like a Guatemalan. 
* * *
Source: Breitbart