Cheddar Man — 'Whiteness', a Matter of Race, Not a Matter of Colour!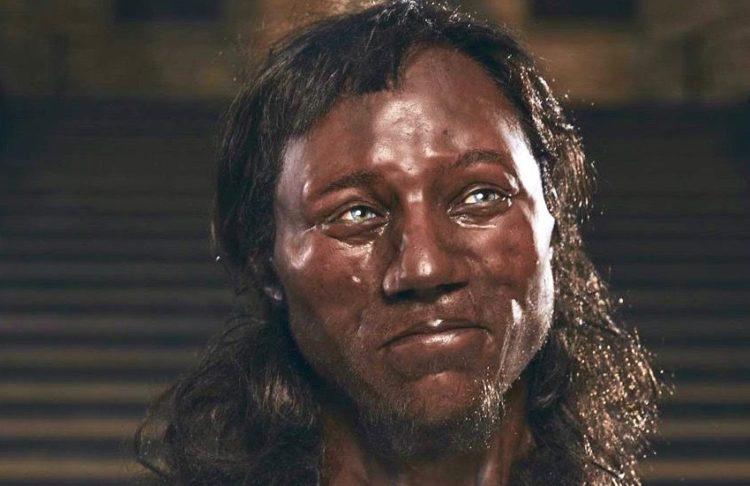 by Max Musson
THE MASS MEDIA have over the past week or so, been celebrating the apparent 'discovery' that the 'first modern Briton', had blue eyes and "dark skin", and not simply, 'dark skin', but "dark to black" skin colour, such that "if he was alive today he would be regarded as black". This allegedly 'ground-breaking' revelation comes as a result of the DNA analysis of the skeleton of 'Cheddar Man', the largely complete skeleton of a man found in Gough's Cave in Cheddar Gorge, Somerset in 1903, and who is believed to have lived and died during the Mesolithic period, approximately 9,100 years ago.
A project team composed of anthropologists from the Natural History Museum and University College London are responsible for the DNA analysis and reconstruction of Cheddar Man and news of their findings featured prominently in most of our nation's newspapers and television news programmes and is due to be the subject of a Channel 4 documentary on February 18th, entitled, 'First Brit: Secrets of the 10,000 Year Old Man'.
As we might have expected, promoters of multiracialism and multiculturalism have been quick to seize upon these supposed revelations regarding Cheddar man's colouration in order to make seemingly profound statements implying and in some cases asserting, that these are 'proof' that ideas of race and nationality are invalid.
In an article on the Guardian website recently, Tom Booth, an archaeologist at the Natural History Museum and one of the members of the project team conducting the DNA analysis and reconstruction of Cheddar Man, is quoted as saying: "It really shows up that these imaginary racial categories that we have are really very modern constructions, or very recent constructions, that really are not applicable to the past at all."
And Yoan Diekmann, a computational biologist at University College London and another member of the project team, agreed, saying the connection often drawn between Britishness and Whiteness was "not an immutable truth. It has always changed and will change".
Clearly the inference that we are all supposed to draw from these pronouncements is that we British have not always been the kind of people we are accustomed to thinking of as 'British', and that as a consequence in the face of ongoing uncontrolled mass immigration we should abandon all concern for the survival of our kind and accept the multiracial and multicultural transformation of our nation. Furthermore, the Internet is now full of articles claiming that these 'revelations' regarding Cheddar Man have left 'far-right' and racial nationalist groups confounded. Nothing could be further from the truth, however!
The first issue to consider is whether or not the findings of the Natural History Museum/UCL project team are in fact an unexpected revelation?
The Guardian article referred to above, states: "The discovery shows that the genes for lighter skin became widespread in European populations far later than originally thought …"
Obviously, journalists at the Guardian have not been reading the articles by H. Millard on this website, as in an article published here almost five years ago, H. Millard stated: "Scientists believe that a tiny mutation in gene SLC24A5 … [which] … started in the few people who left Africa and headed into Europe about 50,000 years ago was a major reason for the emergence of white skin.
"White skin allowed in more sunlight and helped with the production of more Vitamin D than darker skin, and prevented rickets. This mutation became the norm in Europe 5,300 to 12,000 years ago. This gene has primary alleles that differ in only one nucleotide, changing the 111th amino acid from alanine to threonine. In White European descended peoples, the threonine form is found in from 98.7% to 100% of the population while in Africans, East Asians and American Indians from 93% to 100% of the populations have the alanine form."
Clearly, the 'revelations' regarding Cheddar Man, have not involved a vault face or retraction on the part of this website and are in fact rather in line with our expectations.
In an article published on the Science Daily website in January 2014, concerning the DNA analysis of another Mesolithic European skeleton found at the La Braña-Arintero site in Valdelugueros, in Spain, researchers came to the same conclusion regarding that specimen known as La Braña 1 that he too was a blue eyed individual with 'dark' skin.
The pictorial reconstructions for La Braña 1 however, do not depict him with quite the same very dark skin that has been used in the Cheddar Man reconstruction. The Spanish researcher, Carles Lalueza-Fox, states, "… the biggest surprise was to discover that this individual possessed African versions in the genes that determine the light pigmentation of the current Europeans, which indicates that he had dark skin, although we cannot know the exact shade … Even more surprising was to find that he possessed the genetic variations that produce blue eyes in current Europeans, resulting in a unique phenotype in a genome that is otherwise clearly northern European".
It is generally agreed by paleoanthropologists that in common with most chimpanzees, the first hominids would have had pale skin beneath their thick body hair. There is after all no need for a melanin impregnated skin if it is protected from harmful ultra-violet rays by a thick coating of dark body hair. As our hominid ancestors learned to walk on their hind legs and to run in order to hunt prey animals, there would have been an advantage at that point in losing our body hair in order to keep cool in a hot African climate, and it is generally assumed that our ancestors gained darker skin at this point in our development in order to replace the ultra-violet protection previously provided by body hair.
There is some doubt how dark our ancestors' skins would have become in prehistoric times however, as the modern day San people of South Africa and Angola have skin colour that is only marginally darker than that of modern day Arab populations of the Middle East, and possession of the African versions of the genes affecting skin colour does not therefore automatically make someone as dark as the Natural History Museum reconstruction indicates.
It is likely that upon leaving Africa, our ancestors would have had darker skin colour than modern Europeans, but not necessarily as dark as the Natural History Museum reconstruction suggests.
They would upon leaving Africa have found themselves in a climatic zone that would have favoured lighter skin colour and therefore, beginning 40,000 or 50,000 years ago through to recent times there would have been environmental pressure acting upon them favouring the spread of lighter skin colour, hair and eye colour, but not necessarily to such an extent that uniform lighter colouration would have been genetically fixed amongst all European population groups as early as 9,100 BP.
There are a sizeable number of genes affecting skin colour, hair and eye colour and the interaction of all these genes is not yet fully understood and so it is for this reason rather speculative to suggest that our Mesolithic ancestors were "dark to black". Only someone wanting to win points for virtue signalling would at this stage state categorically that Cheddar Man was quite that dark. A more measured response would be to state that Mesolithic Europeans contained some groups that still had skin colour that is significantly darker than modern Europeans exhibit, and that these darker groups are represented by Cheddar Man and La Braña 1.
As Carles Lalueza-Fox has suggested, "… we cannot know the exact shade …" of the skin colour of Mesolithic Europeans, and while we might reasonably suppose that it was in some cases darker than is normal for modern Europeans, we should not assume that it was as dark as that of the darkest sub-Saharan Africans.
What Carles Lalueza-Fox also tells us is that other than with regard to colouration, the genome of Mesolithic Europeans is, "otherwise clearly northern European", and this brings us to the crux of the matter, that even though our Mesolithic ancestors may have had darker colouration than we have on average today, and may have even been as darkly coloured as the darkest sub-Saharan Africans, they were not Negroes, they were in every other respect indistinguishable from people we would recognise as Northern Europeans today.
The fallacy here is to fall into the trap of viewing race in the way that multi-racialists try to pretend we do, as an issue of skin colour and of 'colour prejudice'. This is instead an issue of ancestry, of different genetic inheritance, and one of a different evolutionary history that has endowed us with a range of distinctly European characteristics.
Just because the evolutionary pressures that made our ancestral line lose its melanin pigmentation occurred later than we might have previously thought, that does not mean all of the other physical, mental and behavioural changes that characterise our race didn't take place just as we had always envisaged. And it is these other physical, mental and behavioural changes that made us and continue to make us so different from sub-Saharan Africans and other races, and that are so much more important than mere skin colour.
Attractive though white skin is, it was not white skin that caused White people to be the first racial group to engage in farming, or to develop metal working, or to create buildings in a grand style and on a monumental scale; it was not our white skin that caused us to discover electricity, or the internal combustion engine, or mechanised printing, or the computer; and it was not our white skin that caused us to circumnavigate and map the Earth, or to build rockets that can take us to the Moon. It was a myriad number of other mutations that occurred during our differential evolutionary history around the shores of the Mediterranean, on the frozen and arid plains of western Eurasia and on the peninsula of Europe that made is what we are, and as long as we regard ourselves as special and as different from the rest of humanity, and as long as we strive to maintain the evolutionary advantage we have, that will never change.
* * *
Source: Western Spring