Rape a White Girl, Slap on the Wrist; Annoy a Jew, Instant Deportation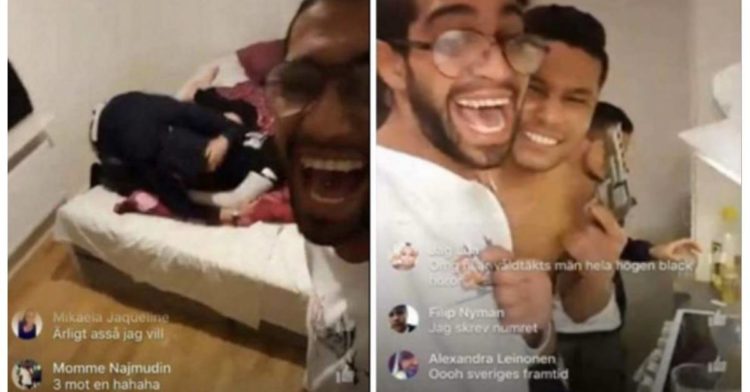 by David Sims
IN SWEDEN, in April 2017, two Afghan Muslim migrants, ages 21 and 18, raped a girl while a third migrant, age 25, from Iran (who is described in some reports as "a Swedish citizen"), live-streamed the rape to a closed group on Facebook as it happened. The two rapists face up to two whole years in jail, and the rape-porn maker might receive a one-year sentence at most. According to Swedish news media, none of the migrants will be deported from the country. (Source: Daily Star, 15 April 2017, "Migrants accused of live streaming rape of girl WON'T be deported.")
In January 2018, in Germany, lawmakers from Chancellor Angela Merkel's Christian Democrats (CDU) and sister party, the CSU, pursued legislation that would require the deportation of migrants who express "anti-Semitic views." A draft of the proposed legislation states that those rejecting Jewish life in Germany or questioning Israel's right to exist "cannot have a place in our country" and a "complete acceptance of the Jewish life" is a "criterion for successful integration" of any immigrants. "This phenomenon and anti-Semitism among Muslims living in Germany must be given special attention." (Source: RT, 6 January 2018, "Migrants expressing anti-Semitism in Germany could face deportation.")
So on the one hand, the rape of a Swedish girl in Sweden by Muslim migrants is not a sufficient reason to deport the Muslim migrants. On the other hand, any Muslims in Germany who fail to revere the Jews will be deported from Germany.
I am led to believe that the Jews have a bit too much influence over the governments of Europe. Furthermore, the importation of Muslim migrants is largely the result of Jewish meddling with the immigration policies of European countries, and that, combined with the fact that European government appear to be acting to shield only Jews from the adverse consequences of the Muslim influx, indicates that
(1) The Jews are a danger to White Europeans, and
(2) The Jews have suborned the governments of European countries to treason against their native folk.
EDITOR'S NOTE: Forget all this waiting for such monsters to commit crimes and then wrangling over their "mental states" and "understanding" of the statutes. Just deport them all, and use armed force to keep them out of Europe — forever. They should be kept out on a racial basis, too — not religious. Religion can be changed.
* * *
Source: Author