Quad Cities: SPLC "Anti-Hate" Event Draws Massive Crowd of 25
by Rosemary Pennington
THE NATIONAL ALLIANCE Love Your Race campaign has the anti-White left on the run in Iowa and Illinois. Thousands of our simple and effective Love Your Race fliers have been distributed in Davenport, Bettendorf, Moline, and Rock Island over the last few months.
It's almost impossible to effectively smear the concept of loving your race, but the anti-Whites — led by the SPLC and Rabbi Henry Karp — have been trying, gathering a rag-tag band of sexual deviants, non-White invaders, and terminally self-hating White Christians for various "anti-racist" events over the last several months. All of these events have focused on attacking the National Alliance.
This week's speech by SPLC representative Lecia Brooks at Monmouth College was no exception. The racially mixed Brooks told the heavily Black group of around 25 that the Alliance's message should be rejected and that pro-Whites' "main method recruitment is fliers, such as those distributed by the National Alliance in the Quad Cities."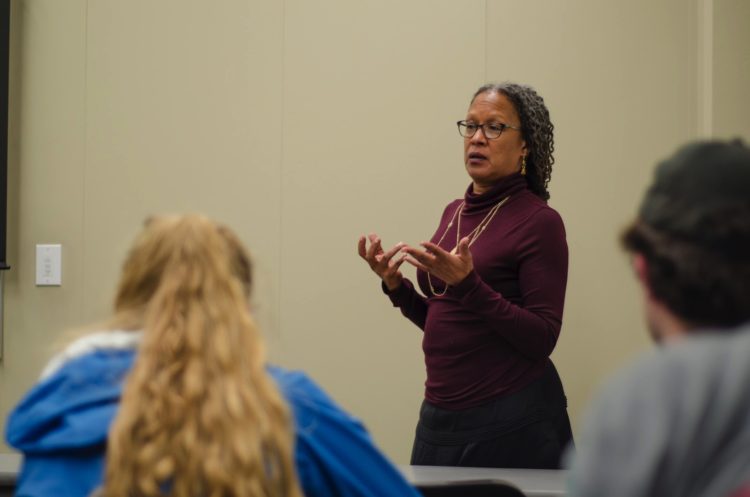 "We can't allow their message to be normalized," Brooks added. "No. We saw what happened in Charlottesville and these groups will grow if we don't each of us take a loud stand against them."
The painfully incompetent report by one Mayra Cordova on local television station WHBF included a newly-invented word: Cordova referred to racially-conscious White people as "White suprematists." Perhaps English is not Miss Cordova's first language.
According to the WHBF news piece, the SPLC's Brooks also urged Monmouth students to "join as many social justice movements as possible, including Black Lives Matter, women's rights, LGBT, the Dreamers, and the Muslim Band." Join "the Muslim Band," whatever that is? "Join" the "Dreamers"? Really? We don't know if it's Miss Cordova, or Brooks, who's been smoking the magic mushrooms, but they must be pretty powerful.
Meanwhile, another thousand National Alliance fliers were distributed in the Quad Cities while 25 people slept through the SPLC's tired old lies.
* * *
Source: WHBF and National Vanguard correspondents