Death of the West: Paris, France Edition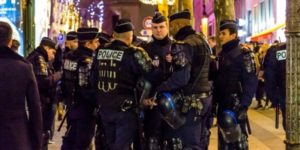 Parisian Migrant Youths Savagely Beat Policewoman, Burn Over 1,000 Cars
The migrant-ridden suburbs of Paris ring in the new year by bringing forth a wave of violent crime.
Melissa Meszaros | Altright.com
A video went viral across social media shortly after New Year's Eve which depicts many dozens of running and screaming young men overturning a car in the street and repeatedly kicking a policewoman on the ground. . .
The policewoman and her police captain were brutally beaten after being called out to a crowded party held in a warehouse in the southeastern Paris suburb of Champigny-sur-Marne. A fight had broken out when a group of about twenty "particularly violent individuals" crashed the event and refused to leave. The men then vented their rage on the police. This incited others to let loose and attack cars with sticks.
Obviously, mainstream news only refer to the vicious migrants by the classic euphemism — "youths." But they leave hints about the true nature and identity of the perpetrators. The Local France writes: "Video images show youths turning over a police patrol car to cheers from crowds," and "French police have long suffered testy relations with youths in poor immigrant-heavy suburbs." The Daily Mail refers to the migrants as "thugs," and shows video stills of an all-brown crowd in full chimp-out mode. The Sun Daily calls the attackers "revellers," which is likely the most absurd description of all since the footage from that particular New Year's Eve party more closely resembles a Lord of the Rings-style orc invasion than any festive gathering I have ever attended. . .
Police woman has been molested by dozens of savages in Champigny #France #NewYearsDay #Happy2018pic.twitter.com/o0ryFpkujQ

— Ness (@NDressing) January 1, 2018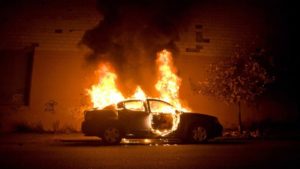 * * *
Source: Altright.com