Yale's "Diversity": White Students, Step Back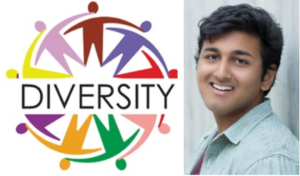 by Dissident Millennial (h/t to Steve Sailer)
IN AN ALL-TOO-TYPICAL display of narcissism from a coddled minority, one Sohum Pal takes Yale University's "white power structure" to task for failing to adequately dismantle all standards and sense of decorum in deference to its affirmative-action pets. Venting in Yale's own student newspaper, Pal says Whites need to "step back" from their oppressive stance vis-à-vis persons of color on the grounds that:
The rhetoric around diversity, both nationally and at Yale, seems to be focused on a brand of assimilationist politics — the deeply misguided notion that students of color want to be wealthy, that we want to possess the social legitimacy and cultural capital of our white counterparts on terms dictated by white stakeholders… Under the social and political logics of assimilation, whiteness will always be centered — color is constantly peripheral. Assimilation provides some half-hearted gesture at progress while evading a liberation politics that would decenter whiteness and abolish the notions of center and periphery…
Get all that? Apparently such views don't count as bigotry towards Whites if they're wrapped in unreadable Cultural-Marxist prose. Pal continues:
I may be in the minority, but I don't want opportunity: I want power. Students of color, even when we find ourselves in white dominated spaces, find ourselves on the peripheries. We find ourselves undermined by peers, faculty and administrators, typically white, who tell us we can't complain because we have "a seat at the table," a euphemistic shorthand for the illusion of being a stakeholder and power broker. That is not enough — we deserve to be seated at the head of the table not only because we have a surfeit of the skills to lead, but also because we must dictate our own terms of engagement with white power structures, not from within white power structures.
Therefore, Pal demands:
White students: Take a few steps back. You already know: when we enter white-dominated spaces, we take on the implicit roles of leadership, expending invaluable emotional and intellectual labor. It is time we were given the titles and power we deserve.
This rehashed Frankfurt-school nonsense from an affirmative-action untermensch recalls one of the Jew Marx's more prescient sayings: History repeats itself first as tragedy, second as farce. Thus I hate to break it to you Sohum: On top of being embarrassingly stupid, this dialectic you're engaging in isn't even your own.
Unfortunately Pal just can't seem to get out of his own way. In an earlier exposé entitled "Stories from the Silent Minority," Pal soberly tells us how:
In high school, I definitely got a lot of microaggressions (and actual aggressions). Most of these aggressions were actually from teachers and administrators, which struck me as pretty fucked up. Since coming to Yale, I think I expected less racism, but that definitely hasn't been the case. Perhaps it was naive of me, considering that Yale isn't actually a very diverse place. I love Yale and it's already made me the benefactor of some phenomenal opportunities. At the same time, my first week at Yale was incredibly stressful because I received microaggressions or actual aggressions everyday. It definitely hasn't ended, but I've found better, safer niches, like Disorient (a South Asian discussion group) and parts of the AACC and Asian American Students Alliance.

I can't lose the impression, though, that I was accepted to Yale largely as a token. As someone who is queer, disabled, and South Asian, I find myself at the crux of many intersections. But most of the communities that have developed at Yale tend to be anything but intersectional, dominated by well-intentioned allies or (especially) nondisabled folx [sic] who haven't given a moment's thought to ability status. When I'm in a room, I'm usually taking on the role of a counterpoint, basically providing the disabled perspective to a nondisabled room, or the Asian perspective to a white room, or (especially in Asian spaces) the South Asian perspective. It's fucking exhausting, but I don't know that there's a better alternative.
Well gee-whiz Sohum, whaddya gonna do?
On a serious note, how incredible is it that in America circa 2017, Sohum Pal's effusions aren't merely the stuff of satire published by The Onion, but rather establishment-certified drivel being spewed from the Ivy League? And how can we possibly explain to future generations the state of America today except as some kind of giant, totalitarian clown-world that is beyond parody?
P.S. Don't fret about that token-complex, Sohum. I'm sure you were accepted to Yale based strictly on merit.
* * *
Source: Dissident Millennial