Intolerable, Flagrant Injustice for Whites in America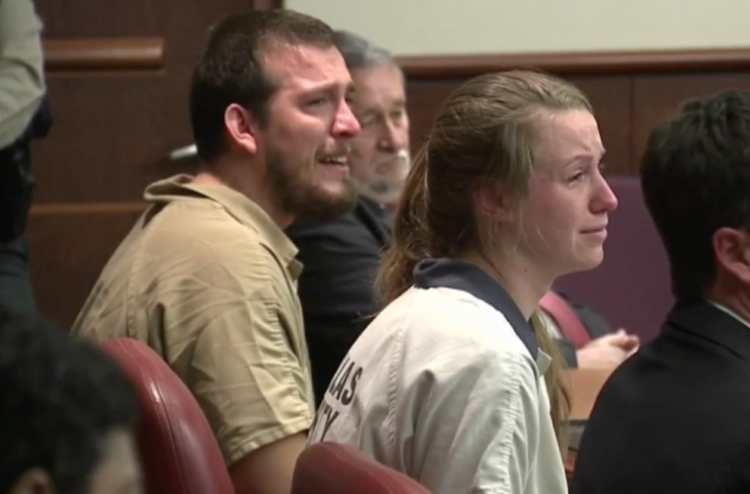 by David Sims
THIS YEAR (2017) the Marxist left made a substantial grab for heightened reach and power. Charlottesville was part of it. Another part of it was this year's conviction of Kayla Rae Norton and Jose Ismael Torres in Georgia. These two Whites are guilty of nothing more than creating a public disturbance (if that), yet they got sentenced to prison terms more appropriate to aggravated manslaughter or second-degree murder.
The original aggression at a Black kid's birthday party was committed by some of the Blacks who attended it, when they threw rocks at the traveling group of Confederate Pride demonstrators.
Reverse the situation, put the Whites where the Blacks were, and put the Blacks where the Whites were, and once again the Whites will be assigned all of the blame and put into prison for decade-plus terms.
Here are some comments I've seen on the convictions of Norton and Torres:
Funny how Latahusha Nedd, the African-American female who held a gun up to a camera and threatened to shoot White people and police in the exact same area, is already out of prison and posting on Facebook, however if you're White and wave a Confederate flag, you'd better be prepared to do 35 to life. That's what they call justice in America in 2017.

Looks like the media left out the part where the Blacks threw rocks at one of the trucks as it passed, causing him to hit a curb, starting the whole confrontation.
I doubt that the Latahusha Nedd precedent and the actual causes of the Black-White birthday party confrontation were unknown to the court. Rather, it's more like considerations of fairness in the application of the laws are now considered "counter-productive" by the left and by those who seek to ingratiate themselves with the left (like certain judges).
Anti-Whites are using videos of the sentencing hearing to mock Norton and Torres most spitefully. Apparently, Norton and Torres broke down in tears when they heard how much time in prison they had received. A White mother and father will not be able to raise their three children, who must now grow up without them. And the White family's trouble began when Black people threw rocks at their vehicles, and they stopped to complain about it.
Here's a quote from some early press coverage of the incident:
Bush said his group was leaving a nearby event when they drove by Alford's home and the partygoers started yelling at the trucks in front of him. They then threw rocks at his vehicle, he said. Bush said he fishtailed while trying to drive away, then ran over a median and got a flat tire. When he pulled into a nearby driveway, the partygoers swarmed and made threats, and his friends backed him up, he said. "Basically about eight of us had to hold 15 to 20 of them back," Bush said, admitting that a specific racial slur was likely used by members of his group. Someone called 911 and police eventually arrived to separate the factions. Authorities said neither side claimed anything physical took place, and no injuries were reported. They are now reviewing videos to see if any criminal activity occurred.
There was a video on YouTube showing the incident, but apparently a leftist reported it and had it censored.
The anti-White "Young Turks" television channel said of the incident (followed by my response): "So what they did is they drove through a Black neighborhood as a Black child was having a birthday party. And they started making threats toward the party-goers."
Leftist Young Turk, you left out an important detail. As the flag-waving trucks entered the neighborhood, the Blacks saw the Confederate flags, decided that they didn't approve of the display of Confederate pride, and began throwing rocks at the trucks. One of the trucks swerved to avoid a rock and ran into a median, where something concealed in the grass caused the truck to have a flat tire. The convoy stopped in order to let the driver of the truck with the flat tire change the tire. As this was going on, Blacks from the party swarmed the truck and caused a confrontation. That's when the hard words were spoken, undoubtedly on both sides.
The mainstream media did with this event what it usually does — what it did with George Zimmerman, what it did with its hoaxing regarding Charlottesville: it lied, it abused emphasis, it omitted important details, it made deceptive use of camera angles, lines-of-sight, timing, and selective "eyewitness" interviews to give the public a false impression.
And you, Young Turks, are part of this deception. Kayla Rae Norton and Jose Ismael Torres are political prisoners convicted of trumped-up charges and given a show-trial with a conclusion pre-determined by Political Correctness. They are guilty of nothing more than creating a public disturbance, if that, and their sentences are more suited to persons convicted of aggravated manslaughter or second-degree murder.
If this happens again, except with Whites where the Blacks were, and Blacks where the Whites were, then once again the Whites will be assigned all of the blame and will be given decade-plus prison sentences. And the reason will once again be Political Correctness. [That is, this sort of thing will happen until we build a new society for ourselves alone, which is exactly what we must do. — Ed.]
* * *
Source: Author