In God We Trust. Not.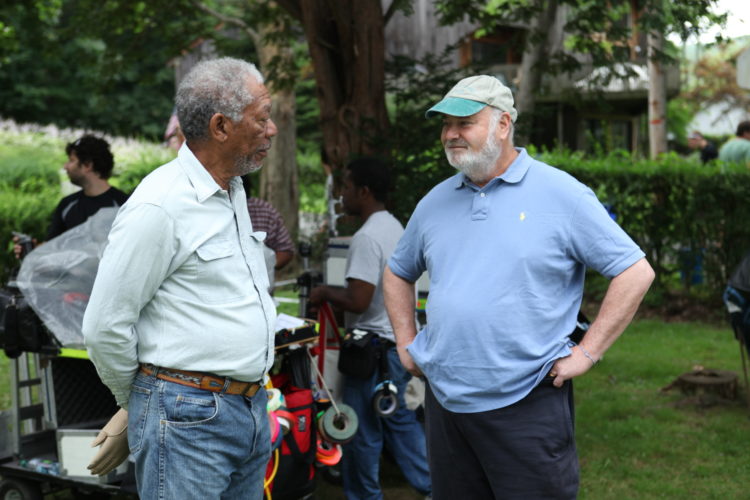 IF YOU WANT TO understand the deep and complex issues of the day your first port of call should always be a Hollywood actor, some bubble-dwelling coke-head who makes his living dressing up and playing make-believe. And obviously Hollywood director Rob Reiner feels the same way because he's commissioned God himself — Morgan Freeman — to explain how Russia (a foreign country, he helpfully informs us) is undermining the American democratic process with potentially disastrous consequences. But Freeman is again just being an actor here, reading out his lines. Because a cursory examination reveals that this whole anti-Trump project, from Reiner himself to most of the talking heads on the video are Israeli-supporting Jews.
And that's really ironic because Russia's impact on the American democratic process is minuscule compared to that of Israel and its dual-citizen sayanim in America. For a start this whole Russian interference charge has been characterised from the beginning by a complete lack of supporting evidence. There's virtually nothing. Now compare that to the role of the dual-loyalty…..let me stop right there: Most of the sayanim, especially the Neocons, are single-loyalty. And it's not to America which they see as just a tool to advance Israeli interests. (In passing note that an avid supporter of Israeli settler interests has been appointed "American" Ambassador to that country where I'm sure he holds America's interests uppermost at all times.)
For a start nobody gets elected to public office unless they profess undying and unalloyed loyalty to Israel. And deliver on that profession of loyalty. Organised Jewish groups like AIPAC (there are dozens more) and wealthy individuals wield almost total control over the so-called people's representatives. This is enforced by Jewish dominance in banking, media, the courts, entertainment, think tanks and the universities. Anyone who doesn't unequivocally toe the line is consigned to obscurity. Or worse.
And this subversion, unlike that of Russia, has been spectacularly successful, to the extent of literally destroying traditional America via mass Third World immigration and Frankfurt School-induced societal degradation. In terms of putting Israel first the billions handed over annually to that country on behalf of American taxpayers is small change. The real payoff comes in terms of using American blood and treasure to fight Israel's wars in the Middle East. The catastrophes of Iraq and Syria have been masterminded by the Israeli-first Neocons and now the very same people, utterly unabashed and bereft of guilt, are trying to embroil America in a war with Iran. They might well succeed.
So Morgan, if you're really interested in the American democratic process forget about Russia and concentrate instead on Israel.
* * *
Source: Irish Savant