Hoax Alert: "Jewish Whores" in Manchester Township, NJ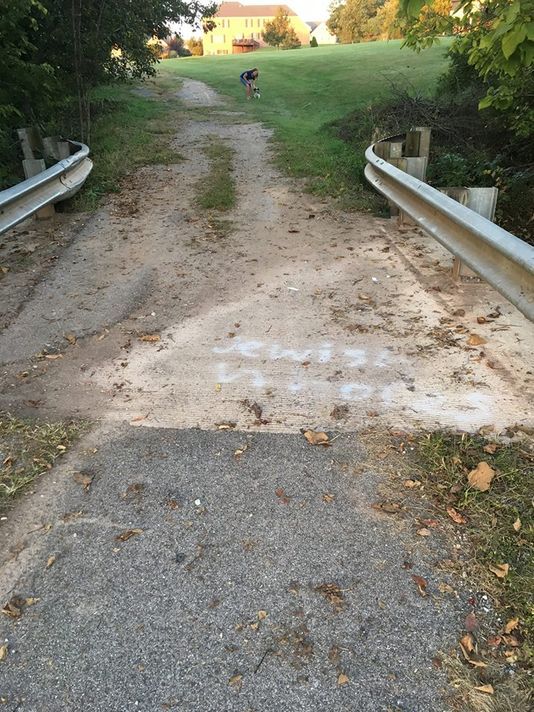 by Karl Radl
THE FOLLOWING alleged 'anti-Semitic hate crime' has occurred in Manchester Township, New Jersey:
'The words "Jewish Whores," spray-painted in white on a small bridge near her Manchester Township neighborhood, halted Amy Milsten in her tracks.

"I kind of stopped in disbelief," Milsten said. "I couldn't believe it … It was kind of a shocking thing to find in our neighborhood."

Milsten, 47, said she was walking with her daughter, Rachel, 10, and their dog between 6 and 6:30 p.m. when they came upon the anti-Semitic graffiti on Sept. 23. The bridge allows access over a creek and connects the neighborhoods of New Brittany and New Brittany II, she said.

"It's kind of just ironic that I saw it, because we are the only Jewish family in the entire development, as far as I know," she said.

Milsten said despite that, along with the fact that she passes by the area quite often while running or walking her dog, she does not feel the message was directed toward her or her family.

"I don't think that it was for us," she said. "I believe it was just coincidence."

Rachel Milsten, who has keen observation skills, found some ripped-up pieces of paper nearby, in which the words "school rules" were written. Milsten suspects whoever wrote the slur may have been angry at something that may have happened at their respective school.

After finding the slur, Milsten and her daughter reported it to the homeowner association president, and spoke with Northern York County Regional Police on Sept. 25, providing an officer with photos.

Milsten said Rachel was stunned at the slur, asking, "Why do people do this?" and remained upset for the rest of the day.

Still, at 10 years old, Rachel is cognizant of the ugliness that can arise in the world, Milsten said.

"She's aware of things going on in the world, she's aware of the bigotry, anti-Semitism and racism that exists," Milsten said.' (1)
So let's summarise the claims here:
Amy Milsten is walking her dog with her ten year old daughter Rachel at 6 to 6.30 p.m. on 23rd September over a small bridge where she found the words 'Jewish Whores' spray-painted in white on the pathway over said bridge.
She claims that she found ripped up bits of paper nearby with 'School Rules' written on them and thinks that the 'Jewish Whores' graffiti wasn't targeted at her (despite hers being the only Jewish family in the area), but rather that it had something to do with an incident at a nearby school.
Now you'd be right in thinking it's close to insanity to believe this version of events is accurate.
We have no reason to believe that the ripped up bits of paper and the graffiti are related despite Milsten's claims.
The fact that the Milstens happen to be the only Jewish family in the area and also happen to be the first to discover said graffiti also rings alarm bells.
It is just too much of a coincidence to be likely — as is the fact that Milsten immediately ran to the media to shriek about 'anti-Semitism' and 'hate'. The likelihood then is that Amy Milsten did this graffiti herself — say in the morning while walking her dog — and then 'found it' in the company of her young daughter in the evening.
Sounds rather more plausible than her story, doesn't it?
* * *
Source: Semitic Controversies