The Fame of a Dead Man's Deeds Audio Book: George Lincoln Rockwell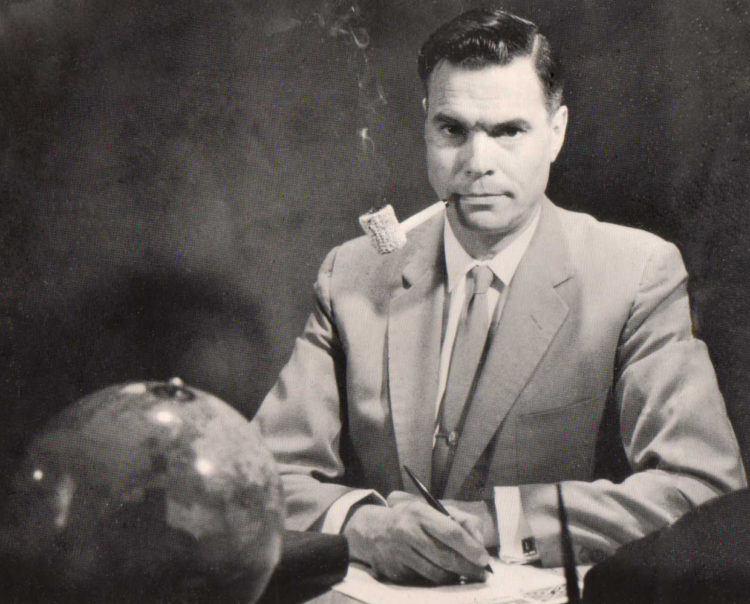 by Bradford L. Huie
for The American Mercury
GEORGE LINCOLN ROCKWELL (pictured) had a profound influence over the thinking and the destiny of William L. Pierce — and therefore, as Pierce's colleague Kevin Alfred Strom once remarked, potentially over the future course of Life in the Universe. Was Rockwell a "Nazi clown" as some have called him, or were his theatrical propaganda memes really just the visible outcroppings of a vast mountain range of philosophical insight?
Today we rejoin Vanessa Neubauer in her reading of this week's installment, chapter seven, of Professor Robert S. Griffin's masterful biography of Dr. William Luther Pierce, The Fame of a Dead Man's Deeds.
How did Dr. Pierce, an American scientist and academic, come to see himself as a National Socialist? — and why is National Socialism relevant to Americans? Listen in to this fascinating intellectual journey by pressing the play button below (or at the end of this article).
Listen to this week's installment of The Fame of a Dead Man's Deeds
This audio book will be published in weekly chapter installments on The American Mercury and will be available from the Mercury as a full-length audio book when the series is completed.
One of the most original — and controversial — thinkers of the 20th century was White nationalist, novelist, and founder of a new European religion, Cosmotheism, Dr. William L. Pierce.
The only real biography of Dr. Pierce is Professor Robert S. Griffin's The Fame of a Dead Man's Deeds, which was published in 2001. This week we continue with the sixth chapter, "The John Birch Society," of the book. Experience William Pierce, the writer, the philosopher, the radical — and the builder of an intentional White community in the mountains of West Virginia — just as Robert Griffin experienced him, by pressing the play button now.
Read the other chapters we've published.
Listen to this week's installment of The Fame of a Dead Man's Deeds
* * *
Source: The American Mercury