Kansas City: Black Serial Killer Murders Five White Men, Arrest Made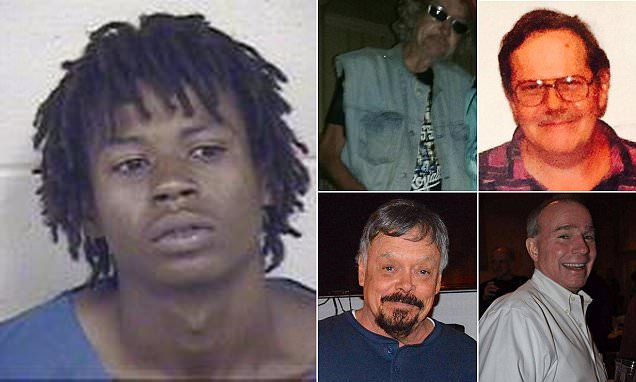 Here we have a Black man arrested for murdering five Whites — and there is zero media outrage; imagine if the races were reversed. CNN and NBC have zero coverage of this case; all other coverage is minimal.
THE Black male suspected of shooting five middle-aged White men since last year — including four on south Kansas City walking trails — threatened in 2014 to shoot up a school and "kill all White people," according to court records.
Fredrick Demond Scott, who was charged Tuesday in two killings and named as a suspect in three more, made those statements in January 2014 at Center Alternative School, as documented in a municipal citation for harassment.
Scott has been charged with murder in the deaths of Steven Gibbons, 57, and John Palmer, 54. On Tuesday, Jackson County Prosecutor Jean Peters Baker announced those charges, also naming Scott as a suspect in the killings of David Lenox, 67; Timothy S. Rice, 57, of Excelsior Springs; and Mike Darby, 61, co-owner of Coach's Bar & Grill at 103rd Street and Wornall Road.
All five were White men between ages 54 and 67. All five were fatally shot, most from behind, in surprise attacks as they walked dogs, visited parks and, in one case, walked down a city street.
Police have actually stated, according to the Kansas City Star, that they "did not know if the shootings were racially motivated."
Baker has said she "saw no clear motive."
The trail victims were targeted when they were alone in an area Scott knew well, near his home.
If Scott is responsible for all five deaths, as Baker suggested, he would meet the FBI's standard of a serial killer.
The Jan. 21, 2014, threats at Center Alternative School were among the most alarming examples of Scott's behavior. A city citation for harassment quoted Scott as stating: "I want to shoot the school up, Columbine-style."
He also said he wanted to kill himself and "kill all white people," according to the report.
He was sentenced to 180 days in jail but the sentence was suspended and he was given probation. Scott was ordered to stay away from the school. "Intense" supervision was ordered.
His mother said that she did not recall the incident and said he even went on to graduate from the school.
* * *
Source: Kansas City Star and @FreyrBaldr via Twitter