A Graveyard Called Europe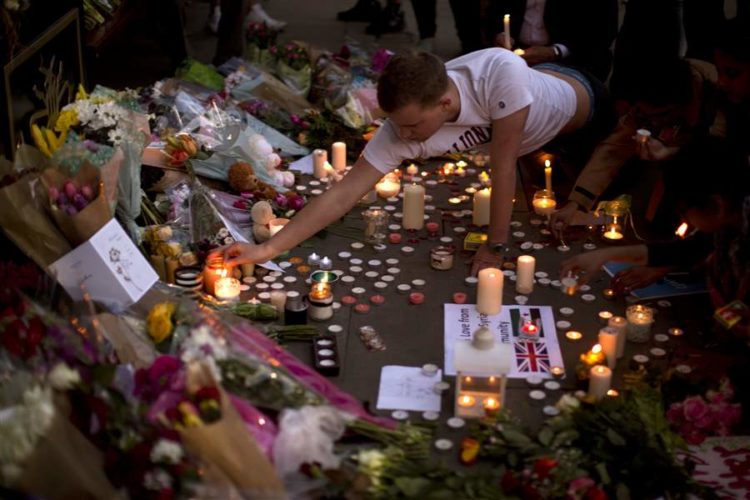 by Michael Walsh
THE ENEMEDIA have pulled the mask over Europe's political elite — an elite now unleashing hell on all the peoples of this continent and their brethren overseas. Their intention, and that of the Civil Service, aided by a corrupted police force, is to pull the shroud over the corpse of our homelands. The burial, they hope, will take place in Necropolis Europe.
From the Baltic to the Mediterranean Sea, the world´s smallest and most beleaguered race faces an ethnic Armageddon. Betrayed and leaderless, ethnic-Europeans are abandoned to their fate as they confront the savageries of the incoming hordes of Muslims, Africans, and other non-Whites.
The most treacherous leaders in the history of Europa invite, arm, and collaborate with Europe´s dark-skinned anti-White marauders. Now, hardly a city in Europe escapes the scimitar, machete, and panga stabbed between its shoulder blades.
Across the smallest continent in the world, flowers are strewn, bouquets are placed, candles are lit, and prayers for deliverance are whispered. Hypocritically, political legislators, responsible for the continental carnage, surrounded by heavily armed guards, dare to show their faces which are never bare of the masks of deceit and treachery.
The roll call of betrayal grows longer each day. On September 16, there were three Islamic attacks in Europe. There may be more; the enemedia do not report every attack. Those too dreadful to be ignored include:
Spanish terror attacks: Thursday, August 17, 2017. A terrorist ploughed a van into crowds, killing 13 people and injuring more than a hundred, in Barcelona's Las Ramblas. Hours later, police shot dead five attackers wearing fake suicide vests after the second attack in Cambrils, a coastal town south of Barcelona.
London Bridge terror attack: June 3, 2017. The London terror attack killed eight people and injured many others on London Bridge and in nearby Borough Market on Saturday, June 3 three knifemen were shot dead by police after mowing down pedestrians and going on a killing spree at pubs and restaurants.
Manchester terror attack: May 22, 2017. The Manchester terror attack killed at least 22 people and injured 59 others at an Ariana Grande concert at Manchester Arena on Monday, May 22. A lone suicide bomber detonated explosives among teenage fans leaving the concert.
Paris shooting: April 20, 2017. A policeman was killed on the Champs Elysees in Paris in what is being treated as a terror-related attack. ISIS claimed responsibility for the slaying, which comes just days before the French presidential election. The gunman is named as Karim Cheurfi, a 39-year-old man who served 15 years in prison for three attempted murders. The attacker was shot dead at the scene.
Stockholm attack: April 7, 2017, four people were killed and at least fifteen were injured when a man drove a truck down a busy shopping street. Rakhmat Akilov, a failed asylum seeker from Uzbekistan, has confessed to the crime, his lawyer said. The 39-year-old has allegedly admitted being a member of ISIS and told police investigators that he had "achieved what he set out to do".
Westminster attack: March 22, 2017.London attacker Khalid Masood mowed down pedestrians on Westminster Bridge, killing two men and two women and injuring many others. The knifeman smashed his vehicle into the railings outside Parliament, got out and ran into New Palace Yard where he stabbed an officer to death. Masood was shot dead by armed police.
Louvre knife attack: February 3, 2017. A knifeman was shot while trying to attack a group of soldiers guarding the Louvre in Paris on February 3. The attacker reportedly cried 'Allahu Akbar' and drew a machete on the soldiers after being told he could not enter the Louvre Carrousel shopping centre with two backpacks.
Berlin Christmas market attack: December 19, 2016. Attacker Anis Amri drove a lorry into a packed Christmas market, killing 12 people and injuring more than 60, in Berlin.
Normandy church attack: Tuesday, July 26, 2016. Two armed men stormed a church in Saint-Etienne-du-Rouvray, a suburb of Rouen in northern France. The attackers slit the throat of elderly priest Father Jacques Hamel and took four Christian supplicants hostage. One of the hostages is fighting for his life.
Attacks in Germany: July 2016. A doctor died after being shot as he attended to his patients in the hospital. It was the fifth Muslim attack in Germany in just over a week. The string of violent attacks started when a terrorist wielding an axe hacked passengers on a train in Wurzburg on Monday, July 18. A young "Iranian-German" gunman went on a deadly rampage in Munich on Friday, July 22. In two separate attacks on Sunday, July 24, a man blew himself up in Ansbach and in a separate attack, a man killed a pregnant ethnic-German in a machete attack in Reutlingen.
Nice terror attack: July 14, 2016. A terrorist in a lorry mowed down revellers who had just finished watching a firework display to mark Bastille Day in France. The horrific rampage killed 84 people and injured hundreds of others on the promenade in the seaside town of Nice. The attacker Mohamed Lahouaiej Bouhlel, a 41-year-old Tunisian-born "French citizen," was shot dead by security forces.
Brussels bombings: March 22, 2016. The Brussels bombings killed 32 people and wounded more than 300 other victims in a day of terror. There were two suicide bombings at Brussels Airport and another bombing at a Metro station in the Belgium capital.
Paris attacks: November 13, 2015. A series of terrifying attacks in Paris killed 130 victims and injured hundreds of others. It was the most deadly assault on French soil since World War II. A suicide bombing at the Stade de France stadium was followed by more explosions and shootings at popular bars and restaurants in Paris. Three gunmen also opened fire at Bataclan concert hall and killed spectators who were watching the Eagles of Death Metal perform.
It is unlikely that peace will return to Europe until the police pivot their investigations to the treacherous political elite and the lying enemedia.
* * *
Source: The Ethnic-European