Davenport, Iowa: National Alliance Fliers Make the News
Hostile media coverage is often so ineptly done that it simply helps spread the National Alliance message, and this controlled media report is an example. Telling the public that the rabbi hates our message is a helpful addition indeed.
DAVENPORT (via WQAD)– Hate speech, in the form of fliers, is popping up in Davenport neighborhoods and parking lots. And one local group is taking a stand.
Mom Jacenia Snyder and her little boy Collin take a playground breather to learn how to tie shoes.
After Collin runs off to play, mom learns something far more troubling than untied laces.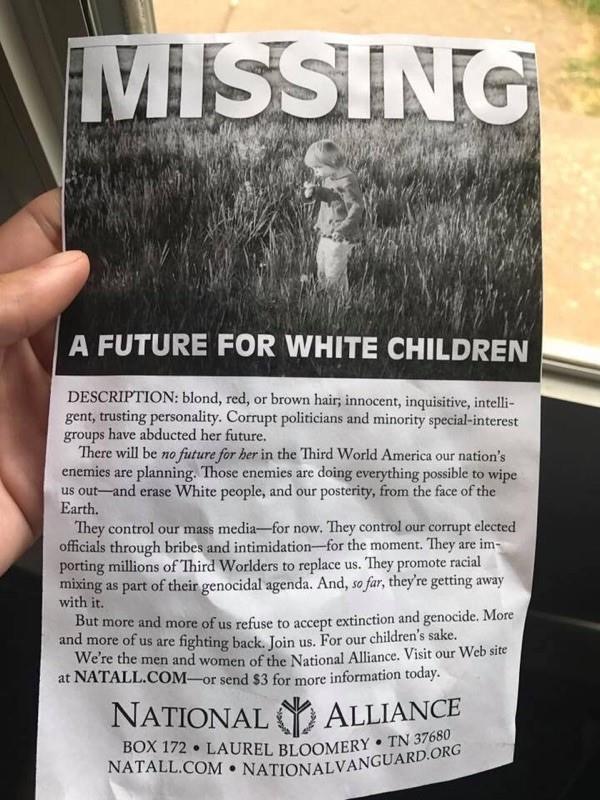 "Kind of like stuff you see on the news, but you don't ever really think it would happen about here," says Snyder.
It was just last weekend when the fliers started showing up on drivers' windshields.
The title reading, 'missing: a future for white children'. The fliers condemn things like 'racial mixing'. Another flier appearing from the same source says the group believes things like 'no multi racial society is a healthy society' adding 'the time to begin is now'.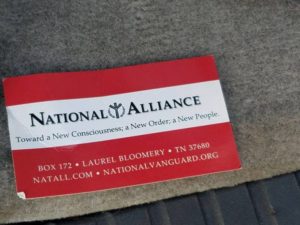 The group responsible for the fliers is the National Alliance, a white supremacist group that's been around the country since the 1970s.
QC Rabbi Henry Karp won't stand for this message, but he recognizes it is free speech.
"With this flier, there is no question that hate is here in our community," says Rabbi Karp.
He's spreading a message for people to stand up and act before the racial tensions escalate.
"Let the person know who is saying these cruel things, no, that you don't share those views, and you find their views to be obnoxious and hateful," says Rabbi Karp.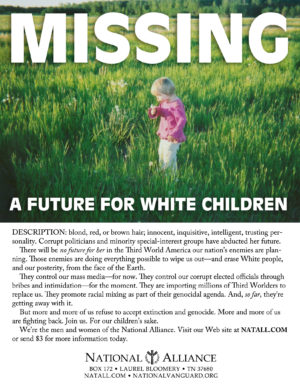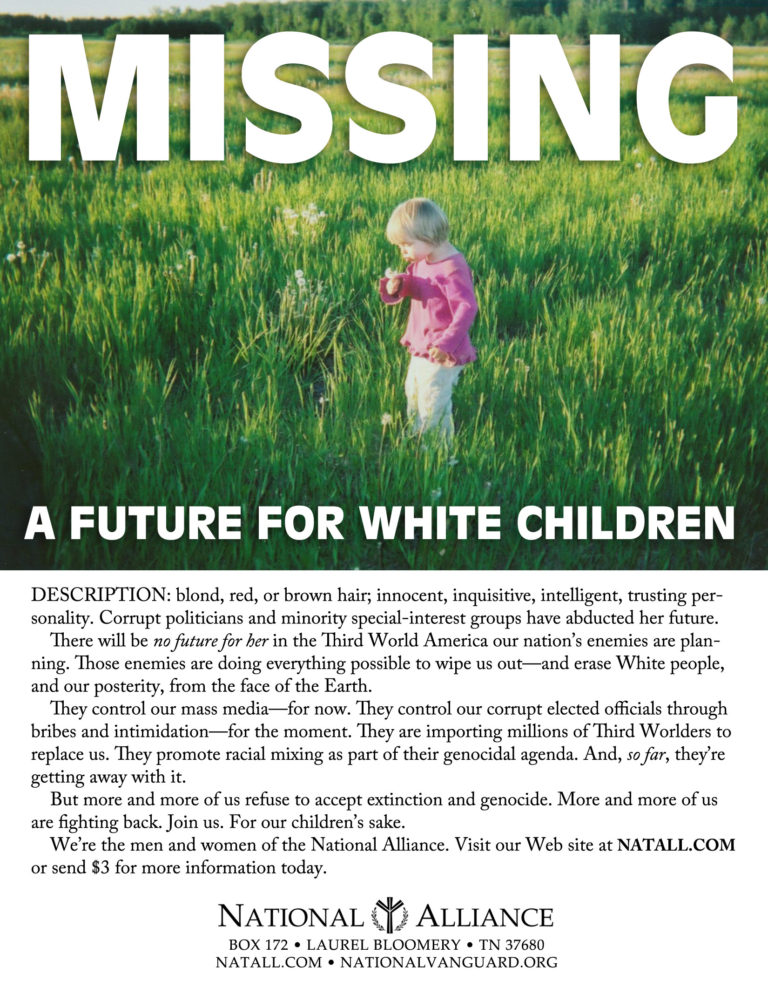 Meanwhile, Snyder preaches love and respect instead.
"We're all people, we're all human. We all make the same mistakes. We might have different places we come from, different beliefs, but that doesn't mean we can't coexist," says Snyder.
It's a message this mom hopes her son never forgets.
"I hope he definitely keeps that as he gets older," says Snyder.
The local group One Human Love QCA is holding a "No Hate" rally directly in response to the fliers next Wednesday. It will start at 12:15 at Davenport's Vander Veer Park. Everyone is invited.
* * *
More National Alliance fliers are available free at our flier repository at natall.com/fliers.
Source: WQAD and National Alliance members