Antifa versus "Supremacists"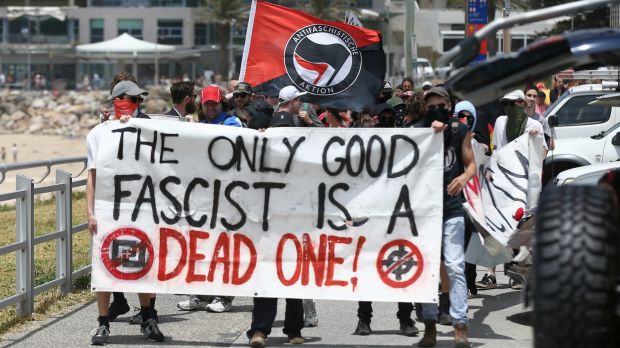 by David Sims
THERE IS A double standard in the thinking of those who believe that the pro-Whites in Charlottesville, and the pro-Whites alone, are racial supremacists. If Blacks who chant "Black lives matter" are not Black racial supremacists, then Whites who chant "White lives matter" haven't demonstrated that they are racial supremacists either. To think otherwise is to employ a double standard; i.e., two races are judged by different standards, and that's practically the definition of racism.
The problem with the left's definition of racism is that it is racist, itself. Yes, the way in which the left defines racism is racist. The way they define sexism is sexist. Practically every form of leftist thought contains this kind of built-in hypocrisy.
And, anyway, there aren't many actual White supremacists today. Instead, most White racists today are nationalists. Supremacism and nationalism are, in a way, opposites. Although both racial supremacists and racial nationalists are both racists, they differ on how the races should relate to each other. A supremacist does want his country to be racially mixed, but he wants his own race to be the master race, to which other races are slaves. A nationalist does not want any race-mixing at all; in particular he does not want slaves of another race in his country.
If "racists" is the superset, then supremacists and nationalists are two non-overlapping subsets. It isn't possible both to want members of another race in your race's homeland and to want members of another race not to be in your race's homeland. It is impossible for a White nationalist to be a White supremacist.
The media bosses, however, understand that the word "supremacist" carries uglier connotations than the word "nationalist" does, and to gain the emotional impact they desire (to stir people up) they use "supremacist" inaccurately, as a duplicitous propaganda word. They've been doing it for decades. They will keep on doing it. But the vast bulk of White racists in America today are nationalists, and they aren't supremacists.
When a consistent narrative on the Web contradicts the narrative presented by the controlled media, you should trust the former, rather than the latter. The entirety of the Jew-controlled mainstream media can be regarded as if it were a single perjured witness.
As I said the other day, if you want to find supremacists, you'll have better luck looking for them in Israel.
Now let's look at the other, "innocent" (in the eyes of Mitt Romney and others) side: the knife-, bat-, acid-, and flamethrower-wielding "Antifa."
Antifa don't act as they do on principle. They merely pretend that acting on principle is what they are doing. I think someone rich is paying them a salary and providing them with transportation. If that rich sponsor were to have a heart attack or something, the Antifa might go away. If a foundation exists to continue Antifa's funding, then it would have to be defunded by a legal action.
Otherwise, the only option is to fight fire with fire, which would escalate the fighting between the left and the right to real military conflict. This is the only other option because, as we have seen in Charlottesville, the police often don't conduct themselves with professional impartiality. Instead they, or the politicians who give them their orders, act as extra pieces for the left on the chessboard, giving Antifa an unfair advantage.
Likewise, the mass media, being hostile to the right, and serving as the left's propaganda auxiliary, will be considered legitimate military targets when the fighting intensifies.
* * *
Source: Author