Some "Rebels" Really Aren't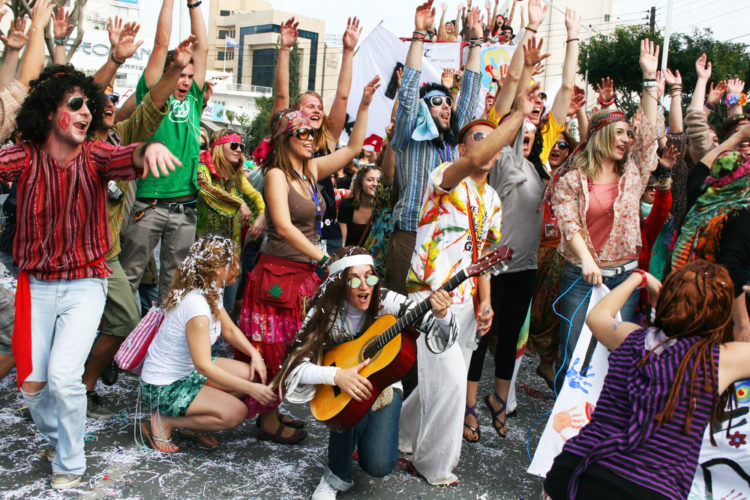 by David Sims
THE HIPPIE or his modern equivalent, pretending to oppose the Establishment, is part of the Establishment. He is its cat's paw. And, if he is a Gentile, the chances are pretty good that he isn't even aware of that.
A cat's paw is a person who, knowingly or not, carries out a dangerous task for someone else. The hippie movement was a cat's paw employed by the Jews. Although some of the hippie leaders (sometimes calling themselves "gurus") were Jews (like Abbie Hoffman), the rank-and-file were misled young Whites.
The hippies were intended to disrupt Western culture by a promotion of communism, a promotion of racial mixing, a promotion of sexual promiscuity, a promotion of drug abuse, and a general replacement of the work ethic and values fostering deferred gratification with other, more permissive values that arose from a desire for immediate gratification.
They weren't, however, the Jews' only cat's paw. Feminism is another. The more caustic modern habits of corporate America (e.g. the sexualization of children) is a third. The rise of easy divorce and anti-father customary practices by family courts is a fourth. Liberal slant and censorship in the media is a fifth. US immigration policies that favor Third World migrants is a sixth. The Federal Reserve System is a seventh. (And there are others. The order in which I present these does not reflect upon their relative importance.)
Some "nonconformist" hippies explicitly advocated Marxism. Among Marxists in general, you find a great deal of behavioral conformity. Everyone wants to be in the herd because the herd (or the "common man," or whatever it is called in the relevant social context) is wonderful, is the best part of humanity — whereas the more elite type of person is an "evil" whose chief sin is the exploitation of the herd. Marxists promote quantity of human life, and they despise humans of the highest quality. That's why, whenever Communists take over a country, they begin their rule by executing all of the smartest and most capable people in its population.
* * *
Source: Author