Fake Hate Crimes and Imaginary "Nazis"
The deceptive race is very good at lying without flinching or shame, but many of their hoaxes are easily disproved. Evidently they aim for a bigger quantity of lies instead of "high quality" lies — and they also have an unjustified contempt for those who are supposed to swallow their garbage.
THE GREAT Hate Crime Hoax of 2017. Gee, I wonder if anything like this has ever happened before? Like, maybe in 1945?
Here's a list of hate crime hoaxes so far in 2017 — and the year isn't even half over yet!
Boy arrested in Esperance swastika graffiti spree / Boy, 13, determined to have acted alone. Not motivated by bias toward any individual or group. Was familiar with the symbol from a video game and "chose it because it was easy to draw." / 2017-01-06
SDSU Police: No Suspect in Attack on Muslim Student / A San Diego State University student who initially reported being pushed and verbally assaulted by two men in a parking garage has decided not to pursue charges, SDSU Police said Tuesday. A Muslim s / 2017-01-07
Police Charge Student For Threat Made At Arundel High School / Black student makes threats to school using Twitter account containing KKK. / 2017-01-11
Fake 'Hate Crime' Report at Beloit College Leads to Arrest / Michael Kee, a Beloit College student, admitted to police that he spray painted anti-Muslim graffiti on his dorm door and on a wall to gain attention. / 2017-02-01
Campus Police determine reported hate crimes were fabricated, student shares truth / Jalen Mitchell, a black Capital University student, admitted to campus police he fabricated hate crimes including writing a racist note to himself and claiming to have been racially assaulted. / 2017-02-09
Man charged in Sylvania Township graffiti case / Osama Nazzal was charged with spray painting anti-Arab graffiti on an Arab family's house on January 10, 2017. / 2017-02-15
Lawyer: Racist note on Loudoun Co. restaurant bill is fake / The lawyer who represents the customers who allegedly left a racist note on Loudoun Co. restaurant bill says the story is fake. The local NAACP is standing behind the waitress, but also said it's s / 2017-02-24
Hate crime hoax alert: Capital University student admits to fabricating several incidents / Student fabricated several hate crimes and admitted he did it because "It was a way to try to get attention, to say 'Someone notice me, I'm dying on the inside,'" / 2017-02-24
Lakeville Officials Say 'Non-Caucasian,' Special Ed Student Behind Graffiti / Racist graffiti found in Minnesota high school. After initial media furore, non-white student alleged to have done the crime by officials. "District officials said the incident was very unfortunate / 2017-02-28
Montreal man charged with terror hoax after bomb threat targeting Muslim university students / Hisham Saadi, 47, has been charged with carrying out a hoax regarding terrorist activity, uttering threats and mischief in connection with the Concordia University bomb threat Wednesday. / 2017-03-02
Anti-Trump Communist Arrested For Jewish Community Center Bomb Threats / Juan Thompson, 31, was arrested in St. Louis by the FBI for making at least eight bomb threats and the cyberstalking of an ex-girlfriend. / 2017-03-03
Vandals not responsible for dozens of tipped graves at Jewish cemetery in Brooklyn, management says / Police and the general manager of a Jewish cemetery in Brooklyn said that 42 fallen headstones were not caused by vandals, saying Sunday that the memorials had naturally tipped over due to age / 2017-03-05
Ann Arbor woman pleads guilty to making up hate crime / Halley Bass pleaded guilty to fabricating an assault in which she claimed a white man scratched her face because she wore a "solidarity pin". In fact, the wound was self-inflicted in a literature class / 2017-03-07
Jewish man arrested after spray painting swastikas on his own home in Upstate NY / Andrew King, a Jewish man, spray painted 3 swastikas on his home & reported the incident to the police. The police later determined that he fabricated the hate crime & charged him with false reporting. / 2017-03-21
Israeli man arrested in US Jewish community center bomb threats / Israeli police say they have arrested a 19-year-old Israeli Jewish man as the primary suspect in a string of bomb threats targeting Jewish community centers in the U.S.. Police spokesman Micky Rosen / 2017-03-23
College 'Diversity Council' Posts FAKE Racist Flyers / The "Diversity Leadership Council" at Gustavus Adolphus College has admitted to posting racially offensive posters around campus after the school's Bias Response Team received multiple reports on the m / 2017-03-24
Charges dropped against man accused of anti-gay hate crime / A 50-year-old man who claimed he was the victim of an anti-gay bias attack outside Madison Square Garden has been arrested — not only for making up the incident, but also for attacking the man who was / 2017-04-10
Feds: Black man posed as racist, sent threatening letters / A black man, Justin Lamar Coleman, impersonated a white man while sending numerous racist letters and death threats to many local black people between July and December of 2016. / 2017-04-13
ISU professor arrested, accused of making up threats and attack / Azhar Hussain, an assistant ISU professor, was charged by local police with falsely reporting anti-Muslim threats & an assault against himself. Local police believe his intention was to elicit sympathy / 2017-04-21
PC: Church organist who reported vandalism was actually the one who did it / George Nathaniel Stang confessed to local police that he spray painted a swastika, the words "Heil Trump" & a homophobic slur on the church where he worked. His intention was to "mobilize a movement". / 2017-05-03
Police: Woman falsely accused trooper of making racial slurs in Cayuga County traffic stop / Tiffany Robinson-Clarke, a black woman, falsely accused a white cop of using racial slurs during a traffic stop. Their recorded conversation refuted her allegation & she was charged w/ false reporting. / 2017-05-04
St. Olaf: Report of racist note on black student's windshield was 'fabricated' / From the article: NORTHFIELD, MINN. – A racist threat against a St. Olaf student that touched off campuswide protests and forced the college to cancel classes earlier this month was a hoax, the scho / 2017-05-10
Queens College student recants story about being robbed, threatened by masked men: police sources / Unnamed Pakistani-American college student in Hillcrest, Queens initially claimed that 3 masked men in a black van abducted, racially assaulted & robbed him. He later recanted his claim to the police. / 2017-05-27
So much fake hate during the 2016-17 school year: a best-of list / Many of the fake hate crimes of the last year have been on campus / 2017-06-14
Road Rage Leads to Murder of Reston Teenager: Evidence in case does not point to hate crime / Police state murder of Nabra Hassanen, 17, of Reston, Virginia, was road rage, not a hate crime. / 2017-06-19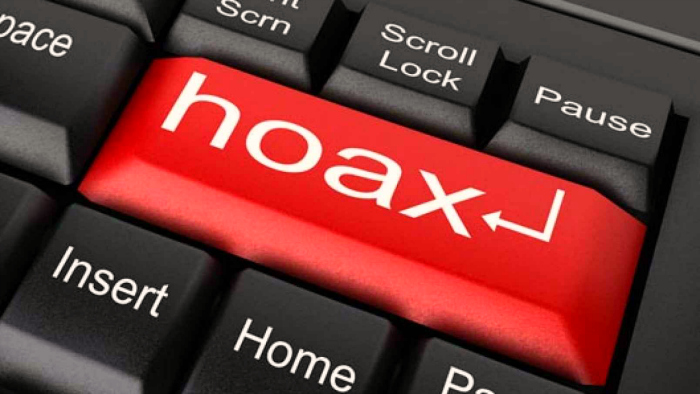 Hate Crime By 'White America' Leads To Black Man's Arrest / Nepal-Indian merchant threatened with torture if he didn't leave country. Signed "White America." Police arrested black man after reviewing video tape. / 2017-04-10
Muslim girl who claimed she was pushed in front of a train because of her headscarf faces prosecution in Austria after CCTV shows she invented the story / A fourteen-year-old Muslim girl claimed she was pushed in front of a train in Austria for being Muslim. Police say the CCTV cameras show the incident did not happen. / 2017-01-20
* * *
Source: Demography is Destiny and http://fakehatecrimes.org