2017 John Tyndall Memorial Meeting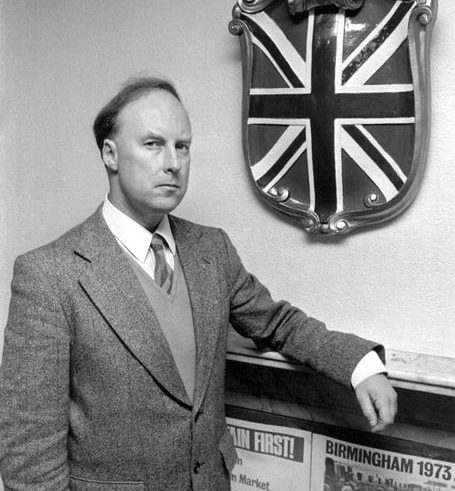 by Max Musson
FOR OUR READERS who are in, or can make it to, Great Britain we announce the forthcoming 2017 John Tyndall Memorial Meeting which will take place on 1st July 2017 at a prestigious location in central England.
This meeting represents a significant change from the format of earlier such meetings, with a sharper focus on the legacy of John Tyndall; what made him the foremost nationalist thinker and writer of his era; and what must be done today to bring about the fulfilment of his life's work, the salvation of the British people.
As a politician John Tyndall never achieved elected public office, and his career from the days of the League of Empire Loyalists and John Bean's National Labour Party, through the Greater Britain Movement to the chairmanship of the National Front and on to the formation of the British National Party was an eventful and often controversial process that won him enemies as well as many friends and admirers. However his 'Six Principles of British Nationalism', his 'The Case for Economic Nationalism', and his biographical magnum opus, 'The Eleventh Hour' established his brand of radical nationalism as the blueprint that most followed and made him the role model for all who might wish to emulate his success and assume the leadership of our movement following his death in 2005.
There will be a range of leading nationalist speakers including the winner of this year's Jonathan Bowden oratory prize, Jez Turner, and it is hoped that this event will be another stepping stone along the path to nationalist revival as more and more groups and individuals are drawn together around a common theme and through a common desire for eventual nationalist unity. This will be one of those meetings you will not want to miss.
Advance tickets can be purchased online for £22.50 each through the 'buy now' button below prior to 25th May, or attendees can pay £27.50 later or on the door. The cost of a four-course hot and cold buffet lunch is included in the price. There will be free parking and unlimited refreshments will be available throughout the day, or alternately attendees can purchase alcoholic drinks from the bar.
NB: Left click on 'Buy Now' button and if you don't have or want a PayPal account, simply select 'Check Out as a Guest' to proceed.
* * *
Source: Western Spring