South Africa: White Student Group Attacked for Using National Socialist Poster Art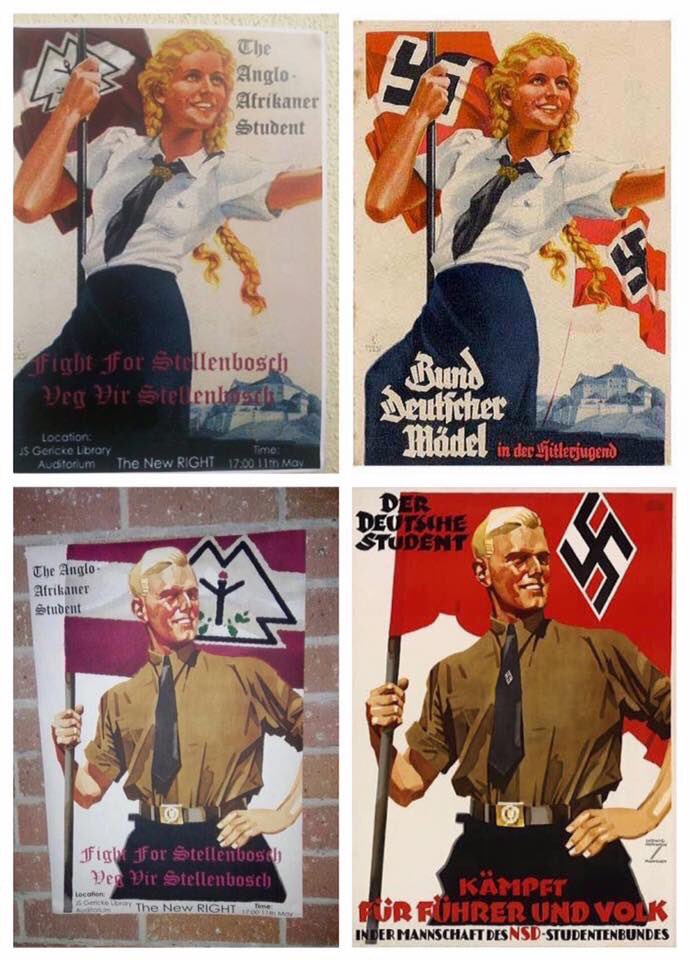 The totally innocent-looking meeting announcement posters, which caused nearly-insane fury among ignorant and Leftist Whites, also feature a Life Rune logo. When a guilt-ridden South African said of the posters, "We must expose and reject this," we replied "Au contraire, peanut. We must embrace and promote this, not reject it. Racial separatism is the only way a race — any race — can survive."
A MAJOR SOUTH AFRICAN university has denounced posters displayed on campus this week that bear a striking resemblance to National Socialist propaganda.
The "offensive" posters, entitled "the Anglo-Afrikaner student," were displayed on Stellenbosch University's main campus by a National Socialist youth organization calling itself "the new right."
The posters advertised a meeting, scheduled for Thursday in the university's library, which called for students to "fight for Stellenbosch."
The images appear to be a photoshopped version of National Socialist propaganda posters which featured slogans such as, "The German student fighting for the Fuhrer and the people."
We must expose & reject this. The use of Nazi Germany propaganda to promote Afrikaner SEPARATISM is unjustifiable. #StellenboschUniversity pic.twitter.com/MH0p5W0izg

— Sam Beynon (@BeynonSammy) May 9, 2017
Stellenbosch spokesperson Martin Viljoen told local outlet News24 that the posters were placed on the campus without the university's knowledge.
Viljoen added that the university's library only received a "query" about the meeting and no official booking was made.
Stellenbosch university also released a statement condemning the posters for "inciting racial polarisation."
"Stellenbosch University (SU), its Library and Information Service and its Student Representative Council condemns racism, racial superiority and any attempts to polarise our campus community in the strongest possible terms and will not allow any event promoting racial superiority to take place on campus," the statement read.
"The University would like to stress that only a query was received on the availability of the venue and that no official booking was made at the time the posters were displayed. Information about the event was not provided," the statement added.
Three individuals are now under investigation by the university for planning the "Anglo-Afrikaner Student" event.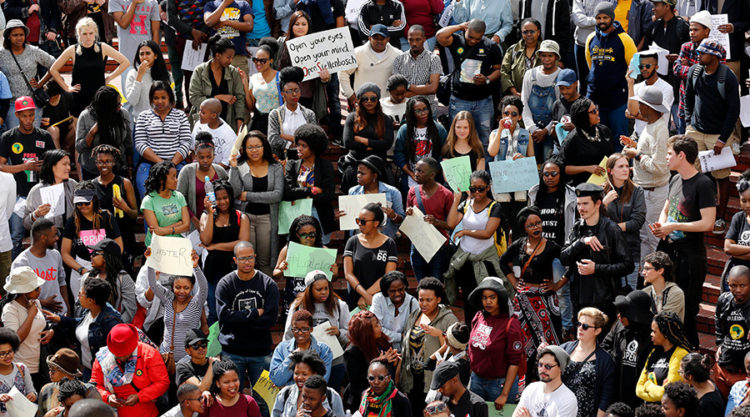 Jaco Greeff Brink, head of the university's equality unit, which is leading the probe, said:
"The posters and advertised event promoting racial polarisation/superiority combined with highly offensive references to Nazi propaganda and Neo-Nazism are totally unacceptable. Given the values of SU and the South African Constitution we cannot condone views, events, publicity campaigns or innuendo that undermine our innate equality as human beings."
South Africa's joint-oldest university, Stellenbosch has been a focal point of racial tension since apartheid ended in 1994.
Before the end of apartheid, the university was an elite institution for South Africa's Afrikaans-speaking white minority. It is now open to all races.
* * *
Source: RT and National Vanguard correspondents