Germany: Identitarians Almost Succeed in Storming Justice Ministry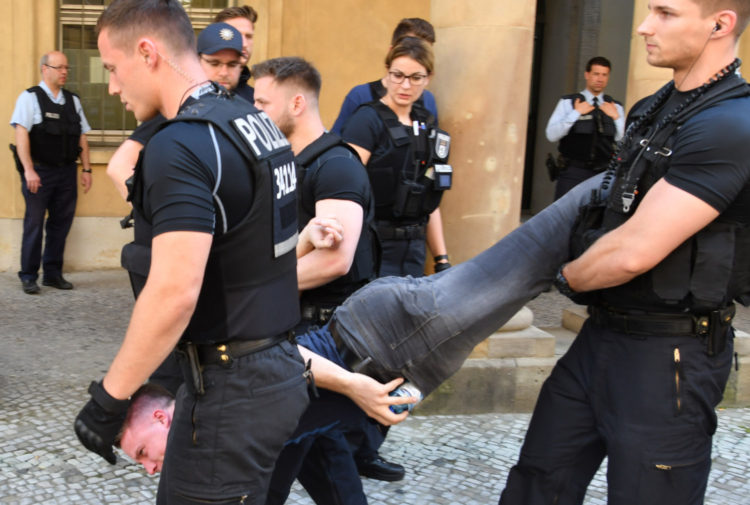 Members of the right-wing Identitarian movement attempted to storm the German justice ministry in Berlin on Friday over a proposed law to fight "hate speech" on social media.
ABOUT 50 people from the right-wing, anti-immigrant movement gathered before the justice ministry in the afternoon and then tried to force their way into the building, according to police.
But officers were able to prevent them from doing so, arresting one person for violating assembly laws. Police said that the situation was under control by 2pm.
Last August, Identitarians climbed the Brandenburg Gate and unfurled banners reading "secure borders — secure future".
The group wrote on their Facebook page that the demonstration on Friday was against Justice Minister Heiko Maas and his proposed law to make social media sites more consistently and quickly remove "hate speech", which was being discussed on Friday by the German parliament (Bundestag).
Maas has become a figure of "hate" for the far-right scene because of his tough stance against right-wing extremism.
Maas' proposal, dubbed the "hate speech law", would force sites like Facebook and Twitter to delete overtly criminal content within 24 hours of it being flagged. For more complex cases, the sites would have seven days to do so.
The websites would also have to designate a contact person in Germany with whom citizens and government agencies could be in contact.
If companies do not set up "suitable procedures" to delete comments, Maas has explained, they would face fines of up to €50 million.
A study by jugendschutz.net — which advocates for better online protections for children and teens — found that social networks generally have quite low quotas for removing flagged content. Facebook only deleted 30 percent of such comments, Twitter just 1 percent. YouTube had the "best" track record at 90 percent. But pro-White groups like the Identitarians are far from the only ones opposed to the bill. Critics include trade associations, Internet activists, journalists, NGOs, lawyers, and even members of the ruling coalition government that Maas represents. …
 * * *
Source: The Local