Dripping With Hate: "White Privilege Conference"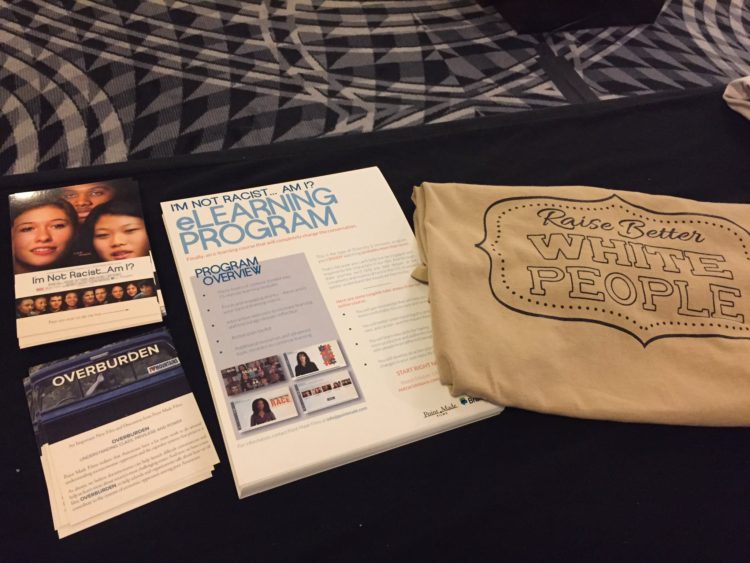 JUST IMAGINE if the word "White" was swapped out for "Black" or "Hispanic" in some of the statements that have emerged from the 18th annual "White Privilege Conference."
If that happened, in no time flat, activists would be labeled racists and bigots, a state investigation would be launched and the conference would be black-listed from any hotel in the future.
But "White privilege" activists are protected by anti-White privilege, so none of those things will happen.
One of the merchandise items available was a tote bag that says, "Raise better White people."
The exhibit table in front of me at #WPC18KC. It gets better each year! #PointMadeFilms #INRAIeLearning #overburdendocumentary #lookdeeper pic.twitter.com/qXVIDZyfZA

— Barb Lee (@barblee623) April 29, 2017
Attendee Katrina Fludd shared this image from one of the workshops: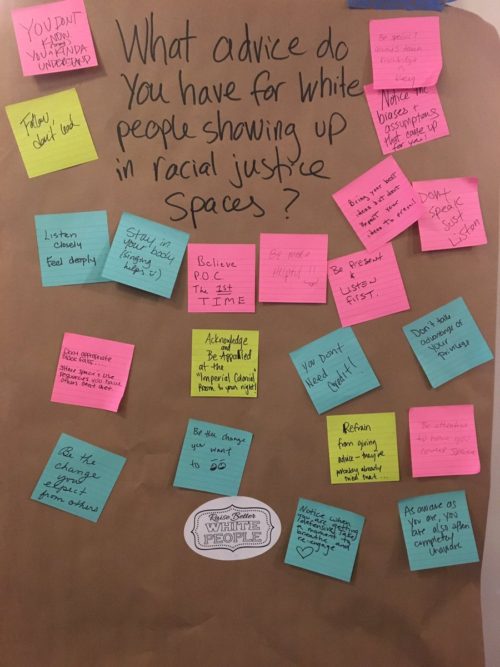 "What advice do you have for White people showing up in racial justice spaces?" it asked.
Attendees wrote responses on sticky notes, including, "Don't speak, just listen;" "Follow, don't lead;" "You don't need credit;" and, "As aware as you are, you are also often completely unaware."
Another workshop analyzed the apparent "attitudes of Whites":
Unpacking privileged group dynamics. How have I participated as marginalized person in internalized #racism @KathyObear #WPC18KC pic.twitter.com/GC5U02FCoU

— Colinda Clyne (@clclyne) April 29, 2017
It taught the 2,000 educators and other attendees that "some/many Whites tend to believe they have 'earned' what they have, rather than acknowledge the extensive White privilege and unearned advantages they receive…"
At another session, Whites were encouraged to "sit with the discomfort," and were lumped into a single group as believing they are "superior to people of color, people who were biracial/multiracial."
@KathyObear @BethYohe encouraging whites to sit with the discomfort #WPC18KC pic.twitter.com/A4dHrSgCnp

— Colinda Clyne (@clclyne) April 29, 2017
Speaker Leslie Mac reportedly told a joke at the expense of "white allies," the Caucasian do-gooders motivated by guilt who are fearful of being labeled racist.
"Two white allies walk into a bar…"

"…because it was set so low."

😂😂😂 @LeslieMac #WPC18KC pic.twitter.com/U620FuLPx7

— ChuckModi (@ChuckModi1) April 30, 2017
"Two white allis walk into a bar … because it was set so low," attendee Chuck Modi reports she said. He included three laughing emojis.
EAGnews reported a smartphone app was to be unveiled at the conference that would allow users to "report racist activities."
"The Institute for Research & Education on Human Rights is excited to be launching a new smartphone app at WPC18. It is called 'Trepper': the anti-bigotry app will allow users to securely capture incidents of bigotry on video, notify users of local incidents and events, and harness the power of social networks to report," according to the WPC18 program. "It provides a toolkit for anti-bigotry organizing and security, and share (sic) the latest news and updates."
EAGnews noted, "And while WPC18 is rife with generalizations and stereotypes about white people that would provide the perfect opportunity to try out the new app, attendees will have to wait until they're back home. Ironically, organizers banned all video recording and pictures for attendees."
"All WPC content is copyrighted. Sessions may not be recorded or videotaped without prior written permission from the White Privilege Conference and anyone who will be included in the recordings," the program reads. "No materials received at the conference may be reproduced without written permission from the White Privilege Conference and the author."
* * *
Source: EAGnews