Civil War is Thinkable
Introductory Note: We are pleased to present this short, yet poetic and powerful video based on an excerpt from Dr. William Pierce's "Thinking about a White Future," the text of which follows.
by Dr. William L. Pierce
AND SO conditions in America will continue to grow worse and worse, as the enemies of our people continue desperately to push us to the point of no return. Our schools and our cities will become more jungle-like; our popular culture will become more alien, more debased, more Negroid and more Mexican and more Asian; the behavior of our politicians and our sports and entertainment stars will become more animalistic; our government will become even more corrupt. And White Americans will run out of suburbs to which they can flee. And when they no longer can evade the situation, when they no longer can ignore it, when they no longer can parrot the Politically Correct lies about race without any danger of being contradicted by reality — then more and more White Americans finally must make decisions about the future they don't want to think about now.
And we know that many of them will just wring their hands and cry in womanish despair, "Oh, why can't the races get along with each other? Why can't there be peace and cooperation between the races, so that I can continue to consume in comfort and safety and Political Correctness? Oh, why must I deal with this difficult and unpleasant problem of race?" And we know that more of the weakest and most degraded of our people, the most corrupt and selfish of our people, will join our enemies in the hope of temporarily improving their own personal situations. But we also know that many others, when there no longer is a safe suburb to which they can flee, finally will be ready to stand and fight.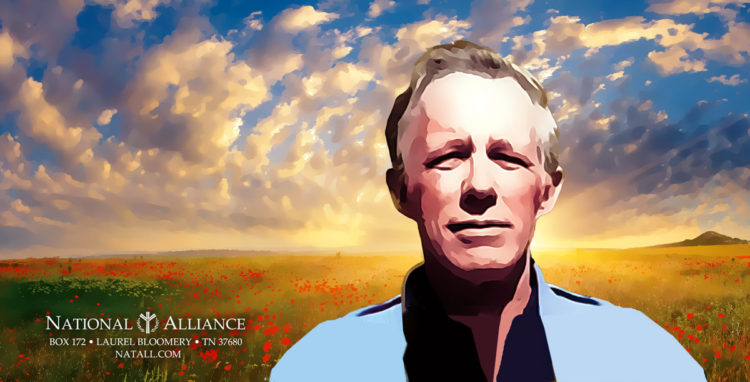 And my message to these last is this: Don't wait until the last minute to make your decision; much better to make it sooner than later. My message is: Don't fall for the defeatist lie that we cannot un-integrate America because it will be too difficult and too violent and too painful. Don't refuse to think about the grim and bloody remedy of a civil war — because the alternative is far grimmer and far bloodier. The fate that Mr. Clinton and the Jewish media bosses have planned for us is infinitely worse than any civil war could possibly be. Civil war is thinkable, civil war is plannable — when the alternative is extinction. Be a man and face reality and steel yourself to do whatever must be done to undo the damage that our enemies have done to us, so that our people will have a future.
* * *
Full broadcast: https://nationalvanguard.org/2016/01/thinking-about-a-white-future