Black Killer Sentenced in Metairie Double Murder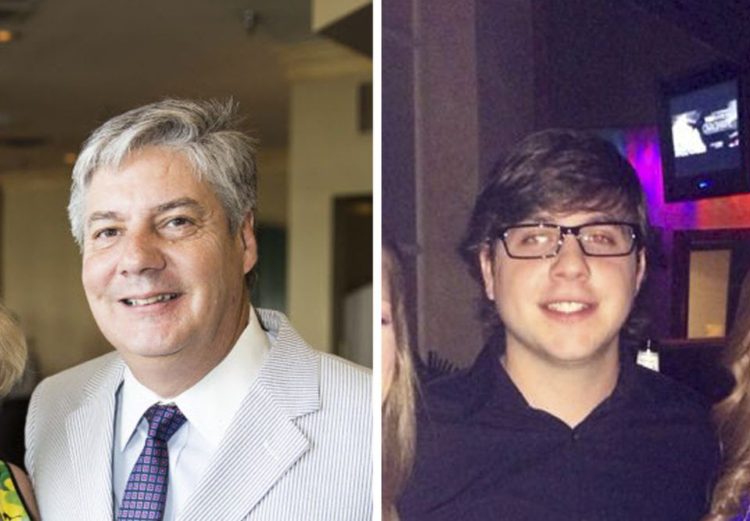 Introductory Note by David Sims: Entering a White family's house to grab a purse left on a table, two Black burglars in a formerly nearly all-White New Orleans suburb decided to murder (with a shotgun) a middle-aged father as he slept in a chair and then also murder his 25-year-old son as he came running into the living room. Pictured above are the White victims.
DEXTER ALLEN, the teenager convicted of creeping into a Metairie home with a shotgun and killing father David Pence and his son, Nicholas Pence, in their den, was sentenced Friday (April 21) to life in prison. The sentencing came a day before the second anniversary of the April 22, 2015, murders.
In a rare display of emotion from the bench, 24th Judicial District Court Judge Raymond Steib Jr. choked back tears of sympathy for the victims' family as he ordered Allen, 19, imprisoned for life without the possibility of probation, parole or suspension of sentence.
"David Pence was shot and killed while he slept, not once but three times," Steib told Allen. "I still remember the demonstration of the officer showing what physical effort it took to pump that shotgun three times. Then, with the house filled with smoke and burning gunpowder, you pumped two more shots into Nicholas Pence."
Steib called the killings an intentionally horrible act. Noting that neither he nor the Pence family will ever understand why father and son were killed, Steib told Allen, "I can make sure that you never have the opportunity to do it again."
Elizabeth Brandley Pence found her husband dead moments after the shooting and held her son as he took in his last breaths. On Friday, she was still shaking with relief as she stood with family, friends and neighbors on the steps of the Gretna courthouse following the sentencing.
"This was a complete tragedy for our family but we feel justice has been served," Elizabeth Pence said.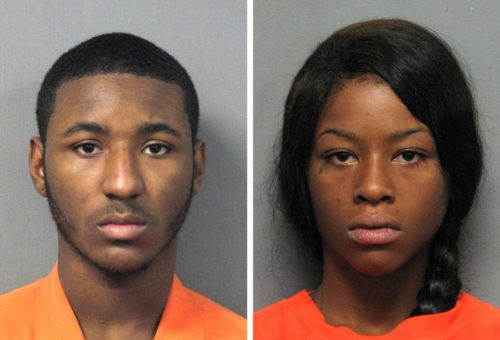 Shotgun Executions Shocked Metairie
Allen was convicted Oct. 17 of two counts of second-degree murder and 19 counts of simple burglary for the 2015 killings. On that April night, Allen and his then-girlfriend, Haraquon Degruy, were stealing property out of unlocked vehicles in the Pence's Metairie neighborhood when Allen looked through a glass door and noticed a purse on the counter in the Pence family's kitchen, prosecutors said.
Allen retrieved a Mossberg 12-gauge shotgun from a vehicle he'd carjacked earlier that day in New Orleans and went into the house. He shot David Pence, 56, in the head, abdomen and leg as the man sat in a living room easy chair. David Pence died instantly, never waking from his slumber, authorities said.
Nicholas Pence, 25, rushed into the den from the next room where he had been playing video games. He died of two shotgun blasts to the head, delivered as he was kneeling to the ground, prosecutors said.
The sounds of gunfire woke Elizabeth Pence, who was asleep in a bedroom. In a desperate 911 call, she can be heard begging her son to stay as Nicholas Pence took his last breaths and died in her arms.
In sentencing Allen, Steib referred to the recording of that call.
"I watched you during that phone call as it was being replayed, Mr. Allen. You showed no emotion. How you cannot feel for the mother of Nicholas Pence and the wife…," the judge said, his voice breaking before he paused for a moment to collect himself, "the wife of David Pence, for the horror that you caused them, is cold."
The random nature of the murders — in a neighborhood where such violent killings are extremely rare — shocked many metro New Orleans residents. Most homicides involve victims and perpetrators who know one another or have some sort of relationship, Jefferson Parish Sheriff Newell Normand has said. Allen was a stranger to the Pences who happened upon their door by chance, according to authorities.
"This was an execution-style murder," Normand said at the time. "You don't see that with a random crime."
Suspect ID, Manhunt Ensues
Jefferson Parish Sheriff's Office detectives soon identified a suspect, after determining that the series of nearby vehicle burglaries was linked to the murders. Officers found Degruy's fingerprint on a car burglarized near the Pence home the same night as the killings, authorities said. Witnesses and surveillance cameras also spotted a white Toyota Highlander that had been carjacked earlier that day in New Orleans.
Two days after the murders, authorities found the Highlander with Allen and Degruy inside. The pair led investigators on a high-speed chase, during which Allen is accused of trying to run over a U.S. Marshal.
From the SUV, detectives recovered David Pence's CVS pharmacy card, which had been inside the purse stolen from the Pence home. Investigators found the murder weapon, the Mossberg shotgun with Allen's DNA, underneath his Arts Street home in New Orleans.
With all that evidence presented during a five-day trial, jurors took less than two hours to convict Allen on Oct. 17. Degruy on May 1 is set to face trial on two counts of being a principal to second-degree murder and 19 counts of simple burglary. She has pleaded not guilty to the charges.
No Remorse From Allen, Judge Says
Allen's sentencing was delayed for 24 hours following the denial of a motion for a new trial during a hearing held Thursday. The motion cited a U.S. Supreme Court has ruled that found mandatory life sentences without parole for juveniles to be unconstitutional.
Judges in Louisiana must hold a hearing to consider any circumstances surrounding the defendant's upbringing or his youth that might have played a role in his decisions. Allen's attorney, Jerome Matthews, decried as unfair the court's denials of his motions to delay sentencing and provide proper funding for a thorough investigation of Allen's background.
The killings, Steib said, were not an act of immaturity. The judge recalled the testimony of Allen's mother at Thursday's hearing. She told the court her son was smart and a good student. But Serena Jones Allen never indicated that he had any developmental disability, Steib said.
The judge said he's watched Allen since the case began to make its way through court and remarked that the teenager never showed any emotion.
"There's been no remorse, not request to say I'm sorry, to ask forgiveness from the family," Steib said.
Steib again teared up as he addressed Elizabeth Pence and her daughter, Tara Pence.
"Words cannot express the sorrow we feel for your loss. I hope this brings some closure to you and heals the wounds that you have suffered," he said.
Elizabeth and Tara Pence said they were moved by the judge's emotional words and grateful that he, too, noticed what they alluded to as Allen's seeming indifference. …
* * *
Source: Nola