SpaceX: Historic First Reuse of Rocket First Stage
Introduction by David Sims
FIVE DAYS AGO, SpaceX flew a previously used Falcon-9 first stage with a second payload on top. It was the first time in history that any rocket-to-orbit first stage had been used for a second time. Mark it in your history books.
SpaceX caught the descending first stage once again on its drone ship, so a third launch using this same first stage is a possibility.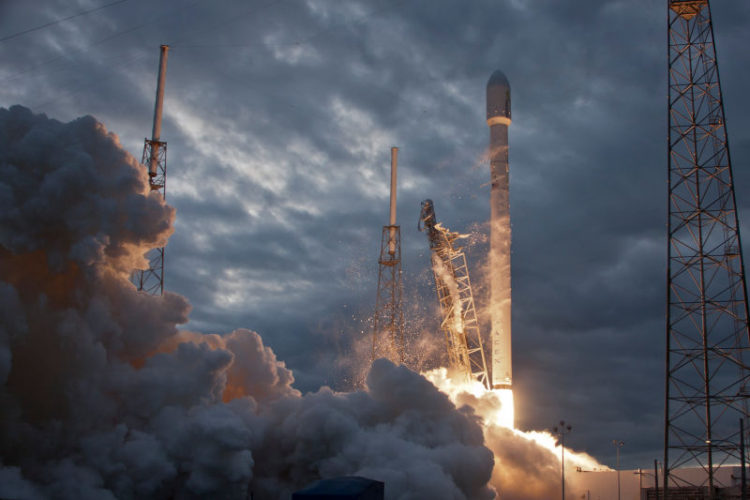 Appendix
Historic SpaceX Falcon 9 rocket returns home to Port Canaveral
The quiet arrival of a historic SpaceX Falcon 9 rocket at Port Canaveral early Tuesday stood in stark contrast with last week's fiery launch and landing.
The first stage of the relaunched Falcon 9 floated into port around 7 a.m. wearing the scars of a second successful orbital launch and landing — the first mission of its kind in what is seen as a breakthrough moment for the space industry. It took flight from Kennedy Space Center's pad 39A at 6:27 p.m. Thursday with SES-10, a commercial communications satellite, and landed on SpaceX's "Of Course I Still Love You" drone ship about eight minutes later.
Jeff Rothacher, a part-time Space Coast resident from Ohio, watched with his wife and a friend as the drone ship was maneuvered to a dock near The Cove at Port Canaveral. Rothacher's experience with space goes back to 1975, when he first saw a Viking rocket launch from Cape Canaveral.
"I think it's fantastic that they're reusing something like this," Rothacher said. "It's history."
And that history will stay with the Space Coast, according to SpaceX CEO Elon Musk. During a post-launch press conference at KSC Thursday night, the billionaire entrepreneur said the first stage will be a gift to "the Cape." Musk, however, did not specify where exactly it would reside.
Mark and Lorrie Nagel, who recently retired to Cocoa from their native Des Moines, Iowa, excitedly watched as three boats carefully maneuvered the drone ship near the port's 273-foot-tall cargo cranes.
"It's such a fun thing to sit back and watch," Mark Nagel said. "Now to see the reemergence and the excitement of how it's coming back is just so much fun."
Not seen on the drone ship Tuesday was a robot that Musk confirmed would one day secure first stages before crews board to safe the rocket. In rough seas, crews can't board the drone ship while the rocket is being jostled from side to side. The robot would aim to solve this problem by securing itself to the landing legs of Falcon 9 and stabilizing it enough for crews to safely approach.
Musk last week said it should be ready "within the next few months."
The historic mission successfully delivered the 11,700-pound SES-10 satellite to orbit about 32 minutes after launch. Built by Airbus Defence and Space for operator SES, the satellite will use three separate beams to target different regions of Latin America for transmission of video and data.
Musk sees rocket reusability as a critical component to bringing down costs, increasing flight availability for satellite partners and eventually taking humans to Mars.
At least two more launches are expected this month. SpaceX will attempt to launch a Falcon 9 from KSC with a National Reconnaissance Office satellite on April 16 and land the first stage at Cape Canaveral Air Force Station's Landing Zone 1. United Launch Alliance, meanwhile, is targeting April 18 for an Atlas V launch with a Cygnus spacecraft to the International Space Station.
* * *
Source: David Sims, SpaceX, and Florida Today