Ayn Rand's Radical Capitalism and Individualism: Definitely Not the Solution
Here we have media Jew Mike Wallace (original family name Wallik) and his interview with philosopher Ayn Rand (born Alisa Rosenbaum), author of Atlas Shrugged. Rand, also a Jew, invented Objectivism, a formalized variety of libertarianism that was promoted as an antidote to liberalism, religious conservatism, and Marxism — but which was just a cleverly-packaged extreme version of individualism, a philosophy incompatible with racial survival.
by David Sims
IN 1959, Mike Wallace interviewed capitalist apologist Ayn Rand. Rand had devised a catchy philosophical ideology that flattered the successful businessman and industrialist and postured as the champion of the freedom of action in economic affairs.
But Rand made mistakes, one of which you will find in this video if you listen closely and think carefully about what she says.
It begins at 8:49, where Rand says that man has free will and he can correct his faults and acquire virtues until he deserves to be loved. Rand ignores the fact that biology puts limitations on men's action, that some men, regardless of their will-to-act, have not the possibility of sufficient action. To the extent that Rand says that only the worthy should be loved, I agree with her. It's the idea that all men have the ability to become worthy that I dispute.
It begins again at 13:00, where Rand says that she desires the complete separation of state and economics. Not only is this impossible, the reason it is impossible is that the moment the capitalists apprehend that it is to their advantage to enlist the coercive power of the state in their pursuit of their own selfish interests, and have the power to do so, they will not hesitate.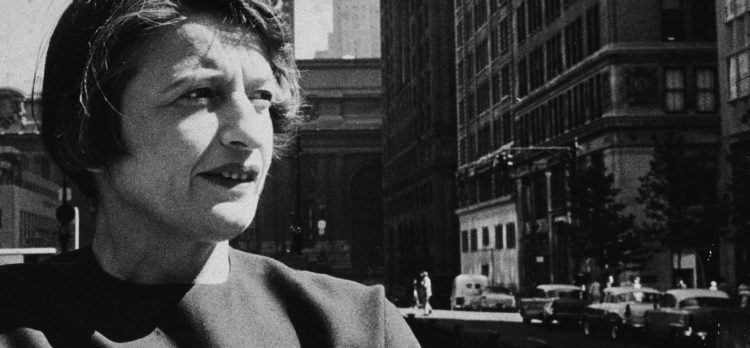 After all, why should they? Capitalists aren't altruists. If the state's coercive power will make them richer, then why should they exercise the circumspection that an altruist would display? In other words, a laissez-faire economy will remain laissez-faire, only until the moment the people who have most benefited under laissez-faire are able to better their circumstances even faster through the use of government coercion. At that time, the laissez-faire economy will be demolished by the capitalists themselves.
At 14:00, Ayn Rand tries to shift the blame for legislation friendly to robber barons from the robber barons to the legislators, as if the robber barons themselves had had nothing to do with it.
It's all very interesting, in a theoretical way, to speculate about how things might be if capitalists would never do this. But otherwise such maybes are irrelevant. Capitalists do behave like that, in the main. They always have. They always will.
And that's one of the problems with Ayn Rand's philosophy.
Randian Objectivism has other problems too, including:
1. The fact that most humans aren't rational actors, and they aren't capable of becoming so because of biologically inherited limitations on their intelligence. Humanity straddles the line between sapiens and non-sapiens, whatever liberals may say to the contrary. The Latin binomial name for our species, Homo sapiens, is sort of a courtesy with regard to the part of its membership that, really, isn't sapient.
2. Capitalism can fail in a piecemeal way even if everyone in it is a rational actor. With automation in the manufacture of hardware and standardization in the making of software, the bulk of a population can be rendered unnecessary to the production of goods and services, including most of the talented people whose talents were used by the capitalists so that their further use would never again be necessary.
It might help to use a metaphor.
Suppose that our country were a spaceship, and access to the life-support system wasn't free, but was something that the passengers had to pay for, with money acquired by the sale of their labor. It would be possible for an emergent elite to choke the spaceship's other passengers, a few at a time, by ensuring that most, but not all, of them could afford to buy air, water, and food — in the end leaving only themselves as the spaceship's only possessors. To accelerate that process, the elite might set the other passengers to laboring at the creation of automatic systems, which would be owned by the elite and used to make the passengers uncompetitive as a source of labor power thereafter.
To forestall a revolution, however, the capitalists would probably continue to employ most, but not all, of the passengers, and to pay those whom they employed as little as possible. The trick to getting sole possession of the spaceship is not to exterminate (passively) the non-elite passengers quickly — but slowly. By doing it slowly, the elite can keep most of the other passengers fearful and on their side. To keep their regular supplies of food, water, and air for at least the foreseeable future, the employed passengers will betray their fellow passengers who are unemployed.
Doesn't that situation sound familiar?
* * *
Source: Author