Jewish Liquor Merchant Attempts Mini-Holohoax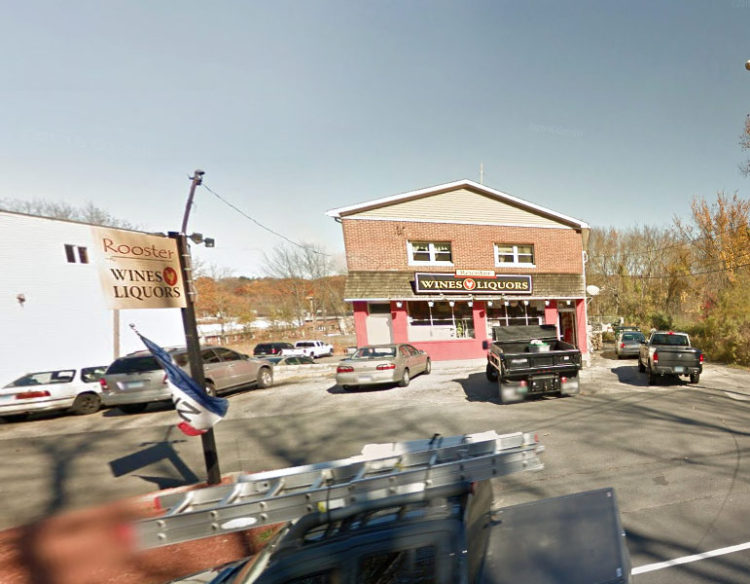 ON 21 January 2017 Jewish liquor-store owner Scott B. Young started a fire in his own store, broke the display-window, and spray painted the words "Burn the Jew" on the back door.
He then told police that two bearded men in black had robbed him at gunpoint, then started the fire and shut him in the store, spray painting "Burn the Jew" on the back door as they left. He said that he had escaped the fire by breaking the display-window and climbing out.
On 24 January the Jew filed an insurance-claim. It was Jewish lightning as well as a fake anti-Semitic incident: two great Jewish traditions combined.
This particular Jew was not so clever, however, since he left the used can of spray paint under his counter, and could not even devise an explanation when police found it. And, although he claimed that he had climbed out through the display-window after breaking it, shards of glass and other items on the sill were undisturbed. Police also noticed, contrary to Young's story, that the door had been open when "Burn the Jew" was sprayed on it.
On 16 February Young was charged with seven crimes in connection with his hoax. (Source: Andrew Gorosko, Newtown Bee, 21 February 2017)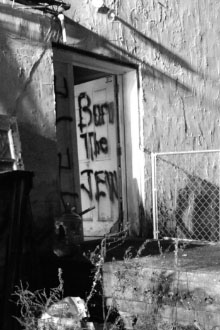 By presenting himself as a survivor of an anti-Semitic attack, the Jew obviously hoped to give himself a sacrosanct status that would discourage scrutiny of his fake insurance-claim. This is the Holocaust reparations scam in microcosm.
The ADL did get involved (J. Voket, Newtown Bee, 24 January 2017), and there was moral grandstanding about the supposed hate-crime in local media ("Not in Our Town," Newtown Bee, 26 January 2017) — which in some jurisdictions, it is easy to imagine, might have deterred the investigation — but in spite of that the Newtown police conscientiously followed the evidence.
Appendix
First Degree Arson Arrest: Police Allege Package Store Owner Faked Crime
Newtown police allege that the 39-year-old proprietor of Rooster Wines & Liquors at 113 South Main Street falsely reported to them that an armed robbery occurred there on the night of Saturday, January 21. Police further allege that Scott B. Young of Southington falsely claimed that two robbers started a fire within the store, and also sprayed anti-Semitic graffiti on the building's exterior after committing robbery.
Through their investigation, police determined that no robbery occurred and that Young started that fire and sprayed the graffiti, according to a court affidavit.
Court Affidavit Scott B. Young
As a result, police sought and received an arrest warrant for Young from state Superior Court in Danbury, charging him on February 16 with seven crimes in connection with the January 21 incident.
On his discharge as a patient from MidState Medical Center in Meriden, police arrested Young, charging him with first-degree arson, first-degree criminal mischief, making a false statement, interfering with police, and three counts of first-degree reckless endangerment. Young's hospital stay was not related to the January 21 incident, police said.
First-degree arson is a Class A felony, which carries a lengthy prison term in a conviction. The were no injuries in the fire to which all five local volunteer fire companies responded.
Following arrest processing on February 16, police released Young on $100,000 bail for a court arraignment on the charges on March 2. Police said their investigation into the package store incident is continuing.
Police said they filed three separate counts of reckless endangerment against Young because three people — a father, a mother, and a child — were inside their apartment, which is located on the second story of 113 South Main Street, when Young allegedly set the fire inside the ground-floor package store.
Inconsistencies Noted
According to a 12-page arrest warrant application, police explain that they grew suspicious of what Young had told them about the incident as they investigated it, listing certain inconsistencies in his story as he retold them what had occurred. Detective Jason Frank applied for the arrest warrant. Police also question whether certain physical evidence at the scene matches the story that Young had provided about the incident.
According to an initial public statement issued by police after the incident occurred, at about 8:28 pm on January 21, police responded to the package store after receiving a report that a robbery had just occurred there.
Young told police that two men with beards, who were dressed in black, entered the store and then robbed him. One of the men presented a handgun in the incident, Young had told police. The proprietor further alleged that the men started a fire in the rear section of the package store and also sprayed anti-Semitic graffiti on a rear door before leaving the premises.
Telling police that he feared for his safety, Young said he used a chair to break open the store's large front window to allow him to exit the building quickly as the fire burned within. Police, however, detected some inconsistencies between Young's story and physical evidence at the scene. Young told police that he had been able to exit the building through the broken window, the court papers state.
According to the court documents, "When asked if he [Young] climbed through the window, he said 'Yes.' There was jagged glass and items on the sill that were undisturbed, and Young said he went right through the window without touching anything and without sustaining any cuts or injury."
Also, in the court papers, police noted that "There was a used can of black spray paint which was under [the store's] front counter. The words 'Burn The Jew' were sprayed in black spray paint on the exterior of a rear door." Police asked Young why the used can of spray paint was under the counter and he could not explain why it was there, according to the documents.
The investigation at the scene uncovered evidence that showed that the two robbers could not have left the premises through the rear door of the package store, as was claimed by Young, according to police.
"Investigators were able to clearly see what appeared to be "overspray" located in the inner jam of the back door. This is where the words 'Burn The Jew' was located. This tells investigators that the door was open when the words were sprayed with the black spray paint… The door was then locked using the slide bolt locks," according to the court affidavit.
Police also found it unusual that in describing the two men who had entered the store to rob him, Young could not provide any physical details to differentiate the two men, stating that they were both White, both about six feet tall, both had full beards, both were dressed in all black garb.
"It was unusual how Young described both suspects as looking exactly the same and did not provide any distinguishable features between one or the other. When asked about several suspect features including beard, hat, and build, Young would respond 'like me' or 'like mine' and point out his own beard, own knit cap, and own husky build. Young did not provide any distinguishable features even though he allegedly had a face-to-face conversation with at least one of them prior to the robbery," states the affidavit.
'A Disturbing Crime'
As part of their probe, police initially obtained four search-and-seizure warrants for evidence collection. The evidence collection involved financial records for Rooster Wines & Liquors; DNA test swabs for Young; Young's cellphone records; and evidence seized at the crime scene, as well as from Young's vehicle.
On January 24, Young filed a claim with his insurance company concerning the January 21 incident, after which the firm assigned a fire investigator to review the case, police state in the court papers.
Police also obtained a search and seizure warrant on February 2 to review bank records from Bank of America for S Young LLC, a business name that is used by Young.
Through their probe, police learned that Scott B. Young also has gone by the names Scott B. Phillips, and Scott B. Sterns. Under the name Scott B. Phillips, he filed for Chapter 7 bankruptcy in US Bankruptcy Court in New Haven, police said. At that time, he was the owner of Brookside Liquors in Meriden, police said. Multiple liens were pending against him in that bankruptcy, which was granted in December 2008, according to police.
Newtown police, state police from Troops A and L, state police specialists in fire/explosion investigations, and the Newtown fire marshal's office participated in the investigation.
Police Chief James Viadero termed the January 21 incident "a disturbing crime."
"The fact that Mr Young used racial epithets and symbolism to cover up a crime was extremely disturbing to not only the community, but all the [emergency services] agencies involved. Such an incident unnerves the community and we are thankful we could bring the incident to a successful resolution and put everyone's concerns at ease," he said.
* * *
Source: National-Socialist Worldview and Newtown Bee