Why Not Impose the Death Penalty on Bankers?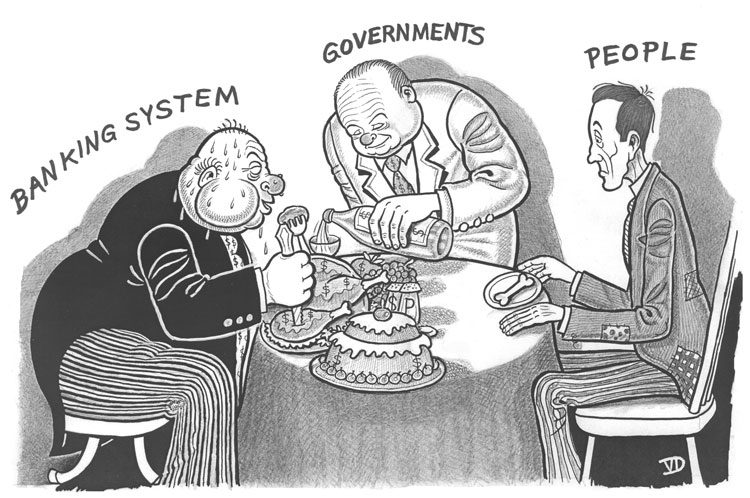 If imposed, it would be cause for great celebration.
by David Sims
THE DIRECTORS and officers of the usurious central banks are harmful to the country, so why don't our soldiers simply shoot them as enemies? It seems like a good, swift object lesson would do much to deter the international bankers from renewing the danger. If their simultaneous hanging in every country throughout the world could be arranged, it would be cause for a great celebration.
There are degrees of guiltiness. Some capitalists (industrialists) actually do good things with their wealth, things that benefit others and maybe all of mankind. But other capitalists, who aren't worth what they cost the rest of mankind, should be prevented from doing further harm and punished in proportion to their guilt.
Being a capitalist doesn't automatically make someone guilty of harming other people, but typically capitalists do have the means at their disposal to harm other people. If they do harm, they deserve punishment, just as if they had used any other device or means to harm people.
The worst of the bunch are the bankers: especially the directors, governors, and shareholders of the Federal Reserve System, the Bank of England, and other central banks in the Western countries. For their crimes, death is the only penalty that satisfies the ends of justice.
Historically, when a public official, such as a Congressman or a President, gets in the bankers' way, the bankers don't hesitate to send an assassin to remove the obstruction. Abraham Lincoln, James Garfield, and Louis T. McFadden — and probably John F. Kennedy — were killed because of the greed of the bankers.
So what in the world can be said against, legally, turning the tables and killing the bankers? Not one thing, I should think.
And the politicians who enabled the bankers? They are traitors who have allied themselves with those who make war against their own country. It should not be necessary to mention what should be done with them.
* * *
Source: David Sims