"Transgender Woman" Pleads Guilty to Taking Photos in Target Dressing Room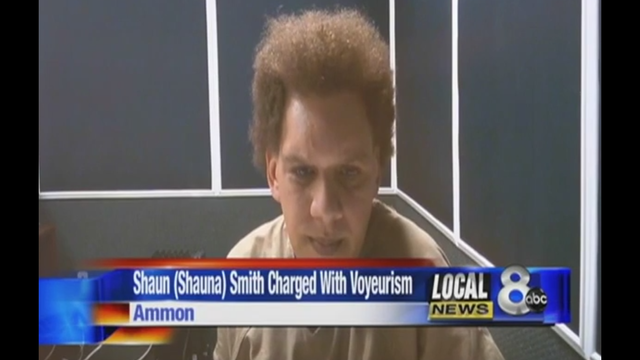 Introductory Note by David Sims: A "transgender female" is really only a perverted male. This particular pervert's thrill was making amateur videos of real women who were using the changing stalls in department stores to try on new clothes. He held his video-equipped phone over the stall's wall. The woman (when dressed) confronted the pervert, who ran away. The police found him later, still pretending to be a woman himself.
Thus do we see the true reason why some "transgenders" want to be able to use whichever restroom they please. They are perverts who want to gain the right legally to ogle the unclothed bodies of the sex whom they "identify as." For them, the idea that "gender is a social construct," that people do not really exist dichotomously as either male or female, is a convenient and transparent lie that they use to facilitate their predatory sightseeing.
* * *
43-YEAR-OLD Sean Patrick Smith, who also identifies as Shauna Patricia Smith, a transgender female, has entered a plea of guilty to videotaping a woman in the Ammon Target store.
According to the Idaho Repository, Smith entered a plea of guilty to Video Voyeurism Without Mutual Consent.
Smith will be in court November 28th for sentencing.
Original Story:
In July, The Bonneville County Sheriff's Office responded to the Ammon Target store where an adult female says a person was taking pictures of her while she was inside a changing room trying on clothes. The woman noticed the person reaching over the wall of the changing room with a cell phone to take pictures. The victim confronted the subject who ran from the store.
Detectives interviewed witnesses and security footage from Target which led them to 43-year-old Sean Patrick Smith, who also identifies as Shauna Patricia Smith, a transgender female. After interviewing Smith she was taken into custody by Detectives and booked into the Bonneville County Jail for one felony count of voyeurism.
* * *
Source: Local News 8