Internationalist Academic Gloats: Irish Will Become a Minority in Ireland by 2050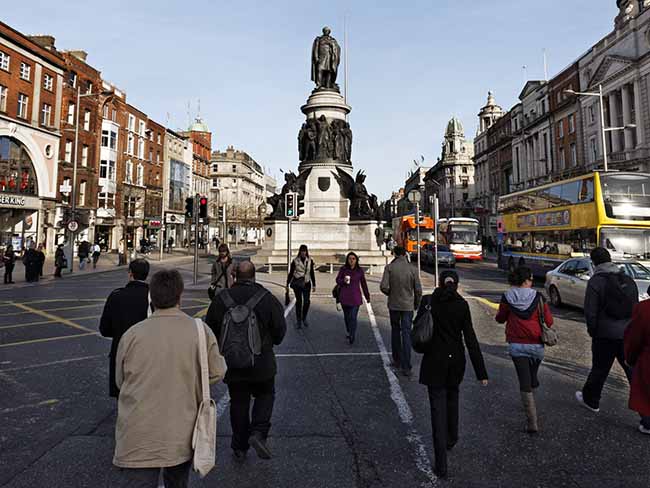 Preaches to Irish, on whom he lived for decades, that they "must accept" being replaced in their own homeland
THE FORMER President of Dublin City University said, in 2005, that Ireland's natives will be a minority in the country by the middle of this century, but that immigration is still essential if the country is to remain prosperous.
Professor Ferdinand von Prondzynski was referring to an alleged (and unidentified) UK-based research. Speaking at the conferring ceremony at DCU he said that the Irish in Ireland will be a minority by 2050 while the Chinese may form the largest ethnic group.
Von Prondzynski is one of those well-funded "international" academics who flit from prominent position to prominent position and country to country, always espousing internationalism and globalism, whose sources of backing and funding are murky at best. He is known as a lawyer, a legal academic and a high profile commentator on academic affairs and public policy. A German-born Irish citizen, he was a lecturer and Fellow at Trinity College, Dublin and both a Professor and a Dean at the University of Hull, before serving as the high profile second President of DCU. He is now based in Scotland.
Speaking with the Irish Times he said, "Whether this turns out to be an accurate prediction or not, we have to prepare for a very different kind of society.
"It needs to be a planned process to ensure our skills needs are being met … a very substantial increase in population will be needed over a long period of time.
"And I don't think people have quite realized this yet."
In Von Prondzynski's speech he also argued that if Ireland attempts to stop migrants coming to the country it will seriously damage the economy and will see Ireland return to the economic periphery of Europe.
A major population expansion is needed for the next wave of economic growth, and he said universities in particular must prepare the country for the multicultural nature of what Ireland's future society will be like. He said inter-cultural studies and research should be prioritized and care is needed to ensure the "new Irish" gain equal access to higher education.
The professor added that universities should be "active contributors" to anti-racism policies and offer support to industry and to government agencies.
He also said that Ireland needs to maintain an interest in and support for Irish traditional culture.
Von Prondzynski said, "Ireland as a multicultural society will be able to make a particularly valuable contribution to the new Europe, and will be able to continue to lead as a country in which high-value innovation takes place and strong community values are espoused."
He added, "People are nervous about immigration. But immigration is almost always a good thing. People think immigrants come here and take jobs, but the opposite is true. They will come and create jobs."
* * *
Source: Irish Central