Daubing Swastikas: An Honored Jewish Tradition
Having fun
by Revilo P. Oliver
EVERY ONCE IN A WHILE a Jew in some community in this country has a romp. He paints a swastika on the side of his barn or his store or his house or a synagogue and then yells for the local press. A photographer rushes out and poses a couple beside the horrid swastika — usually a porcine Jewess with a male shrimp or a balloon-shaped male with a cadaverous female — and they try to look woebegone and to tremble with fear lest the terrible Nazis return at any minute and stuff them into the awful gas-chambers that weren't at Auschwitz.
The local editor has a conniption fit, beating his breast and tearing his hair because Americans aren't so full of love that they kill "racists" on sight. All the local holy men vie with each other as they foam at the mouth, exhort, and howl for blood. Local chambers of commerce and "service clubs" advertise themselves with irate and silly resolutions. Scores of dumb bunnies apologize for the existence of their sinful race and parade their tender hearts, bleeding for the oppressed Children of God. And the Jews exercise self-control to avoid snickering in public.
In the November issue of Spearhead, a correspondent quotes from a book by one Michael Friedland entitled Sophie. It is a biography of a Kikess named Sophie Tucker, whose obscene contortions and ditties earned her the title of "Red Hot Mama" in the 1930s as she did her part in carrying out her race's policy: First defile, and then destroy. According to Friedland:
There were problems of another sort in the East End music halls. The Fascist threat was growing, and Sophie's own Jewish people, perhaps still her loyalest audience of all, were all showing great anxiety. Sir Oswald Mosley threatened to become the British Hitler and was growing politically fat on a diet of Jew-baiting. Sophie sensed the mood of the folks about whom she sang in one of her hit songs of the year, 'My People,' and decided to turn the air of fear into a publicity stunt.

She hired — with great coverage of the results in the British press — a gang of youths to throw stones at her but making very sure they would all miss. She then revealed that she had been attacked by members of the British Union of Fascists.
It's an old tribal custom. I'll bet that when the predators first infiltrated Canaan and began agitating for godliness and "social justice" to incite the stupid Semites to fight each other, they painted the Canaanite symbol on their shops and then bawled and snivelled about how persecuted they were.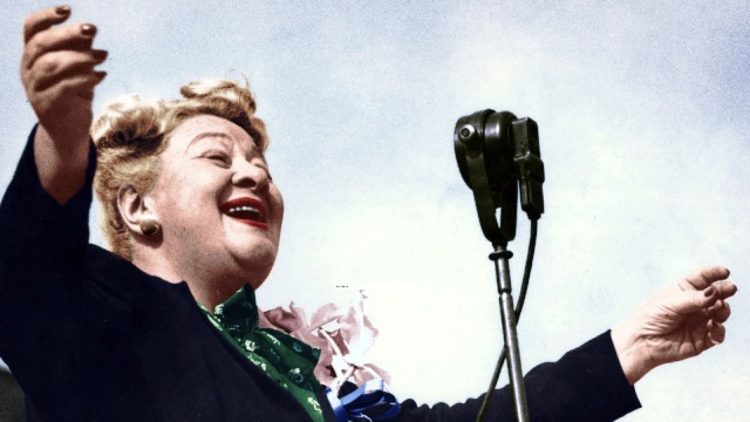 * * *