Austria: Freedom Party Goes Full-On Kosher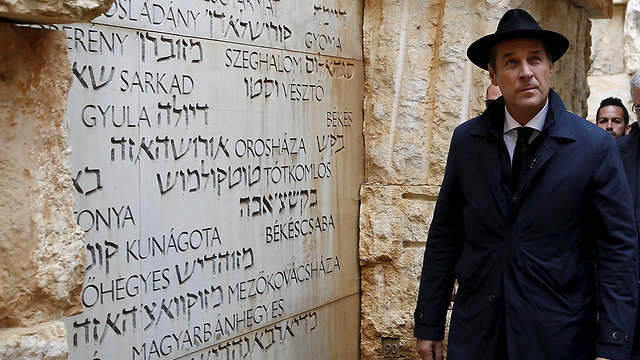 It's not enough for the Jews, however, who demand that FPO "purge its ranks."
SIX DECADES after it was founded by former National Socialists, Austria's Freedom Party (FPO) is "courting" Jewish voters, hoping that its anti-Muslim message will please Jews and help the party "overcome lingering accusations of anti-Semitism."
Jewish leaders are dismissive about the party, but like others on the European far right, it appears to have its image among the wider electorate in mind as it stages the charm offensive.
"Anti-Semitism, regardless in which form, is a crime against humanity," FPO leader Heinz-Christian Strache told a panel discussion on the issue which his party hosted in November.
"If Israel as a state is threatened and ceases to exist, that is the beginning of Europe's downfall," he said. At the event held in a grand Vienna hotel, Strache also denounced "a political Islam that seeks world domination."
The FPO's anti-immigration message is drawing support; it has surged in opinion polls and its candidate came close to winning the Austrian presidency last year.
Like France's National Front, the FPO has recently expelled members who have publicly expressed anti-Semitic views, including a member of parliament in 2015.
But the FPO has gone further and made overtures to the Jewish community, including visits by Strache to the Yad Vashem Holocaust memorial in Jerusalem and the November event that featured Israeli politician Rafi Eitan, who led the 1960 operation to capture Nazi Adolf Eichmann.
However, the party has failed to win over the Jewish Community of Vienna (IKG), the main body representing Austrian Jews.
"A couple of nice comments about Israel do not make this party kosher," said IKG president Oskar Deutsch. "The FPO's whole past — and in fact its present — are still xenophobic and its leaders are trying to set parts of the Austrian population against each other."
The FPO's Norbert Hofer lost a presidential runoff in May by less than a percentage point.
After a court ordered a re-run due to irregularities in the count, the IKG issued its first election endorsement in its history. It advised members to vote for Hofer's rival, independent Alexander Van der Bellen, who eventually won the re-run in December by a more comfortable margin.
Political Mainstream
The FPO is one of several far right parties trying to ride a populist wave sweeping Western countries in the hope of fully joining the political mainstream.
National Front leader Marine Le Pen, who is expected to perform strongly in this year's French presidential election, has followed a similar path. Last year she rebuked her father, who founded the party, for making remarks that revived long-standing allegations of anti-Semitism.
Hungary's once virulently anti-Semitic Jobbik party also tried to show a more tolerant face by sending greetings to local Jews for their Hanukkah holiday last month.
In Vienna, Deutsch and other Jewish leaders say the FPO has not "addressed its Nazi past" as thoroughly as Austria's more mainstream parties, or "fully purged its ranks."
David Lasar, an FPO lawmaker and the only prominent Jewish member of the party, rejects this view. "I think the party history has been dealt with," said Lasar, who has led the overtures to the Jewish community, pointing to the members expelled under Strache.
Jewish votes are unlikely to swing the result of any Austrian election — the community numbers little more than 10,000 in a country of 8.7 million.
Analysts say the overtures are aimed rather at winning favor among the general public. Opinion polls suggest it is already the most popular party, with support of more than 30 percent.
"It doesn't want to make an issue of it but is trying to rid itself of the image of a far-right party," political analyst Anton Pelinka said.
"Mistake"
FPO opponents point to recent cases that suggest lingering anti-Semitism by Strache and the party.
In 2012 Strache posted a cartoon on his Facebook page showing a fat banker with a hooked nose and six-point star buttons on his sleeve, gorging himself at the expense of a thin man representing "the people".
At Yad Vashem in 2010, Strache wore the cap of a student fraternity. The move drew criticism in Austria, where such groups are often steeped in nostalgia for the country's Nazi era, when the Jewish population collapsed from about 220,000.
"That might have been a mistake," Lasar said of the cap, but he rejected charges of anti-Semitism. "There simply is no place for anti-Semitism in this party. It doesn't exist anymore."
There are no reliable estimates of how many Jews voted for Hofer in the presidential run-off.
Lasar put the figure at 40-50 percent of Jewish voters, but said supporters he knew wished to remain anonymous. Several others, including a former head of the IKG and a journalist who runs a local Jewish news site, Samuel Laster, put the figure at around 10 percent.
"Jewish people certainly did vote for the FPO … out of fear of Muslims and because of the growing number of terror attacks," said Ariel Muzicant, who led the IKG from 1998 to 2012. Several others said Hofer voters were more likely to be new arrivals in Austria, less aware of the FPO's past.
The IKG estimates that there are 10,000-12,000 Jews in Austria — far fewer than the roughly 600,000 Muslims, some of whom arrived during Europe's migration crisis — suggesting the FPO's overtures are not purely about Jewish votes.
"Fundamentally it is a strategic move," political analyst Thomas Hofer said. "It's clear that many in the Jewish community will see what the FPO is doing as chutzpah."
* * *
Source: YNetnews