More White Deaths Than Births in One Third of US States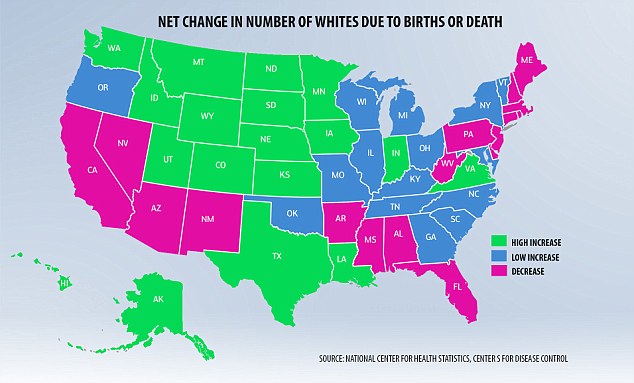 Studies now show that many White deaths are directly attributable to globalist economic policies. What this article from Britain's Daily Mail does not tell us is that White births are already a minority in the United States and have been so for several years.
MORE WHITE PEOPLE are dying than being born in a third of the states, according to new research.
The death rate among Caucasian Americans outstripped the birth rate in 17 states in 2014, compared to just four in 2004, the University of New Hampshire found.
While Latino, Black and Asian populations continue to grow, soaring death rates among White middle-aged Americans — combined with the fact that White families are having less children — mean certain states are seeing falling Caucasian populations.
White Americans are reportedly dying faster thanks to a silent 'epidemic' of deaths from suicides, drug and alcohol poisoning.
The trend, which affects both rural or desert areas, such as Nevada and Arizona, to states with large metropolitan areas, such as California, Massachusetts and Pennsylvania, has already begin to shake up America's demographics. 
'The fact that this was going on in states that contain such a substantial part of the U.S. population stunned even me,' Kenneth Johnson, sociology professor at the university and co-author of the research told the Wall Street Journal.
'We're probably going to see it in several more states' in the years to come.
The research, based on data from the National Center for Health Statistics, focuses on White births and deaths from 1999 to 2014.
It shows that birth rates among White women fell drastically during the recession, between 2007 and 2009 as families — already strained financially to breaking point — chose to have fewer children or none at all.
Birth rates have slowly been recovering but experts believe that those couples may never have as many children as they were predicted to before the recession.
There were also fewer White women of childbearing age between 2000 and 2014 because of low birth rates during the 1970s.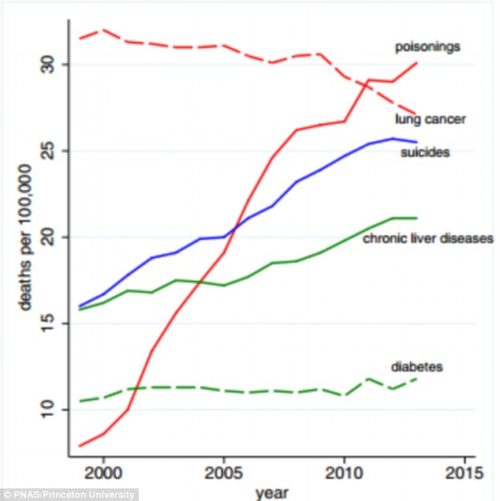 Meanwhile, White, middle aged Americans have been bucking the national trend of decreasing death rates as two economists blamed increased competition with China for the rising number of deaths from suicides, drug and alcohol poisoning.
Meanwhile, death rates for Black and Hispanic men and women in rural areas have fallen.
Justin Pierce and Peter Schott believe they can trace back the uptick back to 2000, when President Bill Clinton decided to relax the rules on major imports. Until then, the potential remained for U.S. lawmakers to reintroduce the 1930s Smoot-Hawley legislation at any time, the Washington Post reports.
The law placed onerous tariffs on imported goods from China and elsewhere to offer more protection to U.S. industries that would be affected by close competition from the country, such as plastic and textile manufacturers.
The legislation had weakened over time but lawmakers retained the ability to reimpose the sky high tariffs, meaning that potential investors were taking a significant risk as Chinese companies had no assurance they could continue trading with the US.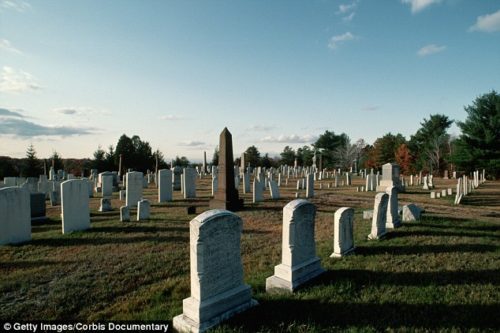 Clinton changed that in 2000 when he wrote the lower tariff into law — something that Pierce and Schott say had a devastating impact on U.S. industry.
American factories, which couldn't compete with China's cheap labor force, shut down in droves, while thousands upon thousands of middle-aged White Americans, without college degrees, were laid off.
Unable to cope, many turned to drugs, alcohol or even took their own lives, according to the research.
Pierce and Schott estimate that increased Chinese imports were responsible for 1.3 overdose or alcohol-related deaths in 100,000 people and 0.4 suicides in the same number, in counties where the economy was based on industries vulnerable to threat from China.
The surge in deaths amidst White, middle aged Americans was so significant that Dr Anne Case and Dr Angus Deaton, of Princeton University, compared the 'silent' epidemic to the Aids epidemic in the US.
They said: 'Poisonings overtook lung cancer as a cause of death in 2011 in (the middle) age group, suicide appears poised to do so.'
Case and Deaton were the first to highlight the worrying increase in mortality rates last year in separate research.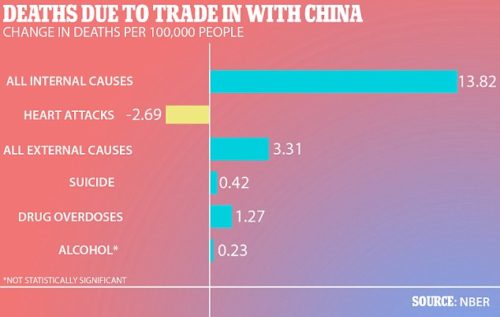 Behavioral change, prevention and better treatment has generally brought down mortality rates for those aged 45 to 54, since 1970. These reductions in morbidity have made lives longer and better, the researchers said, adding it is widely assumed these improvements will continue.
However, Dr Case and Dr Deaton revealed that presumption does not extend to Caucasian Americans in midlife. They found 'a marked deterioration' in the morbidity and mortality of middle-aged White non-Hispanics in the US since 1998.
Their research shows this pattern is exclusive to the US, and is not reflected in other rich nations. Nor, they add, is it seen among African Americans or Hispanics within the US.
They estimate that had the White mortality in the US rate held at its 1998 value, 96,000 lives would have been saved between 1998 and 2013.
And had it continued to fall as it had between 1978 and 1998, 488,500 deaths would have been avoided from 1999 to 2013.
This figure is comparable to the number of deaths caused by the Aids epidemic in the US.
While death rates related to drugs, alcohol and suicides have risen for middle-aged Whites across the board, the largest surge are seen among those with the least education.
For those with a high school degree or less, deaths caused by drug and alcohol poisoning rose four fold, suicides increased by 81 per cent, and deaths caused by liver disease and cirrhosis jumped 50 per cent. All-cause mortality rose by 22 per cent for this least-educated group.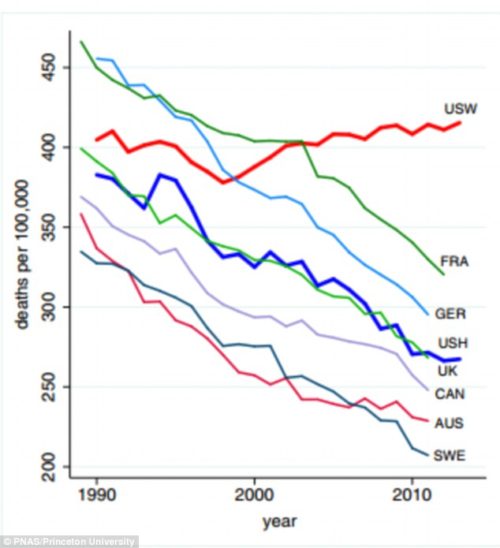 While the sudden turnaround in mortality is only partly understood, the researchers said an increase in the availability of opioids, including heroin, in the late 1990's are a potential reason.
The authors wrote: 'The CDC estimates that for each prescription painkiller death in 2008, there were 10 treatment admissions for abuse, 32 emergency department visits for misuse or abuse, 130 people who were abusers or dependent, and 825 non-medical users.
'In this period (1998-2013), the US saw falling prices and rising quality of heroin, as well as availability in areas where heroin had been previously largely unknown.'
And they said financial stress may have also played a key role.
'Although the epidemic of pain, suicide and drug overdoses preceded the financial crisis, ties to economic insecurity are possible,' the authors note.
The study is published online in the Proceedings of the National Academy of Sciences.
Agriculture Secretary Tom Vilsack said struggling rural economies said the Obama administration was aware of the crisis and was launching new programs aimed at tackling drug-related deaths.
* * *
Source: Daily Mail