E.O. Wilson and Human Nature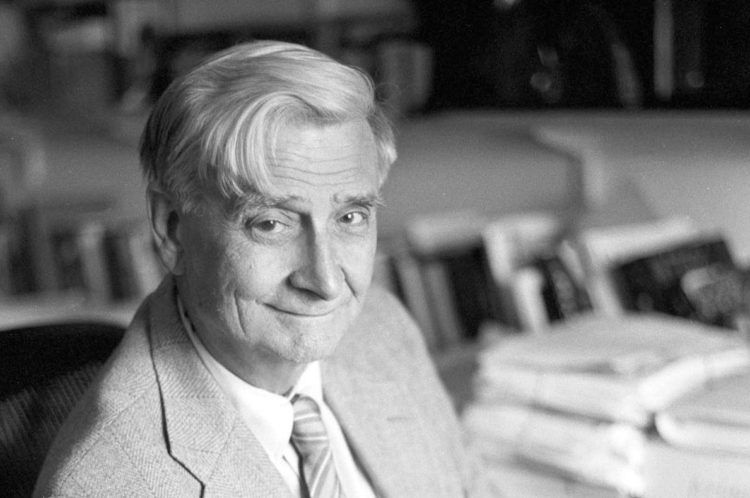 by Robert Throckmorton
ANYONE WHO HAS SEEN an anthill should conclude that there is such a thing as ant nature and that it is different from human nature. But however flexibly we can arrange human societies, we just cannot live like ants. It is easy to forget this. When the cultural anthropologists of the last century started observing obscure tribes, they found such an impressive range of human societies and human conduct that behavior and morals seemed altogether arbitrary. Morality was taken from the hands of philosophers with their moral absolutes and reduced to the status of the relative mores of particular tribes. This doctrine of relativism emerged around the same time as Darwinism, and both a tribe's mores and the giraffe's long neck were seen as adaptive or pragmatic.
All of this represents intellectual advance, though relativism has degenerated into leftist dogmatism. It took a couple of generations for Karl von Frisch to look at insects again, for the early ethnologists to look at other species, and for the physical anthropologists to explore once again human nature specifically (pun intended). Ethology, however, deals largely with the physiology and behavior of individual organisms. Only in the past decade did advances in ecology and genetics make it possible to combine the three into what is called sociobiology, the study of the behavior of groups as well as of individuals.
Edward Osborne Wilson is the principle pioneer of this new discipline. He has written three books on the subject as well as a host of technical articles. The Insect Societies (1971) was the first, Sociobiology: The New Synthesis (1975), reviewed in Instauration (Sept. 1977) the second, and On Human Nature (Harvard, 1978, 209pp., $12.50), a broadly speculative work, the third. The man who knows ant nature and who has given the theoretical underpinnings for natures of all descriptions, is as qualified as anyone alive to say something about human nature and how it is a product of evolution.
Wilson quotes (OHN, p. 5) from two fat books by modern philosophers who reach quite different conclusions from their own unproved assumptions about human nature. John Rawls, in A Theory of Justice (1971), argues for an egalitarian society, while Robert Nozik, in Anarchy, State and Utopia (1974), opts for a minimal state. Wilson asks (p. 6) whether either of these is feasible and what price would have to be paid to achieve them. In fact, the theme of the price of social change appears throughout the book. I scarcely need say that the failed attempt to produce an egalitarian society in the Soviet Union has come at a terrific price.
Human nature is a broad topic, considering that it quite arguably covers more than one species. Wilson stays away from making positive statements about racial differences, which may be just as well, since he is stirring up enough of a hornet's nest as it is. He does claim that Caucasoids and Congoids are twenty-five to sixty times closer together than humans and chimps (who, by the way, show cultural diffusion). I don't know how he came up with this figure; for brain size the factor is only about four or five times. But he does quote recent studies on differences in the behavior of newborn Caucasoids and Mongoloids and states, "The psychic unity of mankind has been reduced in status from a dogma to a testable hypothesis" (p. 46). This is quite enough to raise a howl.
It is odd that a man who devotes so much time to explaining just how the anthill is a superorganism does not regard human civilizations as other than the statistical products of the individuals who comprise them (p. 78). He doesn't explore this hotly argued topic, except to say that "cultural evolution is Lamarckian and very fast, whereas biological evolution is Darwinian and very slow" (p. 78). Wilson, who does "not for a moment ascribe the relative performances of modern societies to genetic differences" (p. 80), argues that the rise and fall of Islam cannot be described in organic terms.
I beg to differ on both counts. I understand that the modern Arab has a brain sized midway between the European and the African. While no admirer of the Levantine mind set at any point in its history, I must still regard the present day Arab as an evolutionary backslider from the modest heights of the early Levant. Still, this Levantine mind set has persisted in spite of the diminution of brain size and this seems to argue for the persistence of a supra-individual civilization.
Wilson regards civilizations as emerging due to hypertrophy, "the extreme growth of pre-existing structures" (p. 89). "Nationalism and racism, to take two examples, are the culturally nurtured outgrowths of simple tribalism." True enough, perhaps, but nationalism and racism come out in different ways. The sect-nation did and still does characterize the Levant, while the territorial nation-state characterizes the West. Joseph R. Strayer in his interesting study On the Medieval Origins of the Modern State (1970) argues that the modern Western concept of the state existed long before historical (mostly economic and military) forces converged to bring these nations about. So too, the idea of experimental, causal science was held long before it flowered after the so-called Renaissance. I fail to see how such long, pre-existing mentalities can be other than racial, although a world view can persist, if practical, for a while after its racial creators have disappeared.
These intuitions, which I think are pretty sound, are what Wilson would decidedly rather not go into. Again, he is in enough trouble as it is. But he does lay down a basis for such matters when he speaks of the possibility of small genetic differences "multiplying" into large cultural differences. And he warns that "there is a limit, perhaps closer to the practices of contemporary societies than we have had the wit to grasp, beyond which biological evolution will begin to pull back cultural evolution itself" (p. 80). I wish I knew how much time it will take us to understand this and do something about it. An alternative is to build a superhuman computer and drop out of the evolutionary picture altogether.
Let me hasten to add that I do not begrudge Wilson for not "speaking out" on topics of more immediate concern to racialists. True revolutionaries are rarely revolutionary about more than a few things. William of Occam was as pious as a monk can be, yet his philosophical and political writings did much to undermine the secular power of the church and ultimately of Christianity itself. His contention that Clement V had ruled incorrectly on whether monks could own their own toothbrushes (ecclesiastical poverty) led to the pope's kidnapping by William de Nogaret in 1309. It was on such things, not whether the whole edifice of religion is silly, that disputes were based in those days. Today, a burning issue if whether human aggression is innate. Wilson handles this matter-of-factly. It is not a question of whether men are marked with a curse called "aggression;" he discusses which of the seven kinds observed in the animal kingdom they have (p. 101) and says men are neither the most nor the least aggressive of animals. He also discusses several theories or models of aggression and concludes that the innate propensity is always there, but not always externalized.
Many of us, familiar with Robert Ardrey and Desmond Morris, will find little that is new in Wilson' s chapter on sex. The author asserts that sexual reproduction allows far greater genetic diversity than asexual reproduction, that man is the sexiest of primates, that we are moderately polygynous, that it is the women who tend to marry upward, and that "history records not a single society in which women have controlled the economic and political lives of men" (p. 128). Wilson argues that though sexual differences are strengthened by culture, they reappeared in the Israeli communes in spite of every effort to suppress them. Maybe women's lib is possible, but the price would be enormous.
Of the highest interest are Wilson's comments on homosexuality. The problem, of course, is why homosexuality should persist instead of being bred out by non- or less-reproducing homosexuals. Wilson openly theorizes that "homosexuals may be the genetic carriers of some of mankind's rare altruistic impulses" (p. 143). Wilson expounds a theory of kin selection, that a homosexual lives on, not in his children's genes, but in his nieces' and nephews'. My view of this supposed altruism is not so benign. Wilson states that homosexuals "might further have taken the roles of seers, shamans, artists, and keepers of tribal knowledge" (p. 145), which is precisely what mediators do. Richard Swartzbaugh in The Mediator: His Strategy for Power (Howard Allen, 1973) characterizes the shaman as a person outside his society, be he an actual racial alien, a sexual misfit, or just someone who moves himself outside by putting on a costume. The problem is the mediators, while they do perform certain useful functions, create extra conflict to give themselves more work to do. Homosexuals and Jews seem to do this naturally.
The chapter on altruism and selfishness is also excellent, and once again Wilson puts man in perspective. Natural selection among sharks is almost exclusively individual, while for certain jellyfish, the unit of selection is almost entirely the colony. "The individual [jellyfish], a zooid reduced and compacted into a gelatinous mass, counts for very little. Some members of the colony lack stomachs, others lack nervous systems, most never reproduce, and almost all can be shed and regenerated. Honeybees, termites, and other social insects are only slightly less colony-centered … The evidence seems to suggest to me that human beings are well toward the individual end of the spectrum" (p. 158). Thus, "there are no hypocrites among the social insects" (p. 157), but in man there is "a melange of ambivalence, deceit, and guilt that continuously troubles the individual mind" (p. 159).
In the chapter on religion, Wilson notes that men crave to be indoctrinated. He sides with Emile Durkheim, who "characterized reiigious practices as the consecration of the group and the core of society" (p. 169). Talcott Parsons, in The Structure of Social Action (1937), gives priority for this idea to Robertson Smith. Such religious conformity and altruism ("The one form of altruism that religions seldom display is tolerance of other religions," (p. 175) can be selected for on both the group and individual levels. On the group level, groups of conformists tend to survive. And on the individual level, conforming individuals get by with less expenditure of energy (pp. 186-187). Wilson does not point out, however, that these groups are not arbitrary but very often are demarcated on racial lines, e.g., Protestantism and Catholicism and northern and southern Indian Hinduism. (See A.C. Bouquet, Comparitive Religion, 1941; 7th ed., 1967.)
Wilson concludes his book with three contemporary dilemmas. The first is the decline of myths of traditional religion and increasing helplessness about the human condition. The solution is to learn more about human nature. The second is that "we are forced to choose among elements of human nature by reference to value systems which these same elements created in an evolutionary age now long vanished" (p. 196). He calls for a biology of ethics, urging "diversity in the gene pool as a cardinal value" (p. 198), and for universal human rights, because we are mammals, not insects. The third dilemma, which he says is for later generations, is our ability to alter our natures genetically. But "perhaps there is something already present in our nature that will prevent us from ever making such changes" (p. 208).
As I said earlier, nationalism of the Western sort is more than a simple outgrowth of tribalism. So too will be the racism to come, which will develop under the full flower of scientific findings. The understanding of human races in history perhaps does not belong to sociobiology proper, which is the discipline between biology and sociology, although it will use the findings of that discipline and all others in a new discipline, to be called perhaps "historico-sociology." Sociology studies men in groups of any sort and is, in a sense, too abstract or narrow a field. Human history, on the other hand, is too broad. Historico-sociology, with a firm foundation in race, can bridge the gap. So far as we have a good many observations of racial factors in history but no real scientific theory behind them.
E.O. Wilson is no more a closet racist than William of Occam was a closet atheist. As I said, this is just as well for both of them. It is enough credit to a man that he ushered in a revolution. I am inclined to think that overcoming egalitarianism will be a little more difficult task than overcoming Christianity. This is not merely because the mass media may be more far reaching than the church ever was. It is also because equality, justice, and all manner of abstractions have distant roots in Western thinking (and are, to this level of development, uniquely Western) and may be wired into our genes. Christianity, no matter how much we have tried to Westernize it, remains at the core alien.
It has been one hundred twenty long years since the publication of The Origin of Species by Means of Natural Selection, Or the Preservation of Favored Races in the Struggle for Life. We have every right to be impatient, but the Darwinian revolution is at last picking up steam. I remember the derision that greeted Robert Ardrey's African Genesis in 1961. This year On Human Nature won a Pulitzer Prize.
* * *
Source: Instauration magazine, September 1979