WikiLeaks Claims Sham U.S. Firm is Trying to Smear Assange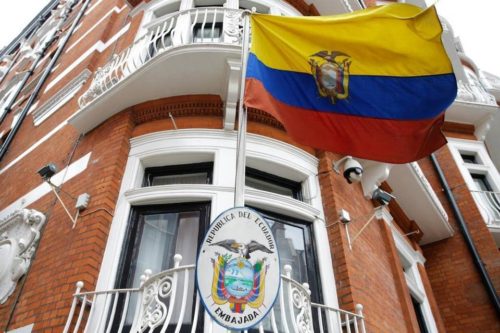 THE ANTI-SECRECY GROUP WikiLeaks is claiming that an elaborate and somewhat wacky smear campaign has targeted the group's founder, Julian Assange, to paint him as a pedophile and Russian client. (ILLUSTRATION: Julian Assange has lived in the Ecuadorean embassy in London since 2012. The WikiLeaks founder said the embassy had cut off his access to the internet over the weekend. Now the anti-secrecy website says someone is mounting a smear campaign against him.)
WikiLeaks said the smear efforts, which it's outlined in tweets and a series of documents over the past two days, include a sham offer from the Russian government to pay Assange $1 million to promote a women's dating site and a separate scheme to link Assange to a criminal case in the Bahamas.
The assertions are the latest twist in events that have kept Assange and WikiLeaks at center stage of the presidential campaign. The smears come as WikiLeaks releases tens of thousands of emails hacked from the Democratic National Committee and from the personal email account of campaign chairman John Podesta.
Assange, an Australian who has been holed up in Ecuador's embassy in London for more than four years, had been accelerating the release of the hacked material this month in a drive to embarrass Clinton. Ecuador cut his internet connection Saturday, saying it did not want him interfering in U.S. domestic affairs.
#Assange: false accusation of pedophilia & taking US$1million from Russia.
What you need to know is here https://t.co/fjrjs0x2gd#defendWL

— WikiLeaks Task Force (@WLTaskForce) October 18, 2016
The alleged smear campaign centers on a Houston company, toddandclare.com, that describes itself as an online dating site for single women.
A representative for the company, Hannah Hammond, wrote to Assange's legal team in London and Sweden with an offer to pay him to appear in a tongue-in-cheek five-minute television advertisement for the company that it said would air on the Lifetime channel.
"The source of the $1 million is the Russian government. It will be wired to Mr. Assange's nominated account, upon his cooperation, and before filming of the ToddandClare.com ad by the SoHo camera crew," Hammond wrote in a Sept. 16 email, according to a copy WikiLeaks published.
Hammond described how the ad would start with burlesque dancers gossiping backstage at a Las Vegas revue about men who've used the dating site to text them. One dancer receives a ping on her cell phone, and tells the others Julian Assange has asked for a date. She holds up the phone with Assange's moving image.
The ad would air Nov. 7, one day before U.S. presidential elections, Hammond noted.
"Your email appears to convey an elaborate scam designed to entrap Mr. Assange's reputation into unwanted and unwarranted publicity," a member of his legal team, identified only as James, responded Sept. 16, demanding that "you immediately cease any plans that you have to use Mr. Assange's name to draw attention to your business."
RELEASE: Full docs and investigation into the plot to frame Assange as a paedophile & Russian spy #PedoPlot https://t.co/ZcqyJepHKO

— WikiLeaks (@wikileaks) October 18, 2016
WikiLeaks said its investigators conducted an inquiry into toddandclare.com and its parent, T&C Network Solutions, and found that it "exhibits the characteristics of a highly suspicious and likely fabricated business entity."
The company listed its address as a shipping dock at a warehouse in Houston, and no records of the company exist with the Texas Secretary of State, the Better Business Bureau of Houston, or the Harris County Clerk, the WikiLeaks report says.
The website for toddandclare.com suggested that more than 100,000 single women use the service. WikiLeaks says the site lifted photos from elsewhere on the Internet and mirrored them left to right to prevent image searches.
A second alleged plot also involves toddandclare.com, and suggested that Assange used the dating website to sexually molest an 8-year-old Canadian girl vacationing with her family in Nassau, The Bahamas.
The Houston company gained standing apparently as a defender of women's rights with the U.N. Global Compact, a UN-created initiative to persuade businesses to adopt socially responsible policies.
On Oct. 4, it filed a statement asking to bring to the attention of the U.N. body "criminal child sex offenses" that purportedly were under investigation by the Royal Bahamas Police Force involving Assange.
It said it had been contacted by the Canadian father of the 8-year-old, whose 22-year-old sister was a toddandclare.com client.
WikiLeaks tweeted that it was a "false accusation" and released what it called "full docs and investigation into the plot to frame Assange as a paedophile & Russian spy."
Phone numbers associated with toddandclare.com appear to have been disconnected.
On Wednesday, WikiLeaks tweeted that "internet sleuths" had linked a "mysterious intelligence contractor" close to Clinton to the alleged smear effort.
It said that an archival internet search linked toddandclare.com to an address in San Francisco that until a year or so ago was used by Premise Data, a data crunching firm whose cofounder and chief executive, David Soloff, is seen in a photo earlier this year with Clinton. He denied any connections to the smears or the Clinton campaign.
"Premise is not associated with, has never had dealings with, and has no knowledge of T&C Network Solutions," Soloff said in an email. "This all appears to tie back to mistaken internet information about a previous office address (645 7th St.) Premise occupied through August 2015 before we outgrew the space and moved to our current San Francisco offices."
"We have no professional or donor affiliation with any political candidate," Soloff added. "The picture you refer to was taken at a speaking event near Washington, DC in January or February 2016. I was offered an opportunity to say hello to the candidate and I did so!"
* * *
Source: McClatchy DC