Should White People Feel Guilty for Black Slavery?
by David Sims
IT IS TIME for a word or two about slavery.
Slavery is an ancient institution. It was present in the earliest civilizations, in the classical civilizations, in the Arab culture during the Middle Ages, in the British Empire, and in Colonial America. It probably existed before the first civilization arose. Slavery exists in Africa now, and in Israel there are thousands of captive women who are accurately described as forced prostitutes, or sex slaves.
But how did slavery begin in Colonial America? It began in 1655, in the Commonwealth of Virginia, when a free Black farmer named Anthony Johnson won a lawsuit against a White farmer. Some background is necessary.
Anthony Johnson had had a Black indentured servant named John Casor. Having worked for Johnson for the number of years required by his contract, Casor asked Johnson to set him free. Johnson said no. So Casor ran off and got himself employed by a White farmer as a free hired hand. Johnson found out where Casor was working and demanded that the White farmer return Casor to his custody. The White farmer refused to hand Casor over. Johnson filed a lawsuit. I'm not familiar with what arguments he used, or whether bribes were involved, but he persuaded the judge that he was in the right. The court ordered the White farmer to return Casor to Johnson. Further, the court ruled that because Casor had left Johnson without permission, Casor had forfeited the right to appeal for redress of Johnson's breach of contract. Thus Casor was Johnson's servant for life, the first legal slave in North America.
Slavery first became established in America because a greedy Black man started the whole thing.
Once the precedent was established, a certain group wasted no time in capitalizing upon it. The group included such men as John Abrams; Justus Bosch; Henry Cruger; Jacob Franks; Mordacai and David Gomez; Isaac, Moses, and Sam Levy; Aaron Lopez; Jacob Phoenix; John and Jacob Roosevelt; Nathan Simpson; Jan de Sweevts; and James and William de Woolf. They owned the ships that took the slaves out of Africa and brought them to North and South America. And, by some odd chance, they were all Jews.
What fraction of the White people in Colonial America and in the antebellum United States owned slaves? Two per cent., overall. Five per cent., if you focus on the Southern states. The fraction of free Blacks owning slaves was usually far higher. In 1850, of the free Blacks in New Orleans, Louisiana, 28% owned slaves. The two largest slave-holders in the state were Cecile Richards and Antoine Dubuclet, both of them Blacks who owned sugar cane plantations. They each owned more than 100 slaves. A similar situation existed in South Carolina, where Black slave magnates, such as Justus Angel and Mistress Horry, were among the biggest slaveholders, with 125 Black slave owners in the city of Charleston alone.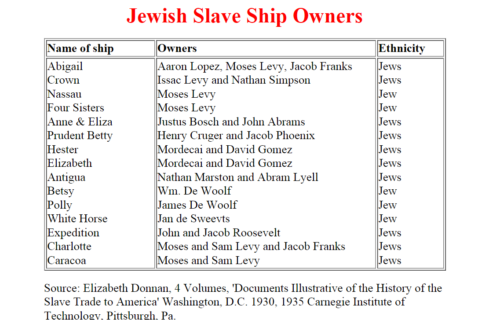 On a per capita basis, Whites were not the most conspicuous owners of slaves.
Nor were all of the slaves Blacks. Europe had been using the New World as a dumping ground for poor people and for war refugees. Between the founding of Jamestown and the Declaration of Independence, more Whites than Blacks arrived as slaves in North America.
Further, the White slaves were abused more than the Black slaves. The reason is simple: White slaves were cheap. Black slaves cost more money. In 1855, Frederic Law Olmsted, the landscape architect who designed New York's Central Park, was vacationing in Alabama when he happened to see bales of cotton being thrown from a considerable height into a cargo ship's hold. The slaves tossing the bales somewhat recklessly into the hold were Blacks. The slaves who were in the hold, trying to catch those bales, were Irish. Olmsted asked a ship worker why this was so. The worker replied that the Blacks were worth too much to be risked, and that if the White slaves were knocked overboard or broke their backs, their owner had not lost much.
More or less, it was like this: For every row of peas a Black slave hoed, a White slave felled a tree with an axe. For every crop a group of Black slaves brought in from the field, a group of White slaves cleared a forest or drained a swamp. The White slaves worked harder and were treated worse: They were far too often worked to death.
Western Civilization, which was the creation of White people, was the first to abolish slavery for moral reasons, as far as I know. On account of its once having tolerated slavery, Western Civilization is assigned a great deal of blame: more so, I think, than any other civilization, most of which also have tolerated slavery, but without ever really abolishing it.
It appears, then, that the assignment of blame follows a paradoxical rule. It isn't the practice of slavery, nor the cruelty of the practice, that brings opprobrium on a civilization; the Arabs were far crueler in their treatment of African slaves than the Europeans ever were. Rather, it is relenting from slavery — releasing the slaves — that brings these criticisms about.
* * *
Source: Author