Non-Whites of Every Stripe Vote Democrat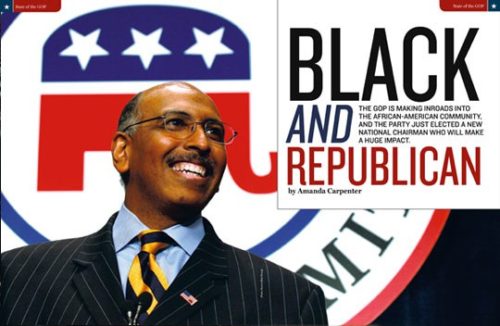 The "mystery factor" the author mentions is, we think, hatred of Whites and a wish to defeat and utterly crush us. This is partly natural racial antipathy, but it is fanned from sparks into a holocaust-sized flame by the Jewish-controlled media.
IN AMERICA, non-White people vote overwhelmingly for the democrat party. Blacks have been voting democrat since the 1930's, and Hispanics have been as far back as we have been tracking Hispanic voting patterns. Asians used to vote Republican, but came over to the democrats in the 1990's.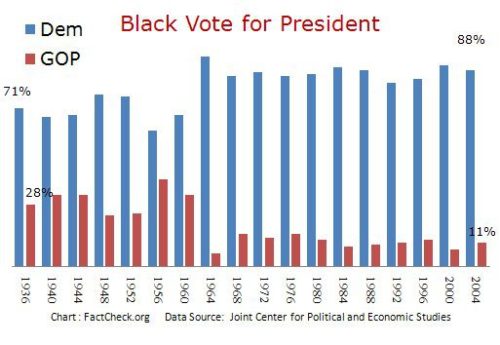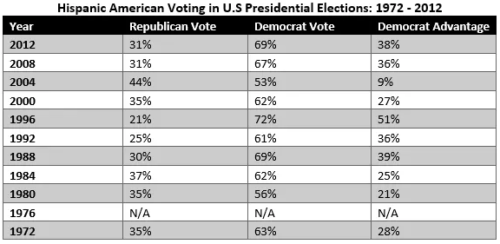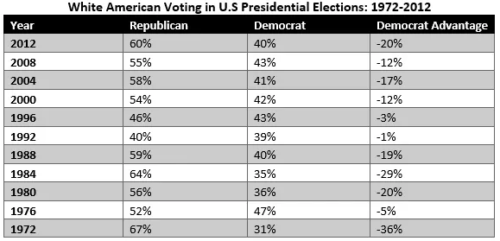 Exit poll data shows the dramatic effect this has had on American democracy: if White Americans were the only people that voted in presidential elections, Jimmy Carter, Bill Clinton, and Barak Obama would have never been president.
It is important then to understand why non-Whites vote democrat. To many, the proximal cause of non-Whites voting democrat is obvious: non-Whites hold liberal political views relative to Whites.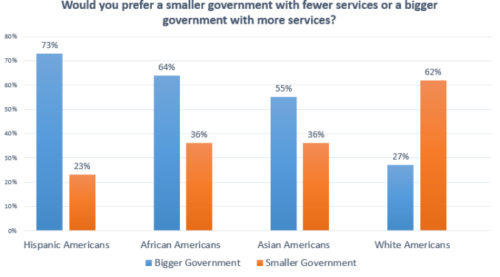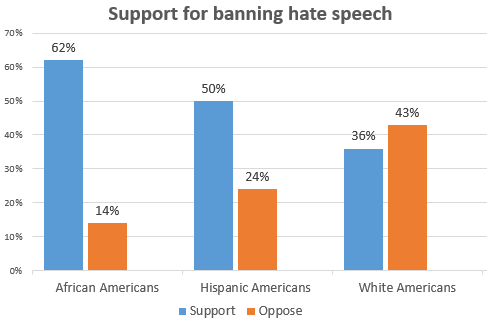 On this view, the question then gets moved one step back and becomes "Why do non-Whites have liberal political views". Even this first step is a mistake. The blog The Audacious Epigone has recently demonstrated, via an analysis of data from the General Social Survey, that even self-described conservative non-Whites voted for Obama in 2012.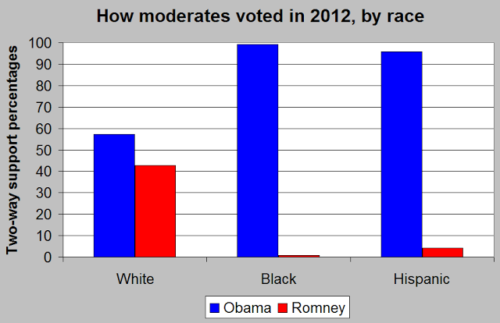 To get a closer look at this phenomena, I examined how people voted, by race, according to how they answered questions about the size of government and wealth redistribution (economic views) and gay marriage and abortion (social views). In 2012, non-Whites who were pro-life and pro choice, for and against gay marriage, for smaller and larger government, and for or against wealth redistribution, all voted for Obama with the exception that Hispanics, who were against wealth redistribution broke for Romney by 6 points.


Even this Hispanic exception is not reliable. See, for instance, this data on the 2008 election:

(And yes, the Black patterns stays the same when you look at pre-Obama elections.)
Thinking that the government should be smaller had the largest impact on the Black vote. Because of this, I decided to look at Blacks who self-identify as conservatives and who think the government should be smaller. They still self identified as democrats. (I switched to party ID because the sample size of Black conservatives who think the government should be smaller is not very large and party ID was asked for decades. By contrast, questions on elections are only asked for 3 waves of the GSS.)
Demographic variables follow a similar pattern. Pew data shows that Non-Whites at every level of education and income, and of both sexes, are more likely to identify as democrats than republicans.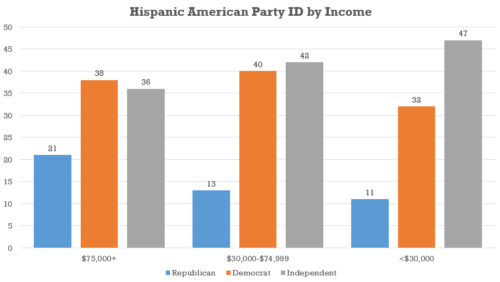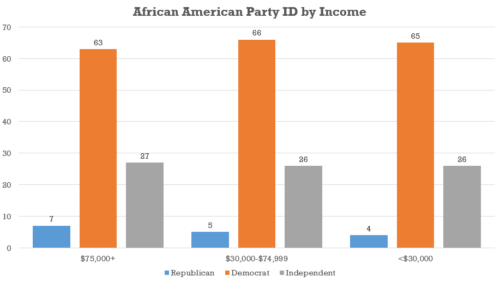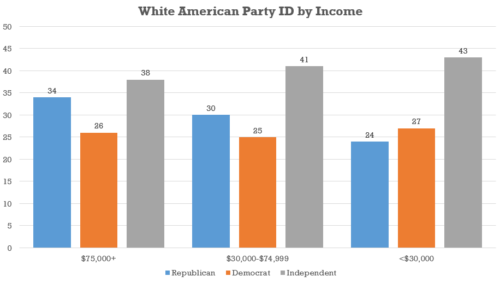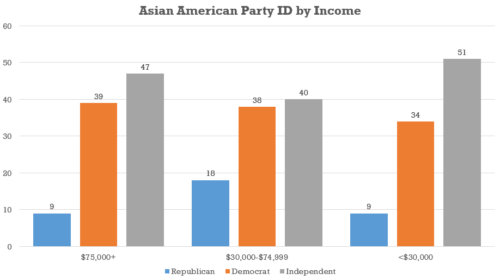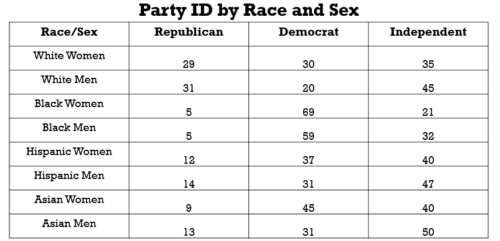 Political ideology and demographic data strongly predict how White people vote. To many White people, I suspect that it is almost incomprehensible that these things would not be the major factors determining who someone favors for president. And yet, for non-Whites something entirely different is clearly going on.
Some might suppose that this other factor is racial tribalism and, indeed, measures of racial tribalism do predict how strongly Blacks favor the democrat party. But even Blacks who do not think, for example, that government assistance to Blacks should be increased, or Blacks who think that the republican party is better than the democrat party for Black people, prefer the democrat party.

Similarly, Blacks who do, and who do not, feel that they have been discriminated against because of their race prefer the Democrat party.

In fact, Blacks who both want smaller government and think that government assistance to Blacks should be lower prefer the Democrat party.

Measuring ethnic tribalism among Hispanics is a little less straightforward, but immigration views seem like a reasonable proxy. On a 6 point scale of party affiliation, with 0 meaning strong republican and 6 meaning strong democrat, Hispanics who want immigration increased by a lot had an average score of 3.6 while Hispanics who want immigration decreased by a lot had an average score of 3.3. Both groups of Hispanics preferred democrats, and to roughly equivalent degrees.
All this is not to say that demographics, political ideologue, and ethnocentrism/perception of racism have no impact on non-White voting patterns. The data above shows that they do. However, there is some other factor which biases non-Whites strongly in favor of the democrat party so much so that even with these other factors removed non-Whites would still vote democrat.
I'm not sure what that factor is. To my knowledge, neither is anyone else. This makes the prospects of getting non-Whites to vote republican especially abysmal. First, we would have to figure out what this mystery factor (or factors) is (or are). Then we would have to deal with this factor, racial tribalism, and the fact that non-Whites are mostly liberal. In short, courting non-Whites to the republican party is a pipe dream.
* * *
Source: The Alternative Hypothesis