"Hate Speech" Trial of Geert Wilders Can Proceed, Dutch Court Says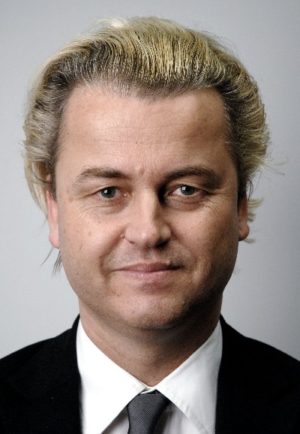 Introductory Note by John I. Johnson: Remember, Wilders is a part-Jewish Zionist who doesn't care about White survival. The rulers' fear is that a climate of ideas opposed to White genocide might develop among the remnants of the White population if even peripheral ideas like Wilders' are expressed. That's how early and quickly they move to squelch opposition: far, far ahead of even a hypothetical curve of idea-formation. Think this isn't coming to the USA? Wrong!
THE TRIAL of Dutch politician Geert Wilders (pictured) for inciting hate with his comments about the number of Moroccans in the country can proceed.
Wilders can stand trial on the "suspicion of insulting a group of people based on race and inciting discrimination and hatred," a Dutch court said Friday. Wilders' lawyer asked the court to halt prosecution in September, claiming that a judge cannot decide on statements made in a political context. The first hearing in the trial took place on March 18.
"Other European court decisions show that members of parliament on the one hand should have a broad freedom to express themselves," the court said in a statement. Still, politicians have a duty "to prevent making public announcements that feed intolerance." The court said it's up to the judge to decide where those boundaries lie.
The public prosecutor's office in The Hague decided in 2014 to prosecute Wilders after comments made in March of that year. The politician asked a crowd of supporters at a rally: "Do you want more or fewer Moroccans in this city?" The crowd responded by chanting "Fewer! Fewer! Fewer!" after which Wilders said: "I'll take care of that." More than 6,400 complaints were filed after he made the remarks.
"Prosecuted for what millions of people think," Wilders said in a post on Twitter on Friday. The trial of Wilders will continue on Oct. 31, The Hague court said.
* * *
Source: Bloomberg