France: Aide's Recordings Prove Sarkozy Purposely Allowed Riots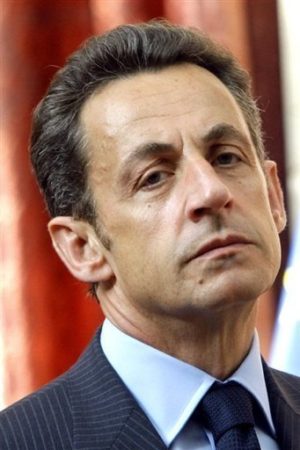 Part-Jewish politician wanted to "look tough" by quashing them; this is the same man who openly called for genocide of Whites by racial mixing, calling it a "duty."
NICOLAS SARKOZY (pictured) has been labelled a 'fake tough guy' by an former aide who branded his marriage to Carla Bruni was an embarrassment to France.
The former French president is also accused of allowing riots to develop just so he could quash them, in memoirs published by an adviser.
Patrick Buisson has released the book which brands the Sarkozy-Bruni marriage as immature, undignified and infantile.
The author claims Sarkozy deliberately allowed rioters from the suburbs to rampage in central Paris in 2006, when Mr Sarkozy was at the interior ministry.
'We took the decision to allow gangs of blacks and Arabs to attack the young whites on the Invalides, and at the same time tipped off the photographers at Paris Match that there was likely to be serious trouble,' Mr Buisson quotes Mr Sarkozy as saying.
'We were petrified that someone might end up getting seriously hurt, but in the end it was worth it.'
Sarkozy is accused by Mr Buisson that in the aftermath of the demonstrations after police had quelled the trouble, he gave interviews highlighting how much more in control of the situation he was than the prime minister.
The former president's relationship with 'trophy woman' Carla Bruni also received scathing criticism, with the aide saying she harmed Sarkozy in the failed presidency race in 2012.
'Probably he thought deep down that the happy news of his love life would be a useful antidote to the prevailing gloom. Instead [the reaction] could be summed up in three words: immature, undignified, infantile,' said Mr Buisson, according to the BBC.
'The head of state… was in reality a fragile seducer subjugated by his conquests, a fake tough guy submerged in a permanent state of emotional dependency.'
Their working relationship broke down after François Hollande was elected ahead of Sarkozy to the presidency four years ago.
In 2014, it came out that Mr Buisson had been secretly recording conversations between him and his former boss during meetings, prompting Sarkozy to say: 'I have known some acts of treachery in my time, but rarely like this.'
The former aide was slapped with a €20,000 damages bill for the invasion of his ex-boss and his wife's privacy, but he said only Carla Bruni cashed her cheque.
* * *
Source: Daily Mail