Danish Politician Faces Charges After Handing Out 'Migrant Spray' Over Sex Assault Fears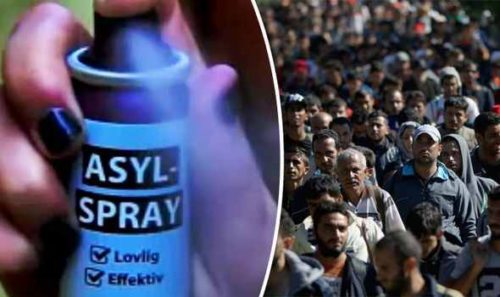 A DANISH politician faces criminal charges after handing out 'asylum spray' cans to women to ward off suspected sex attacks.
Daniel Carlsen, leader of the nationalist Party of the Danes, has allegedly been charged with racist offences after a stunt last month.
Some 137 cans of hairspray, seemingly doctored with a label to say 'asyl-spray', were handed out at the Danish town of Haderslev.
But it appears Mr Carlsen has fallen foul of the country's racism laws, and could face a police probe.
He said: "I think it is a very, very weak case.
"Some Danish girls don't dare to go outside after it gets dark, partly because there are now asylum seekers in town.
"We handed out hairspray with a sticker on it so I doubt that anything at all comes out of the charges."
The stunt was in response to anticipated sex attacks by migrants, which have rocked the continent over the past year.
More than one million have travelled to western Europe over the past year.
And while some women gladly welcomed the spray, others felt it was crass.
Dane Diana Nielsen said: "It's great. It matches bloody well with my attitudes and opinions.
"It is after all them [refugees] who we are protecting ourselves against at the moment."
* * *
Source: NDL News