Scandinavia: Media Firestorm After Patriots Monkeywrench Pervert Festival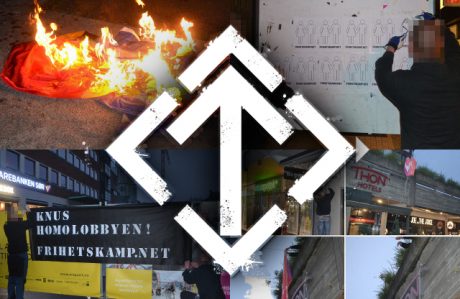 LAST MONTH activists from the Nordic Resistance Movement in Norway carried out a series of campaigns against the so-called Pride festival (Skeive Sørlandsdager, a homosexual-themed event) in the city of Kristiansand, southern Norway.
The campaign began overnight on Thursday, August 25 with the burning of a pervert flag that had come into possession of the activists. A total of six "gay" banners went up in smoke. And as soon as the pervert's flags had been burned, the activists hoisted their own banners up calling on Norwegians to "crush the homosexual lobby."
In the center of Kristiansand a variety of posters were put up on Markens, the city's main street. By the time the rush hour had begun, there were also banners on the west side of Kristiansand on E39, so that the thousands of cars that passed saw a completely different message from what the traitorous System politicians had intended.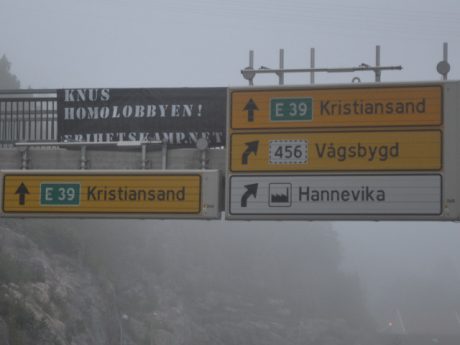 Activists put up posters all over town: When the campaign was over, large parts of the city were crammed with messages directed against the perverts' agenda — and calling on citizens to defend the nuclear family.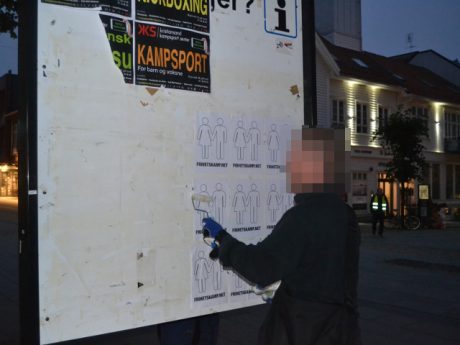 The campaign has had a major impact in both Kristiansand and throughout Norway and has been described as extremely successful. Traffic data indicates that the Nordic Resistance party online magazine in Norway, Frihetskamp.net (Freedom Struggle), achieved a visitor record shortly after the action. The 500 comments (so far) submitted on the first article about the campaign is also a comment record for a single article on the Freedom Struggle site.
Smear Campaign in the Norwegian Media
The reactions of the anti-White press were not long in coming. Many misleading articles about the campaign have been published, according to Haakon Forwald, Nordic Resistance leaders in Norway.
State-owned broadcaster NRK is one of the media outlets claiming that the message of our campaign is directed against individual homosexuals. NRK gave free rein to "gay" lobbyists who tried to associate the campaign with the mass shooting in Orlando where 49 homosexuals were killed.
"All the media, including local newspapers and nationwide NRK, claim that the action was directed against individual homosexuals, although it is clearly shown by both our banners and the article published on Frihetskamp.net that our activism has been directed towards the 'gay lobby' (which is a political movement opposed to our people, which is working to break down societal standards). That's a big difference," wrote Haakon Forwald in its response.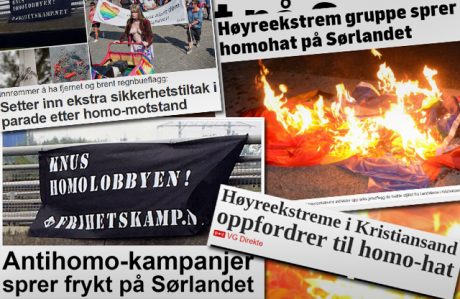 "The NRK's article also described the Resistance placards as 'gay hostile.' The placards that NRK refers to show a picture of a man and a woman holding hands. Does NRK really believe that normal (heterosexual) couples are 'gay hostile'?"
* * *
Source: Nordic Resistance Movement