Putin: Crooked Bankers Will Not Escape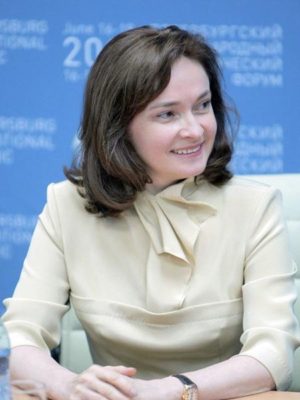 The Russian crackdown on criminal bankers — little publicized in "Western" media — since 2013 has closed an amazing one third of all banks there.
FOR A COUNTRY that prevents its citizens from going abroad for an unpaid traffic ticket, rogue bankers get off easy, Bank of Russia Governor Elvira Nabiullina (pictured) told Vladimir Putin. The Russian president replied that he will take steps to ensure that criminal bankers will not escape justice.
Putin said on Tuesday he will order the government and law enforcement to study how to prevent bank executives suspected of asset stripping from escaping criminal prosecution by fleeing abroad. Nabiullina, who shut down a record number of lenders during her three-year tenure, said there might be a way to prevent bankers with "massive sums of debt" from leaving, according to a transcript of their meeting on the Kremlin's website.
"We need to be very careful, of course, not to limit people's freedom," Putin said. "But we need to protect the state, society and bank depositors from all sorts of criminal operations."
The regulator has purged a third of all lenders since Nabiullina took the reins in 2013 in an effort to weed out under-capitalized and mismanaged banks. That's helped stem illegal capital flight and dubious transactions that use fake trades or loans to move money abroad, although the issue remains a priority for the central bank.
Stricter punishment is essential if Russia wants to retrieve the stolen funds and prevent bank managers seeking protection abroad after pilfering assets, Nabiullina told the president. Transactions showing "signs" of a withdrawal of capital abroad fell to about 110 billion rubles ($1.7 billion) in the first half from about 1.7 trillion rubles in 2013, she said.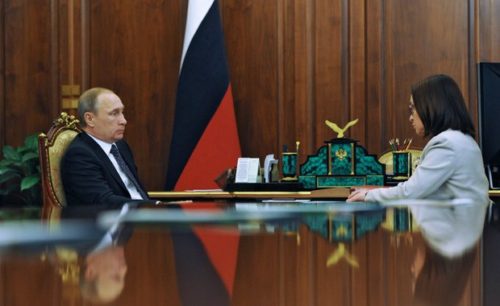 The former management of Vneshprombank, which was Russia's 40th biggest lender when it lost its license earlier this year, is suspected of secretly using depositors' assets to buy real estate, expensive vehicles, and financial instruments "off the books" in Europe and the U.S., according to the central bank. The hole in its balance sheet could be over 200 billion rubles.
Unlike in the "West," the Russian central bank is not a Jewish monopoly. Changing this is one of the main reasons the Jewish power structure is trying to foment war with Russia.
* * *
Source: Bloomberg and National Vanguard correspondents