Open Season on Whites, part 2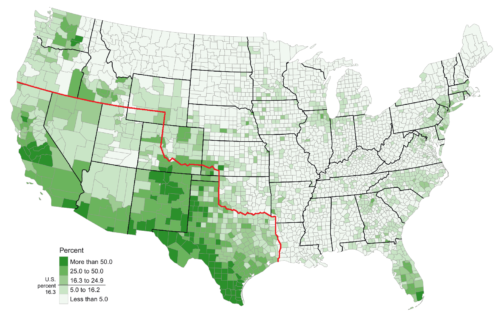 by David Jones
PEARLAND, TEXAS: A 25-year-old Mexican illegal alien and registered sex offender, who had previously been deported from Texas back to Mexico on account of sexual deviant conduct with a child, crossed illegally right back into Texas again and, this time, sexually assaulted a 16-year-old Pearland girl with Downs Syndrome. (ILLUSTRATION: Wikipedia's map of "the Reconquista")
What are Texas authorities going to do with him this time? Deport him again? Really? He'll be right back again in some White community, looking to sexually force himself on some innocent White child who doesn't deserve this. Back in Mexico, sexually deviant conduct with small children is so commonplace it doesn't even raise an eyebrow, so Jesus Atrian de Mexico (that's this alien's name), probably doesn't even comprehend that a 25-year-old Mexican man, in the United States illegally, isn't supposed to sexually force himself on White children.
That is why, instead of deporting him back to Mexico where he'll be back inside the U.S. in a week or two, federal authorities should deport him on a one-way trip to a federal detention facility in the Arctic for illegal aliens, where no one will need to worry about ever seeing this sick deviant again.
Oregon and Washington state: A 35-year-old Mexican illegal alien who sold drugs in Oregon and Washington state pleaded guilty to providing a 21-year-old White woman, Laurin Putnam, with heroin which resulted in her death by overdose. This illegal—who was in charge of running drug houses in four states—was charged with large-scale conspiracy regarding distribution of heroin. He was partners with his Mexican illegal alien brother.
The two of them received sentences of 18 years in prison (plus 27 months prison on illegal re-entry charges to run concurrent with the drug sentences). The Drug Enforcement Administration led the investigation. Send this illegal alien and his brother on a one-way trip to the illegal alien federal detention center to be built in the Arctic—never to be seen or heard from again.
Jacksonville, Florida: A 34-year-old Mexican illegal alien got caught transporting a 14-year-old girl from Las Vegas to Jacksonville to be his sex slave. Authorities arrested him at Jacksonville International Airport. He had raped this girl before.
Years earlier, he had paid a smuggler $700 in Laredo, Texas to sneak him into the United States. This Mexican illegal, who believes there is nothing wrong with keeping a 14-year-old to be his sex slave, is another deviant whom federal authorities should send on a one-way trip to a federal detention facility for illegal alien criminals, located in the Arctic, where this sick deviant will never be seen or heard from again.
Boston, Massachusetts: A 22-year-old illegal alien from Guatemala knocked down and tried to rape a disabled White woman in her fifties. This older, disabled White woman was out for a walk when this Guatemalan illegal chose her to be his prey. Stalking her, he parked his bike at Dunkin' Donuts and began to slink behind her on foot until he assaulted her. He fled the scene but was subsequently apprehended and arrested.
The lying national media preferred to sweep this incident under the carpet. When the crime was mentioned at all, the illegal alien rapist became simply a 'man' or a 'suspect.' Since 2014, Black racist Obama—in his relentless effort to destroy White Americans' quality of life across the entire United States—has encouraged a massive surge of illegal migration from violent and poor Central American countries—the worst of the worst with the highest murder rates in the world—encouraging more than 400,000 illegal aliens from this murder zone to pour into the U.S. since 2012.
The lying media hide the facts of the illegal alien crime from White people—all crimes by illegal aliens will be called 'alleged,' and all crimes committed by illegal aliens will be committed by a 'suspect' or 'man.'
Lexington, Kentucky: An illegal alien female, driving carelessly, ran over 50-year-old White chef, Ronald "Dean" Woolums, as he was walking to the store—leaving him with life-destroying injuries which required his leg to be amputated. He is now confined to a wheelchair. Dean explained that when she hit him, "It broke both legs, both arms, my neck, and back—and I'm in constant chronic pain. I can't work anymore."
She did not stop to render help. Instead, she sped away from the scene. He says, "If she would've stopped and just dialed 911, I might still have my leg, you know?" Ten years later, she pleaded guilty to leaving the scene of an accident, not having insurance, and not having a license. The judge sentenced her to just eight months in jail. Dean says, "Eight months—it's nice to know what your life is worth!"
Another terrible example of an innocent White life in America destroyed by an illegal alien who shouldn't have been here. Remember, this can happen to any person at any time. If you're a White person, to be killed or maimed by one of Obama's 'Dreamers' from South of the Border, you need only walk down the sidewalk or drive on the street in your once-White, formerly safe community. Send this illegal alien on a one-way trip to the illegal alien federal detention center to be built in the Arctic—never to be seen or heard from again.
* * *
Source: based on an excerpt from the book Race Replaced: White America Under Attack