Look Carefully at This Picture: Jews Did This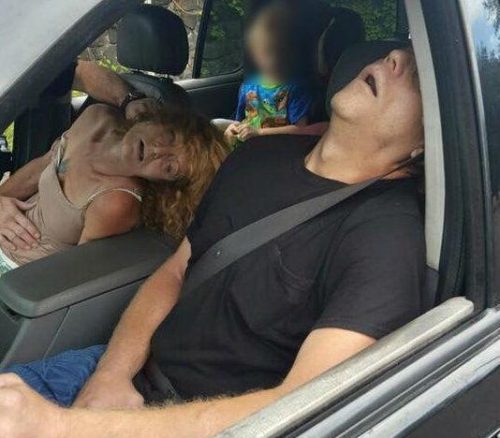 by Kevin Alfred Strom
LOOK CAREFULLY at this picture. It is shocking. A White couple, far from old, with a four-year-old child — a White couple whose life was so empty, purposeless, and full of despair and sadness that the only way out they could see was the oblivion of narcotic drugs.
Jews are responsible for this. Jews are responsible for an epidemic of drug use, drug overdose deaths, suicide, depression, and despair among White people that is raging all across this country. Yes, some people are stronger (or just luckier) and more resistant to the lure of drugs and the temptation to give up.
But most of these victims are good people. People whose jobs were taken by invaders or outsourced to non-Whites overseas. People whose sons or daughters were killed in the wars for Israel we are still fighting. People whose sons or daughters succumbed to racial mixing propaganda, and ended their family's line forever — and broke their parents' hearts. People who were told that drug use and hanging out with Blacks were "cool" by decades of "hip" Hollywood films. People who were told their entire lives that they were worthless, evil, bigots, "racists," and "privileged," and whose only "moral" purpose was to help in their own dispossession. People who were constantly mocked and denigrated as "racists," "rednecks," "whitebread," "flyover folk," "breeders," and ten thousand other insults by "sophisticated" Jewish pundits, academics, "stars," and cultural arbiters.
The picture you see above is just one one-millionth of the consequences of the Jewish presence and predominance in our society. Never forget it.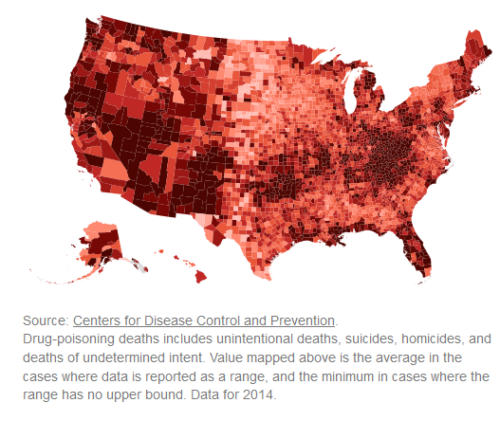 From the Independent and National Vanguard correspondents:
AN OHIO police department has shared on social media a photo of a White couple who passed out, overdosed on heroin, with their four-year-old in a car.
Police in the Ohio city of East Liverpool said the intention of posting the images on their Facebook page was to deliberately shock people.
But the officials have found themselves at the centre of a debate about whether they are exploiting victims — and a child — after sharing pictures showing two overdosed heroin addicts passed out in a car. In the back seat of the vehicle sits a four-year-old boy.
"We feel it necessary to show the other side of this horrible drug. We feel we need to be a voice for the children caught up in this horrible mess. This child can't speak for himself but we are hopeful his story can convince another user to think twice about injecting this poison while having a child in their custody," said the posting by East Liverpool Police Department.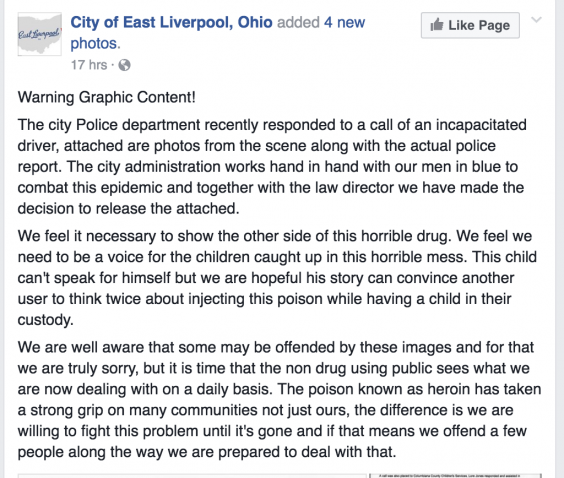 "We are well aware that some may be offended by these images and for that we are truly sorry, but it is time that the non drug using public sees what we are now dealing with on a daily basis."
It added: "The poison known as heroin has taken a strong grip on many communities not just ours, the difference is we are willing to fight this problem until it's gone and if that means we offend a few people along the way we are prepared to deal with that."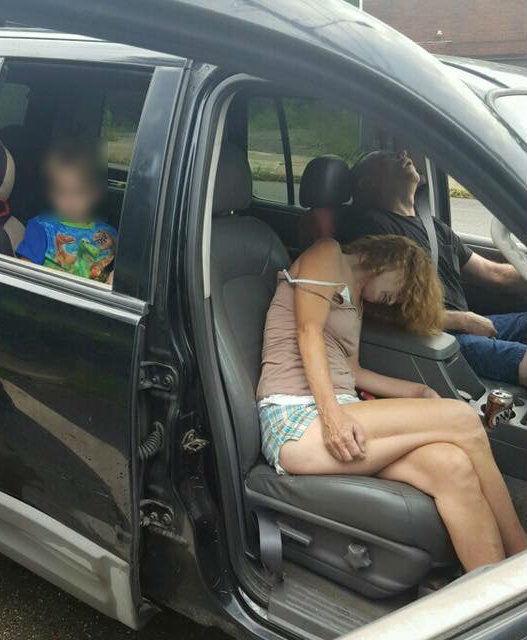 NBC said that police were alerted to the vehicle when an officer saw a Ford Explorer driving erratically and then slamming on the brakes as it approached a stopped school bus that was dropping children off.
When the officer approached the driver, his head was bobbing and his speech was almost unintelligible. The driver told the officer he was taking his front seat passenger, who was passed out, to the hospital.
Opioid addiction is a massive problem in many of the heartland states of America. Experts have linked its spread to poverty and the impact of economic decline in many traditional manufacturing communities.
The decision by the police in East Ohio sparked heated debate on its Facebook page. Many posters said they believed police were doing the right thing by highlighting the problem. Others said that the child's face should have been blurred, and he should not have been identified.
* * *
Source: The Independent and National Vanguard correspondents