79-Year-Old White Woman Target of Brutal Black-on-White Home Invasion in Indianapolis: Blacks Beat Her With Her Own Walker…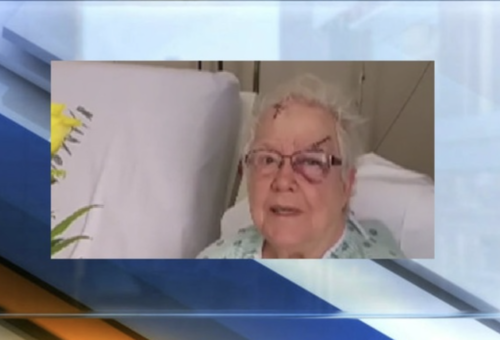 IT HAPPENED again. (ILLUSTRATION: 79-year-old Nancy Quest: victim of a brutal Black-on-White home invasion in Indianapolis)
Perhaps Davey Blackburn can go tell this elderly White woman in Indianapolis why she should feel glad she was the target of a Black-on-White home invasion. After all, his wife and unborn child were murdered in a Black-on-White home invasion (in which his wife fought back), and he subsequently forgave their killers.
This time a 79-year-old White woman was targeted by multiple Black people, who broke into her house and beat her with her own walker. [Police release photos of people who beat, robbed elderly woman, The Indy Channel, September 2, 2016]:
Police are looking for three or four teenagers who broke into an elderly woman's house last week, beat her with her walker and stole her belongings.
Around 11:30 p.m. on Aug. 24, suspects busted out the rear glass door of Nancy Quest's house.
When she saw them in the house, they beat her over he head with her walker.
They also stole her TV and purse, which had many of her credit and debit cards.
"I'm angry anyone would come to my house and wreck it and hurt me," said Quest.
The 79-year-old had four gashes on her head and cuts to both of her eyes, as well as a concussion.
"There was no reason to beat her up. She's 79 and uses a walker. When you pushed her down, she wasn't going to get back up. She can't really get up on her own," said Bill Krueskamp, Quest's son-in-law. "No matter what she may have said to them, she didn't deserve the beating."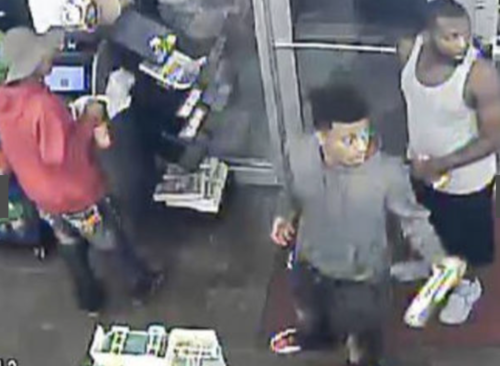 In the past year, Quest has been the victim of three crime incidents. Almost all of her doors have marks on them where someone has tried to break in.
"It is beyond words. It's not only awful, but it is pure evil. There was absolutely no reason…senseless, senseless crime," said Quest's daughter, Terry Kruekamp.
About 20 minutes after the attack, three male teenagers tried to use an ATM at a BP gas station at 2936 N. Mitthoefer Road. When they weren't able to use the ATM, they bought snacks and drinks from the gas station.
The family doesn't think Quest should live in the home alone any longer.
Unfortunately, they may put it up for sale.
In another story, we learn this about Nancy Quest:
Neighbors describe the victim as a sweet woman who is often seen around her house with a walker. After learning about the attack one neighbor tells 24-Hour News 8 that she will remain watchful.
"I don't sit in the bed [and] shiver and shake because I'm going to get broken into. I just ask the Lord to keep this house safe, I can't do it by myself," an unidentified neighbor said.
Sorry, neighbor of Nancy Quest: though you can have a conversation with the Lord all you want, a demonic force has been unleashed upon America with the tacit approval of our elected leaders and is entirely protected from criticism by the media.
This demonic force is the Black race.
* * *
Source: Stuff Black People Don't Like