Blood is Thicker Than Citizenship Documents
Loyalty to one's own people — biological people — trumps any declaration of citizenship, as this case shows; another reason why citizenship should be based on race.
AN FBI electronics technician who had access to classified information pleaded guilty to secretly acting as a Chinese agent during a court appearance today. (ILLUSTRATION: Kun Shan Chun (pictured outside court today) pleaded guilty to acting as Chinese agent)
Kun Shan Chun, who was born in Guangdong, China and became a naturalized US citizen in 1985, was also accused of making false statements when he failed to disclose his foreign ties.
The 46-year-old was accused of giving a Chinese official photos of documents displayed in a restricted area of the FBI's New York office.
Prosecutors said he also provided an FBI organizational chart and revealed the identity and travel plans of an FBI agent.
Chun, a 19-year veteran with the FBI, claimed in security clearance questionnaire that he had not had close contact with a foreign national in seven years, according to a March 2016 criminal complaint that was unsealed today.
Chun was connected to 'one individual whom Chun understood to be affiliated with the Chinese government,' and had ties to the Zhuhai Kolion Technology Company, the document stated.
He not only maintained his connections, but also lied 'as part of a longstanding and concerted effort to conceal these relationships,' prosecutors said.
Chun also admitted to the undercover agent in a wiretapped conversation that he failed to report his foreign connections, the NY Daily News reported.
He met with a Chinese associate during a trip to Europe in July 2015 and told an undercover FBI agent that he wanted to introduce him to his contacts in China, according to the documents.
Chun also expressed interest in passing sensitive US information to his foreign contacts associated with the Chinese Government, the document states.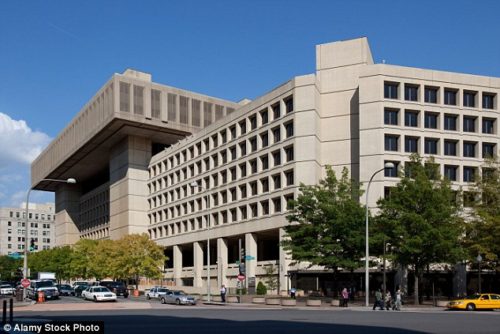 During his court appearance in Manhattan on Monday, Chun pleaded guilty to acting as a foreign agent without notifying the attorney general.
His attorney said, 'Today Joey Chun accepted responsibility for some mistakes in judgment that he deeply regrets,' the NYTimes reported.
He added: 'The truth is that Mr. Chun loves the United States and never intended to cause it any harm. He hopes to put this matter behind him and move forward with his life.'
Chun's job as an electronics technician in the FBI's New York office involved 'accessing sensitive, and in some instance classified, information.'
His sentencing is scheduled for December 1.
* * *
Source: Daily Mail