Assange: DNC Emails to Be Released "In Stages"
JULIAN ASSANGE, whose Wikileaks site published the thousands of emails that rocked the Democratic National Committee on the eve of the party's convention, says his group is in possession of "a lot" of material related to Hillary Clinton's presidential campaign and that it will come out as the campaign proceeds.
"Well we have quite a lot of material so I think we will stagger it in different batches as we are ready to publish each batch," Assange told CNN, asked whether the material might come out for example before a big presidential debate.
Assange refused to say whether Russia was behind the hack that dug up the material that ended up in the hands of Wikileaks.
"Well, what sort of question is that? I am a journalist — we don't reveal our sources," he lectured host Poppy Harlow.
Asked whether his group was being used to manipulate the U.S. politics, he continued: "So what is the accusation here precisely? No one disputes even a single email that we have published … The goal of Wikileaks as a media organization is to educate the public, to turn a dark world into a lighter world through the process of education. And we're doing it."
He indicated his team was reviewing the material for proper presentation and has already verified its accuracy.
Assange seized the attention of the political world once again Friday when he told CNN,  "We have more material related to the Hillary Clinton campaign."
Assange hinted that the material was "extremely interesting," and said cryptically: "We will see what will come of them in due course."
Assange disputed the notion that his group was putting out unflattering information about the Democrats as any kind of personal animus for Hillary Clinton.
"It is false reporting," he said.
"I never said that I wanted to harm Hillary Clinton, anything like that," he said.
In a June interview with Britain's ITV, Assange said upcoming leaks would be "great."
He said of Clinton: "She has pushed for the prosecution of WikiLeaks. So we do see her as a bit of a problem for the freedom of the press more generally."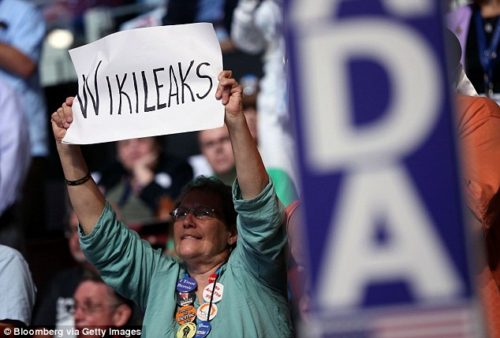 Assange told CNN the release of information is "what our readers demand, but it's also our basic principles."
He on Friday defended the DNC leak — which ultimately led to the resignation of DNC chair Debbie Wasserman Schultz after internal emails showed staffers trying to undermine Clinton rival Vermont Senator Bernie Sanders — just as Democrats were gathering to nominate Clinton.
"That's when we knew there would be maximum interest by readers, but also, we have a responsibility to," Assange said. "If we published after, you can just imagine how outraged the Democratic voting population would have been. It have been before," he said.
Reuters reported last week that a computer program the Clinton camp used to analyze voter data was penetrated by the same group what hacked into the DNC. Although the Clinton camp's internal emails weren't compromised, it could reveal details about how the campaign identifies its supporters.
"It's the same adversary," a source involved in the investigation of the DNC hack told the New York Times.
California cybersecurity firm Crowdstrike published a blog post pointing to Russian military and intelligence services as being behind two separate hacks on the DNC.
Clinton spoke about the Hack on "Fox News Sunday."
"We know that Russian intelligence services hacked into the DNC and we know that they arranged for a lot of those emails to be released and we know that Donald Trump has shown a very troubling willingness to back up [Russian President Vladimir] Putin, to support Putin," Clinton said.
Clinton added: "For Trump to both encourage that and to praise Putin despite what appears to be a deliberate effort to try to affect the election I think raises national security issues."
Trump told ABC's "This Week" on Sunday that Democrats were trying to point to Russia to stoke fears. "They only fear one thing — losing the election," he said.
* * *
Source: Daily Mail