UK: Labor Party's "Anti-Semitism" Conference Collapses in Chaos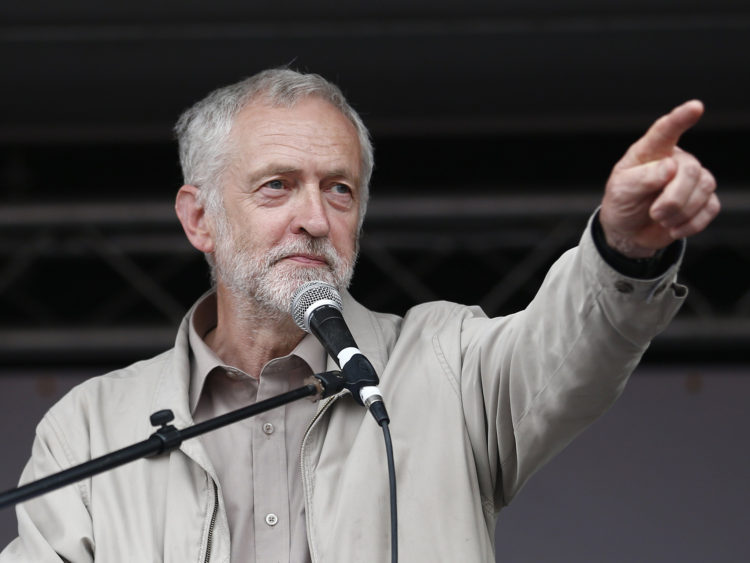 Non-White delegates and many White leftists are passionately opposed to Israel and are increasingly aware of Jewish power; Jewish pressure on leadership results in chaos instead of compliance.
A JEWISH LABOUR MP has left Jeremy Corbyn's launch of an antisemitism report in tears after being accused of colluding with the right-wing press.
The embattled Labour leader made a speech outlining the results of a report by the former director of Liberty saying that claiming Jewish people were "part of some kind of media conspiracy…is just wrong".
But a man handing out leaflets linked to Momentum, an activist group that supports Mr Corbyn, then verbally attacked Ruth Smeeth.
Witnesses said the campaigner accused the Labour MP for Stoke-on-Trent North and Kidsgrove of "colluding" with the right-wing media, after refusing to hand a leaflet to Ms Smeeth and taking down her name. Ms Smeeth said she was "verbally attacked" and accused of being part of a media conspiracy.
"It is beyond belief that someone could come to the launch of a report on antisemitism in the Labour Party and espouse such vile conspiracy theories about Jewish people, which were ironically highlighted as such in Ms Chakrabarti's report, while the leader of my own party stood by and did absolutely nothing," she added.
"People like this have no place in our party or our movement and must be opposed."
The MP called for Mr Corbyn to resign after the incident, saying he failed to intervene.
"Until today I had made no public comment about Jeremy's ability to lead our party, but the fact that he failed to intervene is final proof for me that he is unfit to lead, and that a Labour Party under his stewardship cannot be a safe space for British Jews," Ms Smeeth added.
"I have written to the General Secretary of the Labour Party and the Chair of the Parliamentary Labour Party to formally complain about this morning's events.
Activist who accused @RuthSmeeth of colluding with media corners telegraphs @KateEMcCann pic.twitter.com/JnpJHt8WOL

— Rosa Doherty (@Rosa_Doherty) June 30, 2016
"No-one from the Leader's office has contacted me since the event, which is itself a catastrophic failure of leadership. I call on Jeremy Corbyn to resign immediately and make way for someone with the backbone to confront racism and antisemitism in our party and in the country."
Footage showed the man — Marc Wadsworth — calling a journalist from the Daily Telegraph a "trouble-maker" after she asked him whether he wanted to apologise.
His press release, claiming to be from Momentum Black Connexions, called for the deselection of Labour "traitors" who are calling for Mr Corbyn to resign in the wake of the EU referendum.
Mr Wadsworth told The Independent he did not know Ms Smeeth was Jewish, adding: "I've never been called antisemitic in my life."
Questions Mr Corbyn's leadership were reportedly banned at Thursday's event, when Mr Corbyn made no direct mention of the unfolding crisis.
He was heavily criticised for appearing to compare the Israeli state and terrorist groups including Isis in the speech.
"Modern antisemitism may not always be about overt violence and persecution, though there is too much of that even to this day. We must also be vigilant against subtler and invidious manifestations of this nasty ancient hatred and avoid slipping into its traps by accident or intent," Mr Corbyn said.
"Our Jewish friends are no more responsible for the actions of Israel or the Netanyahu government than our Muslim friends are for those of various self-styled Islamic states or organisations."
Many listeners equated Mr Corbyn's comments with a direct comparison between the Israeli government and Isis, which calls itself the "Islamic State", although several other terrorist groups use the similar phrases.
Sam Stopp, a Labour councillor in Wembley, said Mr Corbyn had compared Israel to Isis, writing on Twitter: "For that alone, he should resign. I am red with fury."
When challenged on the remark, the Labour leader said "of course I'm not" drawing links between the two.
"In the report it says that you shouldn't say to somebody just because you're Jewish you must have an opinion on Israel, just as much as you shouldn't say to a Muslim that you must have an opinion on Isis," he added.
Supporters said Mr Corbyn was rightly saying Muslims and Jews should not be held responsible for groups or states claiming to represent them, and was being unfairly criticised.
The report followed controversy over a Facebook post made by Naz Shah, the Labour MP for Bradford West, claims made by Ken Livingstone that Adolf Hitler supported Zionism and a wave of suspensions in the party.
A spokesperson for Mr Corbyn told The Independent: "He is explicitly stating that people should not be held responsible for the actions of states or organisations around the world on the basis of religion or ethnicity."
Ms Chakrabarti's inquiry made 20 recommendations but she said she does not approve of lifetime bans for party membership.
The report said racial or religious stereotypes had "no place" in the Labour Party and that its leadership must introduce new sanctions for members accused of antisemitism other than suspension or expulsion.
* * *
Source: Independent