Pennsylvania: Jews Demand Separation from Non-Jews — Even in Prison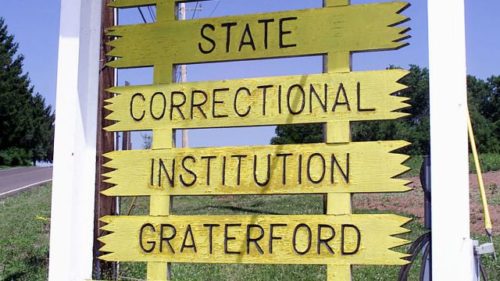 Judaism "requires" separate Jews-only prayer room, synagogue, and Torah scroll storage area — common chapel with other faiths is unacceptable; local Jews worried that special privileges won't be continued at new prison complex
GRATERFORD PRISON is to be replaced by the new SCI Phoenix within the next six to nine months. But members of the Jewish community are concerned a synagogue in the old prison won't have a place in the new facility.
A synagogue at Graterford Prison dates back to the early 1980s, when, during a search by prison guards, "the holy Torah scrolls were vandalized."
Bob Lankin, a volunteer with the Jewish Congregation at Graterford, says a panel commissioned by Governor Dick Thornburgh recommended Jewish inmates be given a separate room for prayer, and the prison complied. But the new SCI Phoenix won't have a synagogue, but rather a multi-denominational space for all faith traditions.
"We feel the recommendations of the Thornburgh report is still valid and should be honored at SCI Phoenix," Lankin said.
Ann Schwartzman with the Pennsylvania Prison Society says while there are certain considerations that need to be made, there are no easy answers.
"We really do feel parity is the key issue," she said. "The Torahs that people use in the Jewish religion take up a lot of space, they need be housed in a certain way. However, most of the religious groups have their own very specific needs and each need to be addressed, but they each may be very different."
* * *
Source: CBS Philly