Minneapolis: Mob of Somali Muslims Threaten Women with Rape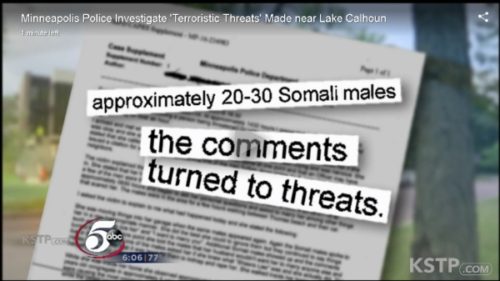 THE NEWS here isn't Muslim naggers misbehaving, but rather the lack of media interest and the lack of police response to Muslim rape threats against white women.
Such police disinterest is common now across the USA and Europe where white women are involved. Obama's Justice Department has ensured that taking down Muslim thugs by the cops will result in the cops being charged with racism.
Strong but sensible advice to American women: Purchase a gun and learn how to use it properly.
Then make up your mind to kill the bastards when your life is in danger.
A mob of up to 30 young Somali men paraded through one of Minneapolis' more upscale neighborhoods Monday, yelling disparaging comments and threats against homeowners.

A female resident of the neighborhood, obviously shaken in a TV interview, related how she was screamed at by a Somali man who threatened to kidnap and rape her.

"They were screaming at the house that they were going to kidnap you and they were going to rape you," one Minneapolis resident told KSTP TV. "It was a very traumatizing experience."

Somalis living in Minneapolis are almost all Sunni Muslims, and residents of the Lake Calhoun area say this isn't the first time a group of Somali men has made an intimidating march through their neighborhood, which is filled with million-dollar homes.

No hate-crime charges are apparently being considered by either the Minnesota authorities or the Obama Justice Department headed by Loretta Lynch.

Police were called to the scene on June 2 about 9:30 a.m. and are investigating the incident as a potential case of terroristic threats. No arrests have been made, and the Minneapolis media appear to be largely uninterested in reporting on the mob threats.
Hillary's plan to flood the country with the Democrat-voting African primate is part of her vagina politics. White women must share their vaginas with stinking dark men. It's the politics of inclusion and what Hillary calls "building bridges."
Yep, a bridge — make that a freeway — right into your vagina, white woman.
* * *
Source: Saboteur365